Ikea Is No Place for Hide and Seek
It's all fun and games until someone's actually trapped in the closet.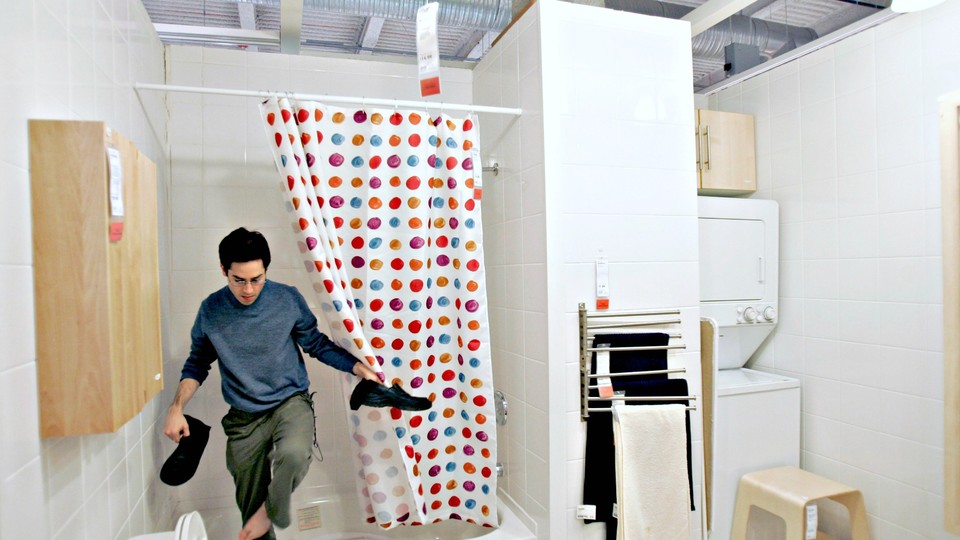 Would that red bookshelf work in our living room? Are those chintz curtains too chintzy? Was cutting through the children's section really a shortcut?
For many couples, those are the hard questions raised by an Ikea trip, a journey that brings with it the realization that living together might be hard, that an attachment to the Söderhamn chaise lounge might be a sign of deeper character flaws. The agony of a visit to the Scandanavian retailer has been well-documented (thank you, Tina Fey), but never before has the company squashed joy so directly.
Earlier today, Ikea shut down a series of hide-and-seek games at Dutch stores. According to Bloomberg, 32,000 people registered on Facebook to join a game at the Ikea in Eindhoven, and thousands more signed up to play in Amsterdam and Utrecht.
"It's hard to control," Ikea Group spokeswoman Martina Smedberg told Bloomberg. "We need to make sure people are safe in our stores and that's hard to do if we don't even know where they are." An Ikea in Wilrijk, Belgium, previously granted permission to Elise de Rijck—a 29-year-old Belgian woman who wanted to play hide-and-seek at IKEA before she turned 30—to organize such an event, which may have sparked a surge in interest. The game's participants got creative:
About 500 people joined in the game, according to Annelies Nauwelaerts, a spokeswoman for Ikea in Belgium, where the furniture retailer has six stores. People were hiding in fridges, under stuffed toys, under Ikea's blue shopping bags and even in the storage space under beds ... "Sometimes it's fun just to do some childish things," De Rijck, an event organizer based in Antwerp, said by phone. "Ikea is like an extremely large living room."
Evidently, people have been looking to lose themselves in a jungle of closets and cribs for a while: Slate notes that a raucous bout of hiding and seeking scared some customers from a Swedish Ikea in 2009, and an Australian store "discouraged" a similar event in 2010. A cursory Facebook search reveals dozen of smaller groups devoted to the idea. (Incidentally, Ikea is more comfortable with the large number of customers who head to their Chinese stores to take a nap.)
I reached out to the U.S. press team to find out if there's an official ban on the game, but was told the representative was "discussing with colleagues." Still, the company's safety concerns make sense. Even an enormous location is likely too small to safely host thousands of furtive Dutchmen, and normal shoppers might worry if someone hops out of a fridge before they can take it to the register. As for all those young couples? Well, they still have to go furniture shopping—and there will be no place to hide.