Cuba Is Getting Wired
A new free wi-fi cafe in Havana is a sign that the once-isolated island is connecting to the outside world.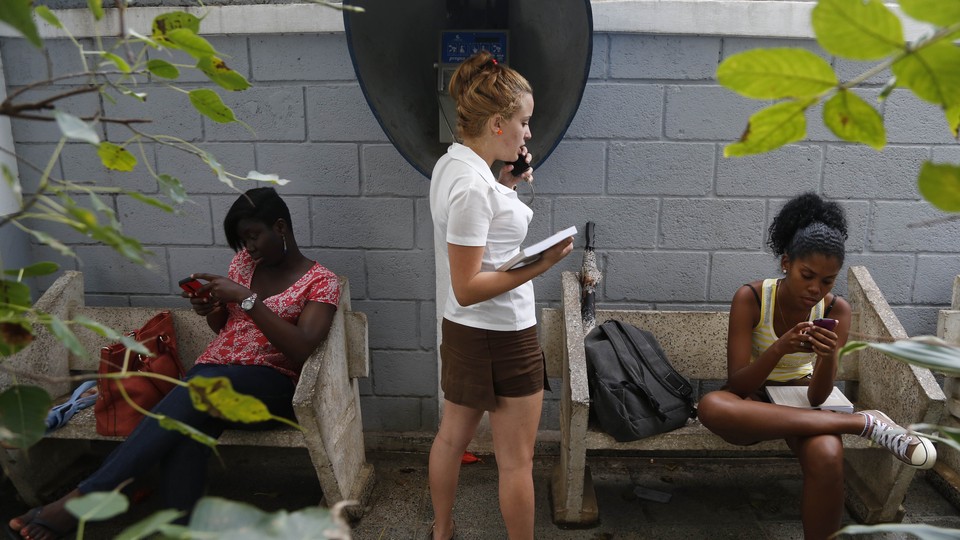 It's an image that's familiar around the world: A group of young people, glued to their laptops or smart phones, lounging around a public space and taking advantage of free, wireless Internet. But in Cuba, this scene is far from ordinary. When the famed artist Kcho provided wi-fi at his cultural center some weeks ago, he established the first such venue in the country's history. Now, in a rapidly changing Cuba, milestones like this have become more commonplace.
To its beneficiaries, free wi-fi is about more than gaining access to computer games and social media. It also involves establishing contact with the outside world. One 20-year-old at the cultural center was using wi-fi to chat with his father, who lives in the United States.
"Thanks to this service I can talk to him," the man, Adonis Ortiz, told the Associated Press.
These unprecedented commercial ties—some bank restrictions are also being lifted—have outpaced the political reconciliation between the two countries. The U.S. government still enforces a trade embargo of Cuba, and the two have yet to open embassies in each other's capitals. Nevertheless, President Obama and his Cuban counterpart, Raul Castro, are scheduled to meet at the Summit of the Americas next month in Panama City.
Three months after President Obama announced that the U.S. and Cuba would normalize relations, the island's long period of isolation appears to be coming to an end—and telecommunications is just one dimension of the change. On Saturday, a group of 80 civic and business leaders will travel from New Orleans to Havana to attend a conference, marking the first direct flight between the two cities in 57 years. And next week, a New York-based tour operator will launch a weekly charter flight between the Cuban capital and New York's JFK airport.
Still, Cuba's antiquated communications infrastructure presents an obstacle to economic development. In anticipation of restored U.S-Cuban ties, Havana is seeking billions of dollars in foreign direct investment across a range of sectors, but the lack of IT resources hampers these relationships. Nine out of 10 Cubans lack access to a mobile phone, and Internet connections are slow and subject to government censorship. State-run Internet cafes in the country charge $4.50 an hour for online access, a huge sum where the average monthly salary is about $20. Broadband Internet connections in Cuban homes are virtually unheard of.
The transition to a modern, Internet-driven economy won't happen overnight. Nor is it certain to force political change. In the U.S., critics of normalization have argued that establishing closer economic ties to Cuba will only empower the Castro regime. Senator Marco Rubio, a Florida Republican and probable presidential candidate, has cited evidence that engagement with other Communist countries did not compel them to liberalize.
"We have those policies of normalization toward Vietnam, for example, toward China," Rubio said in December. "They're not any more politically free today than they were when that normalization happened."
Kcho's cultural center offering free wi-fi in Havana, too, offers little promise of political liberalization—the center even hosted Fidel Castro last year. But for Cubans long deprived of the quality Internet service the developed world takes for granted, getting online has less to do with politics than with daily conveniences such as communicating with friends and buying things off the web. Belkis Baisal, a bed and breakfast operator in Havana, told AFP that regular Internet access will allow her to advertise her rooms. Normalization, she said, is a positive sign.
"It's better to have friends than enemies."