Obama and Netanyahu's Week of Hell
An allegation that Israel spied on U.S. negotiations with Iran caps a week of escalating tensions between the two leaders.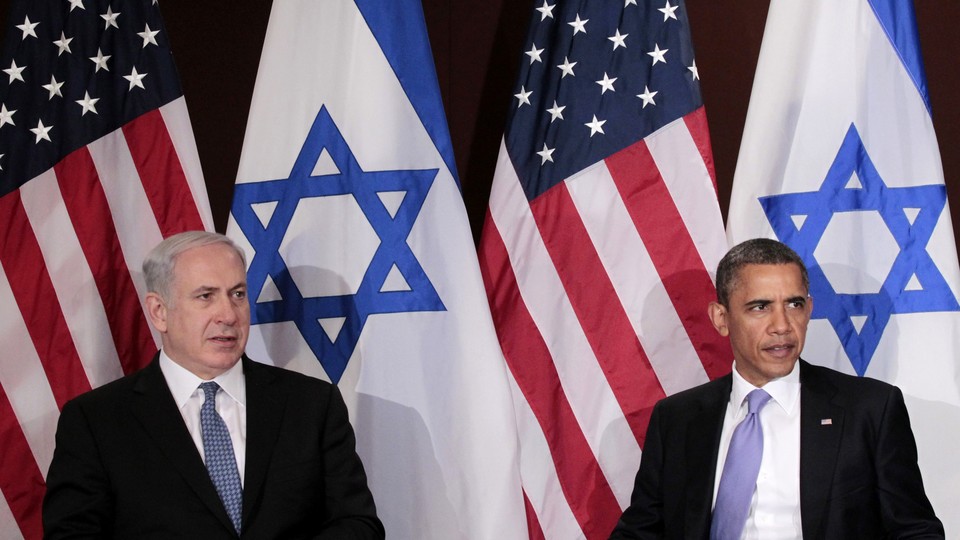 It's been one week since the Israeli elections, and rather than simmering down, the tension between President Obama and Israeli Prime Minister Benjamin Netanyahu seems even higher than it was then—no small feat, given the still-sore feelings over Netanyahu's speech to Congress at the time.
It was an open secret that the White House was rooting for Israeli voters to turn Netanyahu out of office on March 17. Instead, they returned him the premiership, with a stronger and more right-wing coalition than before. Obama took his time placing a congratulatory phone call to Netanyahu, and when he did, two days later, he used the occasion to scold the PM for his pre-election renunciation of a two-state solution. Meanwhile, Press Secretary Josh Earnest said the U.S. would "reevaluate our approach" to the peace process (such as it is) in light of Netanyahu's words. It was rumored that such a shift could include ending U.S. policy of blocking UN resolutions and actions critical of Israel.
Netanyahu has hastily moved to walk back his comments after the vote, insisting he really does want a two-state solution, but when a reporter asked why the administration didn't just take Bibi at his word, Earnest replied acidly, "Well, I guess the question is, which one?" Lest that seem like just a spokesman firing from the hip during a briefing, Obama used a similar line during an in-depth interview with The Huffington Post: "We take him at his word when he said that it wouldn't happen during his prime ministership, and so that's why we've got to evaluate what other options are available to make sure that we don't see a chaotic situation in the region."
On Monday, Netanyahu tried again to clean up after comments he made during the election, in this case dark warnings that his opponents were busing Israeli Arabs to the polls to defeat him. It was a classic non-apology apology, regretting mostly the offense: "I know that my comments last week offended some Israeli citizens and offended members of the Israeli Arab community. This was never my intent. I apologize for this." The White House was, as The New York Times put it, "unmoved," and speaking at a conference of the liberal Zionist group J Street, Obama's chief of staff kept up the heat. "We cannot simply pretend that these comments were never made," Denis McDonough said.
The real fun was yet to come. In a Wall Street Journal scoop Tuesday, Adam Entous reported that the U.S. had discovered that Israel was spying on negotiations with Iran on a nuclear deal. Israeli officials immediately rejected the report: "Israel does not spy on the United States, period, exclamation mark,'' said Intelligence Minister Yuval Steinitz. "Whoever published those false allegations possibly wanted to damage the excellent intelligence cooperation between us and the United States."
Whatever their motivations, it's not hard to trace who those culprits might be. Entous's story cites "senior White House officials" and "a senior U.S. official."
And anyway, how did the U.S. find out that Israel, its close ally, was spying on the talks? When the U.S. was spying on its close ally Israel, of course. Both sides spy on each other all the time, with each having full knowledge of the other's activities. In fact, the Journal's sources acknowledge the hypocrisy involved—they only got angry when Israel took the info they'd intercepted and handed it over to Congress.
"It is one thing for the U.S. and Israel to spy on each other. It is another thing for Israel to steal U.S. secrets and play them back to U.S. legislators to undermine U.S. diplomacy," "a senior U.S. official" told the paper.
If the actual offense was not the spying but the way the resulting information was spread, then maybe there's both less and more than meets the eye. The U.S. wasn't really offended by the spying, and delivering the story to the press is really just another way to turn the pressure up on Israel and express the administration's displeasure. However, as my colleague Jeffrey Goldberg noted on Twitter, the story does raise the question of whether the administration—already committed to bypassing Congress in negotiations toward a nuclear deal with Iran—was also withholding essential information from legislators.
How much of the sniping from Washington over the last week is bluster and posturing, and how much of it is proof of a permanent and growing rupture between the U.S. and Israel? Well, in addition to McDonough's demand for an end to "occupation" of Palestinian territories, the well-respected Republican statesman James Baker blasted Netanyahu at the J Street conference, saying the prime minister had been an impediment to peace. Yet in the first test of whether its commitment at the UN had wavered, the U.S. refused to take part in a forum in Geneva alleging Israeli human-rights violations. In short, depending on what you'd like to see, you can find evidence that the relationship isn't as bad as it seems, or that it's actually even worse. There's no disputing that it's pretty awful, though.