Amanda Knox's Ordeal Is Finally Over
But the relatives of Meredith Kircher are no closer to learning the truth about her death.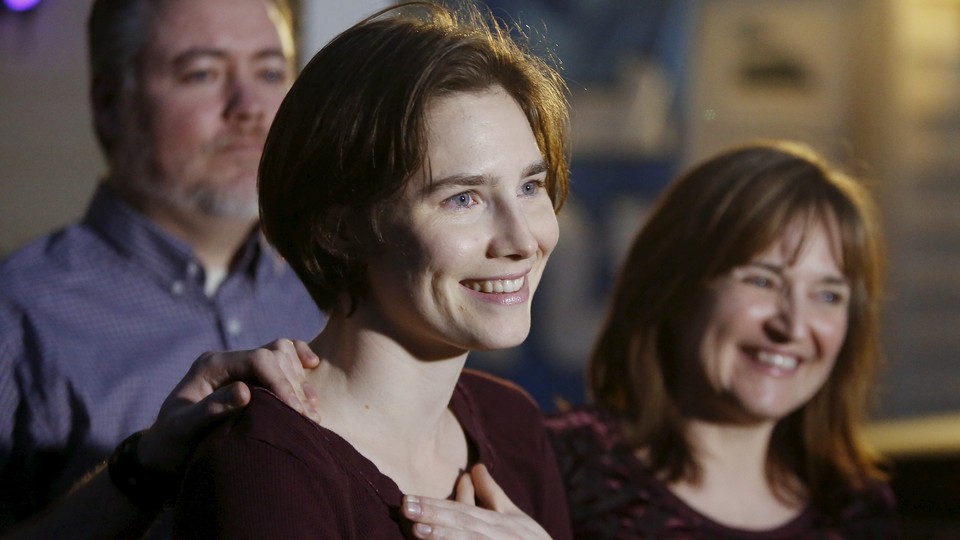 Seven and a half years after her implication in the stabbing death of Meredith Kercher—a 21-year-old Briton studying in Perugia, Italy—turned Amanda Knox into an international media sensation, her long, lurid, public saga is finally over. On Friday, Italy's Supreme Court of Cassation overturned the conviction of Knox and Raffaele Sollecito, her then-boyfriend, in a decision that surprised both the prosecution and defense. The verdict concluded a wrenching judicial seesaw for the two defendants, who were first found guilty in 2009, then freed in 2011, and found guilty by a separate court last January.
In a statement released through her attorney, Knox expressed elation and vowed to put the ordeal behind her.
"I am tremendously relieved and grateful for the decision of the Supreme Court of Italy," she said. "The knowledge of my innocence has given me strength in the darkest times of this ordeal."
The discovery of Kercher's dead body on the morning of November 2, 2007, began a story whose tawdry details—and the ineptitude of the Italian justice system—overshadowed the crime itself. Much of this attention focused on Knox, who shared an apartment with Kercher and two Italian women. Described as intelligent but naive by her stepfather, Knox's behavior in the immediate aftermath of her arrest elicited widespread scorn. Photographers spotted Knox and Sollecito kissing while police investigated the crime scene. Later, she engaged in calisthenics while under questioning by the police. Knox tried to defend herself against her critics by explaining that she was under considerable shock and distress. But her behavior conveyed a sense that she was, as The Atlantic's Olga Khazan wrote last year, too "loose and bouncy" for a woman whose roommate had just been murdered.
The focus on Knox's personality intensified during the trial, when the prosecution argued that she and Sollecito had killed Kercher during a sexual experience gone awry. The allegation was later abandoned—but caused the international media, eager to capitalize on Knox's good looks, to speculate at length about the young American's sexual activities.
Knox also undermined her own case in many ways. Initially, she told investigators that she was present in the apartment the night Kercher was killed, and that the screams of the victim forced Knox to cover her ears. But Knox soon retracted this statement. Instead, she said, she and Sollecito had spent a romantic evening together at his apartment and only returned to her place the following morning, in order to take a shower. (Sollecito's apartment apparently suffered from plumbing problems.) Separately, Knox implicated Patrick Lumumba, a Congolese-born bar owner who employed the young American as a waitress, in the crime. Perugia police soon cleared Lumumba of wrongdoing, but Knox came under investigation for calumny.
These distractions were exacerbated by sloppy police work. According to a 2011 Rolling Stone profile by Nathaniel Rich, the authorities who initially arrived at Kercher and Knox's apartment were junior-level "postal policemen" who failed to clear the crime scene of bystanders and handled forensic evidence without care. The key physical evidence implicating Sollecito—a bra clasp of Kercher's containing the Italian's DNA—was not found until seven weeks after the murder.
Knox's slander of Lumumba, meanwhile, came after hours of interrogation in Italian, a language she could barely speak and for which she was not provided an interpreter. (Selene Nelson, writing in Salon, disputes this account.) Her statement was deemed inadmissible during her murder trial, but, in an Italian peculiarity, was included in a slander suit brought by Lumumba that later merged with other charges against Knox. Italian prosecutors even persisted after another man, Rudy Guede, was separately convicted in Kercher's murder. Guede, an Ivorian immigrant, was found guilty in 2008 and is now serving a 16-year prison sentence.
Knox and Sollecito's elation at the acquittal aside, the seven-and-a-half-year ordeal has been a travesty for everyone involved. Knox and Sollecito spent nearly four years in prison. Patrick Lumumba has not received any restitution after Knox's false implication of his guilt, even though her statement was made under duress. The ordeal focused intense media attention on the personal life of a young woman who blundered her way into a sensational murder. The media circus surrounding the case has caused distress for Knox and for Sollecito, who told the Italian press he has claimed difficulty in finding a job.
But most tragically, the attention paid to Knox has detracted from the individual most deserving of it: Meredith Kercher. While Knox and Sollecito now have an opportunity to rebuild their lives, Kercher's grieving relatives are no closer to finding out what happened to their daughter on the last night of her life.