A Cyclone Destroys a Nation
Pam, a Category 5 storm, has left most of Vanuatu's population homeless.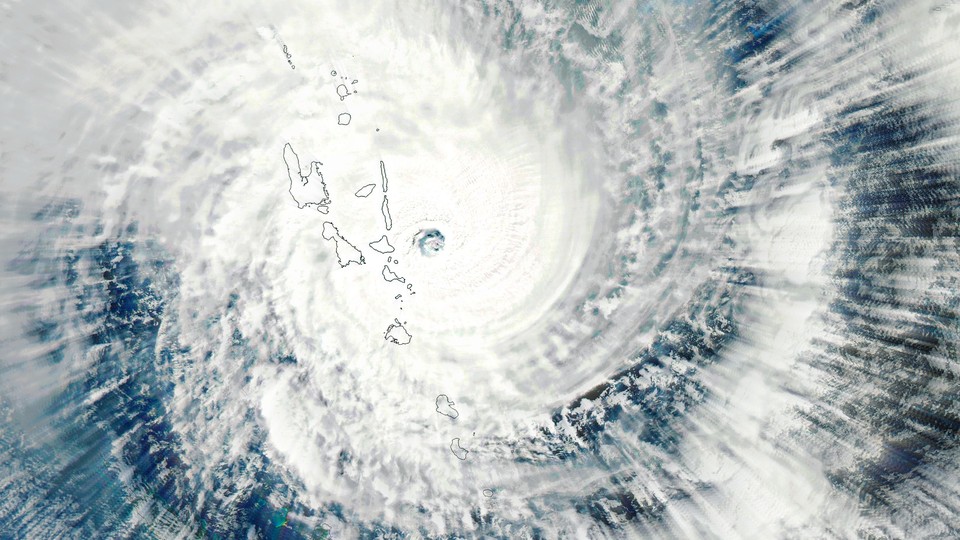 Torrential rains and winds up to 185 miles per hour lashed the Pacific island nation of Vanuatu on Saturday, downing power lines and flattening buildings throughout the country. The official death toll of the storm, called Tropical Cyclone Pam, is eight, but the final figure is likely to be considerably higher: Rescuers have been unable to communicate with residents living in the archipelago's outlying islands.
Vanuatu President Baldwin Lonsdale said that Cyclone Pam destroyed schools and hospitals and rendered thousands homeless. "I stand to appeal on behalf of the government and the people to give a helping hand in this disaster," he said, his voice heavy with emotion. The governments of Australia and New Zealand flew military planes loaded with supplies to Vanuatu, a cluster of 65 islands located some 2,000 miles east of Australia, and have pledged millions of dollars in aid.
As a tropical nation, Vanuatu is no stranger to major storms. "Vanuatu has a cyclone season," the Oxfam country director in Port Vila, Colin Collet van Rooyen, told The New York Times. "But local residents say they have never experienced anything like this."
Alas, devastating cyclones may become more commonplace in Vanuatu, a low-lying nation considered extremely vulnerable to climate change. Roughly three quarters of the population of 267,000 work in fishing and agriculture, two industries sensitive to rising sea levels and warmer temperatures. Prolonged dry spells have begun to threaten the country's water supply, while intense rainstorms have damaged staple crops like cabbage.
"The scale of this disaster is unprecedented in this country and the proud people of Vanuatu are going to need a lot of help to rebuild their homes and their lives," van Rooyen said.
Scientists have warned against attributing single weather events to climate change—even storms the size of Cyclone Pam. However, a report commissioned by the Australian government predicts that regional cyclones will only be more intense.
Vanuatu is well aware of the risks of climate change—in 2013, the country established a ministry devoted to mitigating the risks of rising sea temperatures, drought, and other environmental disasters. But for now, the country must recover from a cyclone whose damage may not be fully realized for years.