A Million Cries to Kick Out Brazil's President
Protesters demanded that Dilma Rousseff step down amid allegations of massive corruption and a sputtering economy.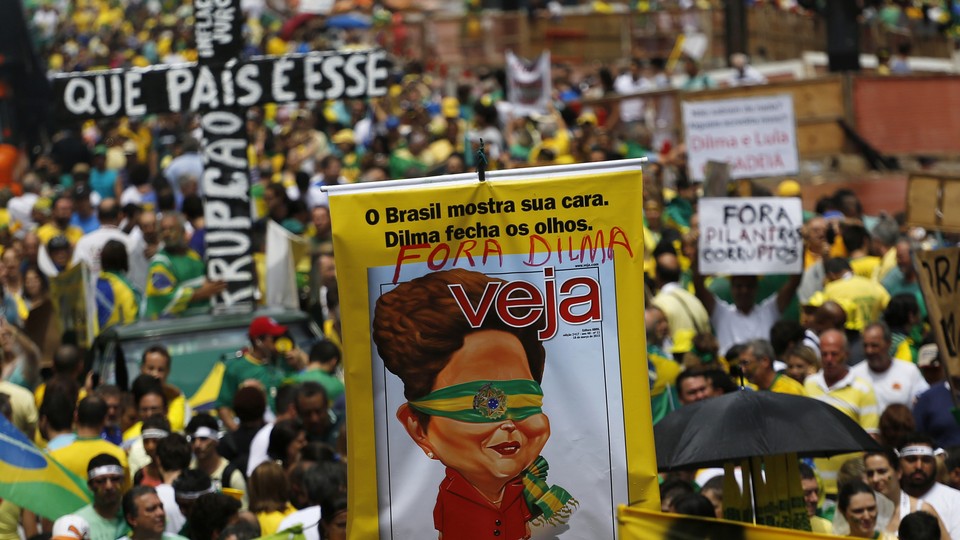 $3.8 billion in kickbacks. The largest company in South America. A stagnating economy. Many of Brazil's top politicians.
That's a volatile mixture, and over the weekend it exploded, with an estimated one million people marching in the streets across Brazil against President Dilma Rousseff's government and demanding she resign. Here's what happened, why, and what to expect.
Why Are People Protesting?
It's hard to summarize the demands of hundreds of thousands of people from across a country as large as Brazil, but what united the protestors was fury at Rousseff, who was elected in 2010 and reelected, narrowly, in October. Many protesters brandished signs demanding that she resign, or they called for her impeachment. Some even called for a military coup to unseat Rousseff—a demand with a particular edge, since Brazil is at the same time commemorating the 30-year anniversary of the end of a military junta that ruled the country.
Some demonstrators seem to be suffering from fatigue with the ruling Workers Party, but the main flashpoint is the huge Petrobras scandal.
What's the Petrobras Scandal?
Last year, a top former executive at Petrobras—the state-run oil behemoth that is South America's biggest company—told investigators the company had been sending kickbacks from oil contracts to "dozens" of senior politicians. Many of the accused politicians are members of Rousseff's Workers Party or her ruling coalition, and they include the head of the Senate and the Chamber of Deputies, and a former president, Fernando Collor de Mello.
Rousseff has denied any involvement, and the attorney general cleared her. But she chaired Petrobras's board of directors during much of the period of the kickbacks, which allegedly totaled around $3.8 billion.
One reason the scandal is so potent is that in addition to its size, Petrobras looms large in the national consciousness as a symbol of pride and economic might. Brazilians were outraged when Edward Snowden revealed that American intelligence agencies had been spying on Petrobras. By way of comparison, however, a pro-Petrobras rally shortly after the scandal emerged last fall drew just 1,000 marchers.
What Will This Mean for Brazil?
So far, Brazilian observers seem to think that while this scandal has the potential to be the biggest in the country in years, Rousseff is not immediately in danger. For one thing, she won reelection in October, if narrowly. For another, impeachment is something of a leitmotif in Brazilian politics. Not only was former President Collor de Mello impeached—he stepped down from the presidency in a failed attempt to avoid it—but, as The New York Times notes, every civilian president since the military junta ended in 1985 has been threatened with it. Rousseff has also survived widespread protests before, and her reelection came despite public fury at mishandling of projects around last year's World Cup.
Still, there are particular reasons why Rousseff might be worried now. The calls for her impeachment have built quickly, and her approval rating has fallen nearly 20 points, from 42 percent late last year to 23 percent recently. Meanwhile, the national economy is sputtering—inflation is at a decade high, and the real is sinking against the dollar—and many analysts expect it to fall into recession.
Rousseff's struggles, and the Workers Party fatigue, seem to fit into a pattern across Latin America in recent years, where charismatic leftist leaders depart office and leave a mess behind them. Rousseff succeeded her political mentor, Luiz Inacio Lula da Silva, as president. Lula was a charismatic populist who won widespread affection from the Brazilian masses and launched huge government programs to lift citizens out of poverty. Now, Rousseff is struggling to deal with the aftermath of the Lula administration and its programs, and she seems to lack Lula's charisma and ability to keep politics from spinning out of control.
There have been different variations on this theme elsewhere. A darker version is Venezuela, where Nicolas Maduro is facing an economy destroyed by the policies of his late mentor Hugo Chavez. Maduro can't blame Chavez, but he also can't pull off the same grandstanding Chavez did, and instead has doubled down on Chavez's strategy of violent repression of opponents. And in Cuba, the granddaddy of Latin American leftism, Raul Castro has embarked on a series of steps to loosen Communist Party control since taking over power from his brother Fidel—most notably diplomatic rapprochement with the United States. Speaking of Rousseff and her allies, one protester told AFP derisively, "They can all go to Cuba!" In a small way, the entire country is already slouching that way.