The Iranian Regime on Israel's Right to Exist
The foreign minister says his country is friendly to Jews. But his country seeks the elimination of the country in which nearly half the world's Jews live.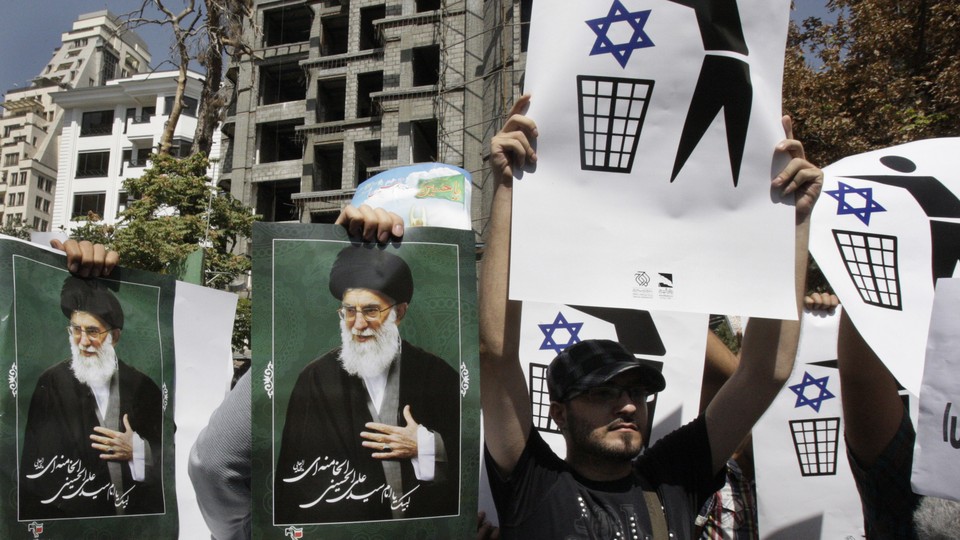 The Iranian foreign minister, Mohammad Javad Zarif, wants Jews to know that he, and the country he represents, are their friends. In an interview with Ann Curry, he accused the Israeli prime minister, Benjamin Netanyahu, of intentionally misreading Jewish scripture in order to make the case that Iran is malevolently predisposed toward Jews: "If you read the Book of Esther, you will see that it was the Iranian king who saved the Jews," Zarif said. "If you read the Old Testament, you will see that it was an Iranian king who saved the Jews from Babylon. Esther has a town in Iran where our Jewish population, which is the largest in the Middle East, visits on a regular basis."
It is true that, at different times, and in different ways, Persia has been a friend of the Jews. Cyrus the Great (the Iranian king mentioned by Zarif in the interview) restored the Jews to their homeland in the Land of Israel after their Babylonian exile. President Harry Truman, who recognized the state of Israel in 1948, 11 minutes after it was reborn, later proclaimed proudly, "I am Cyrus."
There is dark humor (or a lack of self-awareness) in Zarif's citation of Cyrus as proof of Iranian philo-Semitism, because today's Iranian leadership does not recognize Jewish sovereignty in Israel, as Cyrus once did, but instead seeks the annihilation of the Jewish state.
I am in favor of a negotiated agreement that will keep Iran at least a year away from a nuclear weapon in part because, in the post-Holocaust era, it is crucially important to keep such weapons out of the hands of those who promise to do Jews real harm. As I've written, it is not likely that Iran would launch a preemptive nuclear attack on Israel, but it would almost certainly redouble, under the protection of a nuclear umbrella, its work toward Israel's eradication, with disastrous consequences. (We'll have the argument over whether the agreement now taking shape is the best possible deal in another post. Suffice it to say that the parameters of the current, still-unfinished deal are cause for some worry.)
Netanyahu's deployment of the Holocaust to make his case against Iran (and against the current deal) is controversial. There are many aspects of Netanyahu's approach I find disagreeable and counterproductive (most, actually), but an Israeli prime minister who does not recognize that extinction-level threats directed at Jews have sometimes been more than aspirational is not fulfilling his responsibilities.
(For a recent example of an argument about the putative dangers of casting the Holocaust in political, cautionary terms, please see this post from my colleague James Fallows, who quotes an unnamed history professor at at a university in the Southwest arguing, in essence, that the Holocaust was so terrible and enormous that we should resist the urge to learn from it: "The constant reiteration of this particular event achieves little more than dumbing down the discourse: it's the historical equivalent of hollering." The professor goes on to write, "To paraphrase Levi-Strauss, the Holocaust is not particularly good to think with. Its extremity serves as a bludgeon." This argument is unwise and unfair; just imagine the same argument in a specifically American historical context: Slavery was so terrible, and so extreme, that we shouldn't talk about it in the context of politics, because someone is bound to use it as a bludgeon. An absurd argument, of course.)
I think it is possible to strike an appropriate balance in this debate, somewhere between, "The Jews should stop talking about the Holocaust so much," which is the subtext of this professor's complaint, and "The Nazis are coming" line of argument used periodically by Netanyahu and his allies.
The Iranian regime is not populated by Nazis, but it is led by people who do, in fact, seek the physical elimination of the Jewish state and its replacement by a Muslim state. It works toward this end, by sponsoring terrorist groups that regularly kill Jews, both in Israel and elsewhere.
So, as a reminder to those who argue that Jews should stop worrying so much about people who threaten to kill them, here is some (just some) of what Iran's leaders, and leaders of its proxy militia, Hezbollah, in Lebanon, have said about Israel:
Mohammad Khatami, the former president of Iran: "If we abide by real legal laws, we should mobilize the whole Islamic world for a sharp confrontation with the Zionist regime … if we abide by the Koran, all of us should mobilize to kill." (2000)
Ayatollah Ali Khamenei: "It is the mission of the Islamic Republic of Iran to erase Israel from the map of the region." (2001)
Hassan Nasrallah, a leader of Hezbollah: "If they [Jews] all gather in Israel, it will save us the trouble of going after them worldwide." (2002)
Nasrallah: "Israel is our enemy. This is an aggressive, illegal, and illegitimate entity, which has no future in our land. Its destiny is manifested in our motto: 'Death to Israel.'" (2005)
Yahya Rahim Safavi, the former commander of Iran's Revolutionary Guard Corps: "With God's help the time has come for the Zionist regime's death sentence." (2008)
Mohammad Hassan Rahimian, Khamenei's representative to the Moustazafan Foundation: "We have manufactured missiles that allow us, when necessary to replace [sic] Israel in its entirety with a big holocaust." (2010)
Mohammad Reza Naqdi, the commander of the Basij paramilitary force: "We recommend them [the Zionists] to pack their furniture and return to their countries. And if they insist on staying, they should know that a time while arrive when they will not even have time to pack their suitcases." (2011)
Khamenei: "The Zionist regime is a cancerous tumor and it will be removed." (2012)
Ahmad Alamolhoda, a member of the Assembly of Experts: "The destruction of Israel is the idea of the Islamic Revolution in Iran and is one of the pillars of the Iranian Islamic regime. We cannot claim that we have no intention of going to war with Israel." (2013)
Nasrallah: "The elimination of Israel is not only a Palestinian interest. It is the interest of the entire Muslim world and the entire Arab world." (2013)
Hojateleslam Alireza Panahian, the advisor to Office of the Supreme Leader in Universities: "The day will come when the Islamic people in the region will destroy Israel and save the world from this Zionist base." (2013)
Hojatoleslam Ali Shirazi, Khamenei's representative in the Revolutionary Guard: "The Zionist regime will soon be destroyed, and this generation will be witness to its destruction." (2013)
Khamenei: "This barbaric, wolflike & infanticidal regime of Israel which spares no crime has no cure but to be annihilated." (2014)
Hossein Salami, the deputy head of the Revolutionary Guard: "We will chase you [Israelis] house to house and will take revenge for every drop of blood of our martyrs in Palestine, and this is the beginning point of Islamic nations awakening for your defeat." (2014)
Salami: "Today we are aware of how the Zionist regime is slowly being erased from the world, and indeed, soon, there will be no such thing as the Zionist regime on Planet Earth." (2014)
Hossein Sheikholeslam, the secretary-general of the Committee for Support for the Palestinian Intifada: "The issue of Israel's destruction is important, no matter the method. We will obviously implement the strategy of the Imam Khomeini and the Leader [Khamenei] on the issue of destroying the Zionists. The region will not be quiet so long as Israel exists in it ..." (2014)
Mohammad Ali Jafari, the commander-in-chief of the Revolutionary Guard: "The Revolutionary Guards will fight to the end of the Zionist regime ... We will not rest easy until this epitome of vice is totally deleted from the region's geopolitics." (2015)