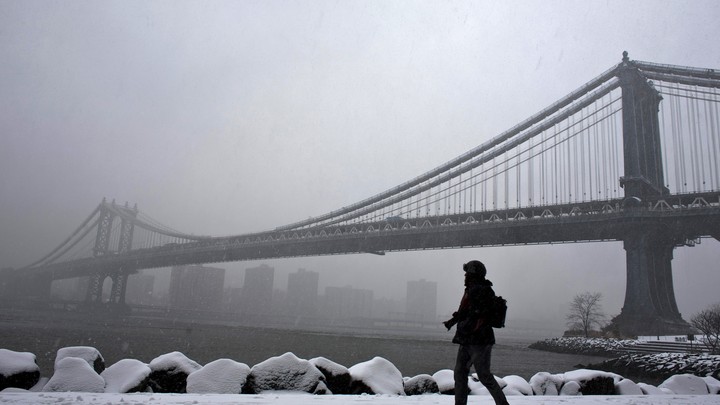 On Wednesday, U.S. authorities arrested three men on charges of conspiring to support ISIS. Two of the men, Akhror Saidakhmetov and Abdurasul Hasanovich Juraboev, were living in Brooklyn and, according to officials, planning to travel to Syria to join ISIS.
Saidakhmetov, a 19-year-old Kazakh national, was apprehended at New York's JFK airport Wednesday morning as he reportedly attempted to board a plane to Turkey. Meanwhile, Juraboev, a 24-year-old Uzbek, is accused of awaiting instructions from Islamic State leaders for possible attacks on American soil.
A Department of Justice statement released on Wednesday afternoon outlined some of the two men's alleged plans:
As alleged in the complaint, Juraboev was also prepared to engage in an act of terrorism in the United States if ordered to do so by ISIL, and Saidakhmetov intended to commit such an act if unable to travel abroad to join ISIL. In the August 2014 posting on the website that propagates ISIL's ideology, Juraboev offered to kill the President of the United States if ordered to do so by ISIL. More recently, Saidakhmetov expressed his intent to buy a machine gun and shoot police officers and FBI agents if thwarted in his plan to join ISIL in Syria.
The complaint noted that one of the men was thought to be involved with a plan to attack targets within the city as well as assassinate President Obama. Abror Habibov, the third man arrested on Wednesday, is also an Uzbek national and is accused of raising funds for Saidakhmetov's efforts to join ISIS.
---
The Associated Press is following the story closely and has more details about the alleged plans of the arrestees.
The full Justice Department complaint includes comments from Brooklyn's U.S. attorney, Loretta Lynch (also President Obama's attorney general nominee), as well as New York City Police Commissioner William Bratton.
The Atlantic's cover story on the Islamic State provides more context on its mission and recruitment tactics.
We want to hear what you think about this article. Submit a letter to the editor or write to letters@theatlantic.com.
Adam Chandler
is a former staff writer at
The Atlantic
. He is the author of
Drive-Thru Dreams: A Journey Through the Heart of America's Fast-Food Kingdom
.