Purple Rain in the Saharan Desert
How a remake of Prince's cult classic became the first-ever Tuareg-language fiction film
In 1984, Prince starred in Purple Rain, a decadent, semi-autobiographical rock opera that became a cult classic and the definitive expression of the mid-eighties musical sub-genre known as the Minneapolis Sound. Now, 31 years after the Purple One's silver-screen debut, a remake of the film, set in the Saharan desert, may help do the same for a new sound emerging out of the region.
The film is called Akounak Tedalat Taha Tazoughai—a Tuareg phrase that literally translates to "rain the color of blue with a little red in it" (the Tuareg are a semi-nomadic Berber group in North Africa, and their language, also known as Tamashek, has no word for the color purple). Rooted in the Nigerien city of Agadez, the film stars the self-taught guitarist Mdou Moctar as an enigmatic, motorcycle-riding, purple-robed musician trying to a make a name for himself in the city "where guitars are king."
If the film sounds like a joke, that might be because it started as one: Christopher Kirkley, a Portland-born "guerrilla ethnomusicologist," came up with the idea of a West African homage to Purple Rain while living in Mauritania and riffing on movie concepts with a Canadian expat.
"The idea [was] just an extension of that out-of-placeness when living abroad in a foreign culture, of trying to see the familiar in the altogether foreign," Kirkley told me by email.
But the idea became less of a joke as Kirkley got involved in the music scene in the Sahel, a semi-arid region stretching from Senegal in the west to Eritrea in the east. In 2009, Kirkley founded the blog-cum-record label Sahel Sounds and began collecting popular songs that people were trading through cell phone SIM cards and Bluetooth connections. He reissued the songs as part of an album series called Music From Saharan Cellphones. A Tuareg Purple Rain, he believed, could further promote the regional music scene.
"I liked the concept of a film that is a vehicle for an artist, utilizing elements from the artist's life to create a fictional, music-based film" Kirkley said, citing The Harder They Come, the Jamaican crime film that helped introduce the world to Jimmy Cliff as another example.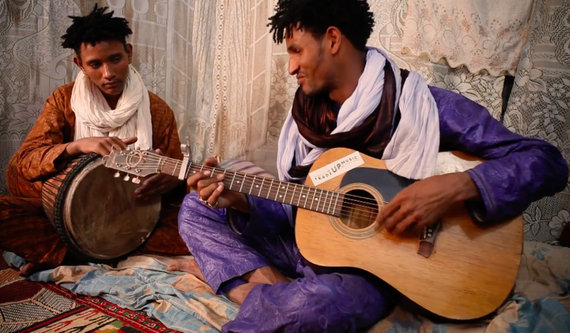 Akounak, which Kirkley claims is the world's first Tuareg-language fiction film, also has a secondary aim: entertaining Tuareg audiences and inspiring Tamashek-speaking filmmakers. According to Kirkley, the film industry in the Sahel is currently dominated by foreign imports, particularly Hausa-language films from Nigeria.
Akounak is a departure from documentaries about the Sahel and its music scene, which tend to focus on the turbulent political history of the Tuareg guitar style known as ishumar (a term derived from the French word chômeur, meaning "unemployed"). This "desert blues" guitar style, popularized internationally by Mali's Tinariwen, is often discussed in the context of the marginalized youth groups that turned to armed rebellion during the Sahel's early post-colonial period.
While rebel militias and military coups are historical components of Tuareg music, Kirkley also wanted to convey what life is like for contemporary desert-blues musicians. Musicians are shown at work: performing at weddings, traveling across vast swathes of desert terrain, and recording songs on portable phones in a country where most citizens don't have access to computers.
Kirkley's approach to the film was informed, in part, by Italian neorealist directors and the French filmmaker Jean Rouch, and structured around quotidian routines and objects. Quoting a friend, Kirkley said his film is not "about Kalashnikovs, but cellphones, motorcycles, and guitars."
One of the first challenges Kirkley confronted was finding a star who could carry the film—someone who had both the musical skills and the on-stage charisma to measure up to Purple Rain's original star.
"There are loads of Tuareg guitarists, but a lot of guitarists don't write their own songs, and we needed a real musician, a parallel to Prince," he explained.
While collecting songs in northern Mali, in the years before Islamist militants banned secular music in the region, Kirkley came across a couple of strange, auto-tuned folk songs, one called "Tahoultine" and another called "Anar." Kirkley was so struck by the songs that he traveled to Niger to find the man who made them, Mdou Moctar. After connecting with the guitarist, the pair spent two weeks recording a raw-edged live album called Afelan. Kirkley had found his star.
Moctar "has a sense of humor, which is vital for trying to make a film in the low budget, chaotic way that we had to," Kirkley said, "but he's also an amazing guitarist with serious chops and a composer."
---
Mdou Moctar and his band perform at a wedding in Tchintabaraden, Niger (Christopher Kirkley/YouTube)
---
Once Moctar was on board, Akounak was made quickly on a shoestring budget. Working with the French filmmaker Jerome Fino, Kirkley managed to shoot the entire film in just eight days.
Though Kirkley initially based the script on Purple Rain, Moctar and his friends ultimately adapted the story to better hew to their own lives.
"The actors constantly vetoed their lines and changed scenarios to create something that was more accurate, more culturally [and] personally appropriate," Kirkley said.
As a result, the alcoholic, wife-beating father character from Purple Rain is swapped for a pious Muslim who bans music in his household and burns Moctar's guitar for the sake of his son's soul ("only drug addicts and alcoholics play guitar," the father declares). Instead of the protagonist ordering his lover to "purify yourself in the waters of Lake Minnetonka," Moctar tries to woo his love interest by driving her into the middle of the desert and pretending that his motorcycle has run out of gas. And, instead of one-upping Morris Day in a showdown on First Avenue, the Tuareg six-stringer squares off against his real-life rival Kader Tanoutanoute at the Agadez branch of the Alliance Française, a French language and cultural center.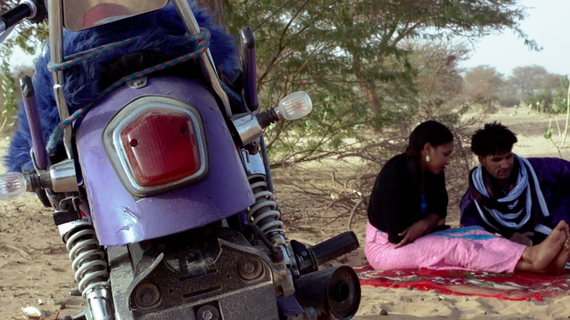 The final version of the film, which recently premiered in France and the United States, is gorgeously shot and, despite the largely amateur cast, surprisingly well-acted. Moctar's performance might be more muted than the notoriously flamboyant Purple One's, but he is nonetheless a commanding presence on screen, particularly when he has a guitar in hand. Still, there is a charming, ragtag quality to the film, an impression that's crystallized in its fumbling, long-winded title.
"We were going to change [the title] for the actual release, but everyone in Niger already knows it by the title." Kirkley said, "And there's something poetic about it, something in the title that reflects our own attempt at cross-cultural translation."