How to Spend $24,000 on Takeout as Prime Minister of Israel
The impressive figure is all the more stunning since Benjamin Netanyahu has a live-in chef. But isn't this—no pun intended—sort of small potatoes?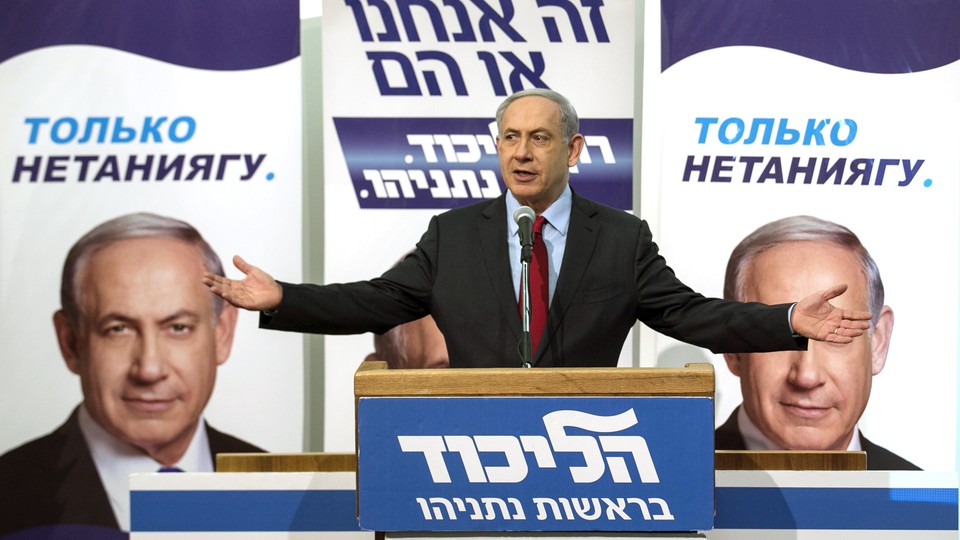 $68,000 over two years for makeup and hairstyling.
$1,000 in bottle-deposit refunds.
$20,000 in cleaning costs.
And perhaps most impressively, $24,000 for takeout in one year.
Those numbers are part of the "October surprise" in Israel's election, which will take place on March 17. They come from a report by the state comptroller released Tuesday, and they detail spending by Prime Minister Benjamin Netanyahu and his wife Sara.
The impressive takeout figures—an average of $66 every day—are all the more stunning since Netanyahu has a live-in chef. But isn't the outrage overblown? After all, this is a country that faces what some analysts describe as an existential threat from Iran; a raging debate about national character; a fraying relationship with the United States; and an ongoing conflict with the Palestinians.
But no—this is front-page news in Israel. It's a case study in how even the smallest of scandals can become a media circus—a phenomenon Americans are well acquainted with. Comptroller Joseph Shapira's recommendations are notably muted: "In light of the large cleaning costs, the [prime minister's office] should examine ... their prudence and act to avoid unnecessary expenditures," he wrote. Once society is obsessed with any appearance of corruption, as Jonathan Rauch has noted, even the least important or minor controversies can explode into full-blown national debates.
Some media commentators are sheepish about the whole thing. The Washington Post quotes Maariv columnist Ben Caspit: "It is embarrassing even to write about this. But it can't be helped, this is what there is, and it's ours." Others feel no such compunctions, such as Haaretz's Yossi Verter, who rails against "an unbridled, hedonistic waste of public funds on catered meals, in gross violation of regulations; huge sums spent on cleaning the private villa in Caesarea that is usually uninhabited; mind-boggling outlays on make-up and hairdressing."
The numbers may be large, but serious, criminal incidents of corruption in Israeli politics are well within memory. Netanyahu's predecessor, Ehud Olmert, was convicted on bribery and "breach of trust" charges and is serving time in prison. Former President Moshe Katsav is also behind bars after convictions for rape and obstruction of justice.
Still, there are some reasons this "scandal" has stung Netanyahu in particular. For one, it's not the first time he's been caught with his hands in the cookie jar—so to speak. Nearly two years ago, he was revealed to have a $2,700 per annum budget for ice cream (pistachio for the PM; French vanilla for his wife). The flap brought with it a heaping serving of puns—"Netanyahu freezes bloated ice cream budget," Haaretz smirked, while The Guardian spotted a "meltdown"; The New York Times went with the more understated mention of "dipping into state coffers"—and a promise from Netanyahu to control his spending.
Netanyahu's camp apparently poured fuel on the fire of the comptroller's report over the weekend, releasing a video walk-through of the prime minister's house, intended to prove that his family lived in shabby squalor rather than grandiose luxury. As The Washington Post notes, that didn't fool many people, and it became clear that the dingy kitchen portrayed was really a servants' galley, not the real kitchen.
Of course, opulence is a bad look for any politician, especially in a country struggling, like the United States, with income inequality. In the last election, Yair Lapid's new Yesh Atid party won 19 seats campaigning against inequality, at Netanyahu's expense. The prime minister's spending has already been a campaign issue this time around, too. New billboards have attacked him with slogans like, "He buys 10,000 shekels worth of ice cream, and you don't have money for cottage cheese. Only a sucker votes Netanyahu."
A better question might be what the appropriate level of spending by a national leader is. Last year, the White House received $19,000 for receptions and $12.7 million for operating expenses; depending on who you ask, that is either completely outrageous or simply the price of doing business. The Times of Israel's Haviv Rettig Gur sees the scandal as growing out of the political history of the nation:
The complaint against Netanyahu resonates in Israeli politics because of a cultural expectation set by past generations. The leaders of left and right in the first decades after Israel's founding, David Ben Gurion and Menachem Begin, lived modestly. After his premiership, Begin retired to a humble southern Jerusalem apartment. ... They were not leaders who might be caught charging thousands of shekels a month for gourmet ice cream to the Israeli taxpayer.
But the March election is shaping up as largely a referendum on Netanyahu and not about much else, as Gur notes. The prime minister's Likud party seems to have a small edge in polling so far. As long as Netanyahu's personality is the focus, his opponents will try to make the expenditure report a costly error for him. After all, it's already been costly for Israeli taxpayers.