A Russian Opposition Leader, Gunned Down
The prominent Putin critic and former deputy prime minister was reportedly shot four times.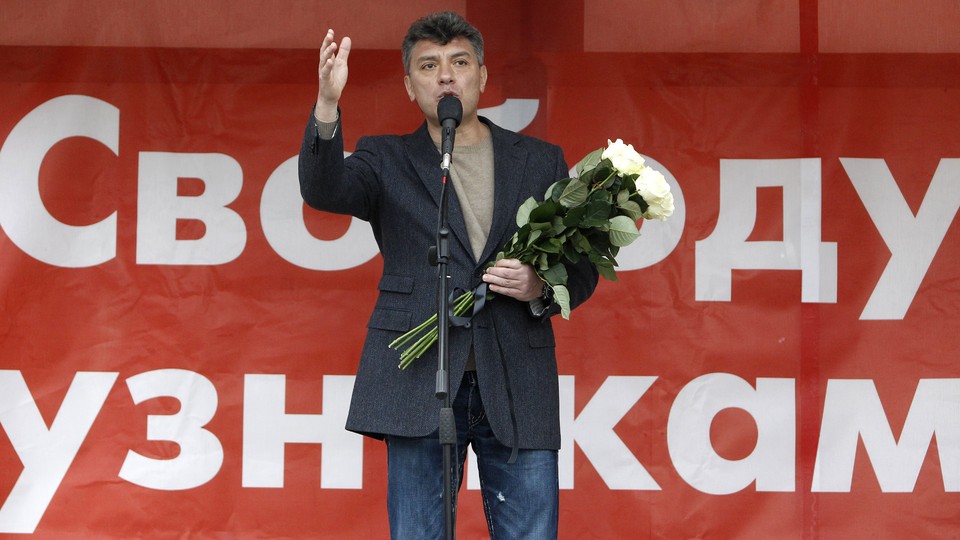 Russian opposition leader Boris Nemtsov was shot dead in Moscow shortly before midnight on Friday night local time. The Russian Interior Ministry told the Associated Press that Nemtsov had been shot four times while walking on a bridge near the Kremlin. Nemtsov had been expected to help lead a major opposition rally in the capital on Sunday.
Nemtsov had been a deputy prime minister under then-Russian President Boris Yeltsin for a year and half beginning in 1997—a period the Washington Post described in 1998 as "a frustrating 18 months at the cutting edge of a critical period in Russia's quest to become a free-market economy." Nemtsov's term, the Post's David Hoffman wrote then, "is often described as the most pro-reform in post-Soviet Russia's short history."
More recently, Nemtsov had been known for his blunt opposition to President Vladimir Putin. In an interview with The Atlantic two years ago, he panned the preparations for the Winter Olympics in Sochi, citing bribes and kickbacks he claimed it was "logical to suppose" amounted to $26 billion. Asked why Putin would permit that level of corruption, Nemtsov responded: "It's all very simple. Putin is part of a mafia; they do not turn in their own. He gave his friends an opportunity 'to earn some cash,' and now he is forced to deal with things as they are."
The march scheduled for Sunday was to express opposition to the war in Ukraine, and on the morning of his death Nemtsov had posted on Twitter urging Russians to attend the march "if you support stopping Russia's war with Ukraine, if you support stopping Putin's aggression," according to the BBC. But he had recently expressed discouragement with the state of the Russian opposition. "Three years ago, we were an opposition," he told the Financial Times just days ago. "Now we are no more than dissidents. The task is to organize a real opposition again."
A police spokesman told Reuters that Nemtsov had been shot in the back by an assailant in a white car. But little is known otherwise about the killer or motive. Putin has vowed to lead the investigation.