A Chilling Day in Copenhagen
A terror attack on a free speech seminar in Denmark has raised the stakes for European artists.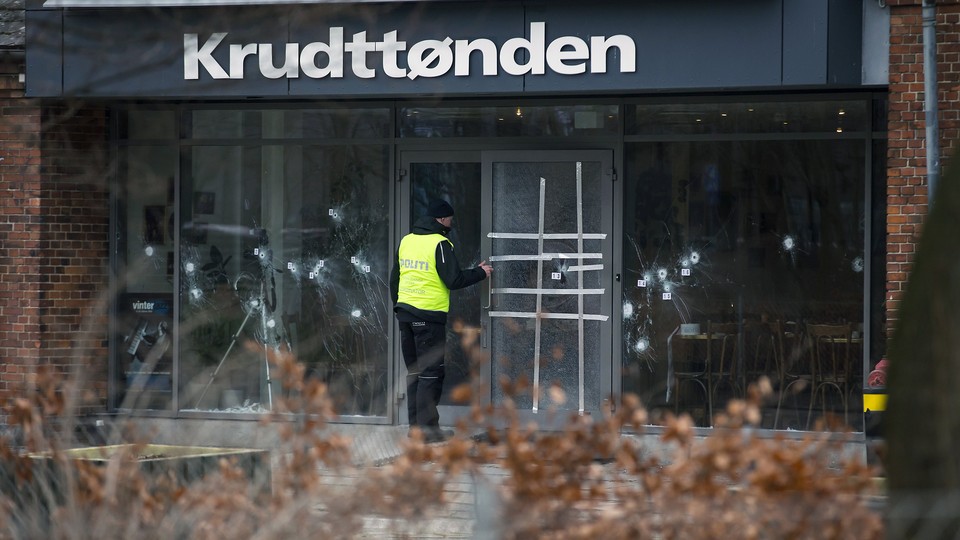 Five weeks after two gunmen killed 12 people at the Paris headquarters of Charlie Hebdo, a satirical newspaper, a group of artists, intellectuals, and politicians gathered at a Copenhagen cafe on Saturday for a seminar entitled "Art, Blasphemy, and the Freedom of Expression." The theme reflected a critical question at the heart of contemporary European life: How can artists preserve the right to offend when being offensive can make them targets of assassination?
Before long, the seminar's discussion was realized in horrible fashion. At just before 4 P.M., a man opened fire on seminar attendees from outside the cafe, killing one and injuring three policemen, in an incident the Danish prime minister has labeled a "terror attack." Blocked from entering the cafe by Danish police, the gunman ultimately sped away in a hijacked car which he then abandoned. Early Sunday morning, a man was shot dead outside of a Copenhagen synagogue where 80 people had gathered to celebrate a Bat Mitzvah. The police believe the suspect in the cafe shooting, whom they shot and killed Sunday, was also responsible for the synagogue murder.
Police have still not determined the precise motive of the shooter, who remains unidentified as of this writing. But Helle Merete Brix, an organizer of the seminar, said that the likely target was Lars Vilks, a 68-year-old artist whose 2007 drawing depicting Mohammed as a dog has subjected him to frequent assassination attempts ever since. A native of Sweden, Vilks lives under constant protection, telling the Wall Street Journal that he "can't leave the house without a police escort." On Saturday, the artist escaped harm by hiding inside the cafe's cold storage room.
In an email to Bloomberg, Mayor Frank Jensen described the attack as an isolated event. "Copenhageners won't allow themselves to be threatened by this form of terror and I hope we will soon see a return to normal life," he said.
But for European artists, used to working under laws that protect freedom of expression, a return to normalcy may not be easy. Vilks, like the slain Charlie Hebdo editor Stephane Charbonnier, was explicitly targeted for assassination in a hit list published in Inspire, an English-language magazine affiliated with al Qaeda. Among many others, the two are joined by the novelist Salman Rushdie and three cartoonists of Jyllands Posten, the Danish newspaper whose publication of Mohammed drawings triggered protests across the Muslim world in 2005. In a statement released on Saturday, Rushdie expressed his solidarity with Vilks.
"Religion, a medieval form of unreason, when combined with modern weaponry, becomes a real threat to our freedoms," he added.
But to many offended by artistic depictions of Mohammed, which are considered blasphemous in Islam, freedom of expression does not justify the deliberate mocking of values held by Europe's Muslims, an often-marginalized minority throughout Europe. Writing in al-Jazeera days after the Charlie Hebdo attacks, the journalist Sharif Nashashibi argued:
The effect that the right to offend has on minorities compared with wider society is not addressed. A minority facing discrimination and disenfranchisement will feel existentially threatened, and be potentially radicalized, when the majority exercises its right to offend. The status of society at large is not at risk when the situation is reversed.
Saturday's events in Copenhagen are unlikely to soften European attitudes toward free speech. But for the continent's artists, the attempted murder of Vilks and others gathered at the seminar send a chilling message.