A Dead Prosecutor and the Argentine President
A warrant for Cristina Fernández de Kirchner's arrest was found in the home of Alberto Nisman, who was investigating whether the government covered up a 1994 bombing.
The fallout from the extremely suspicious death of Argentine prosecutor Alberto Nisman last month reached a new peak on Tuesday as it was reported that arrest warrants for both Argentine President Cristina Fernández de Kirchner and Argentine Foreign Minister Héctor Timerman were found in Nisman's trash.
The 26-page document, whose discovery was unveiled by an Argentine news organization in an open feud with Kirchner, is a flourish on a story already packed with intrigue. Nisman was found dead just hours before he was planning to deliver testimony against the Argentine government. Nisman claimed Kirchner had tried to strike a deal with Iranian officials to safeguard them from prosecution in the 1994 attack on a Jewish community center known as AMIA in Buenos Aires.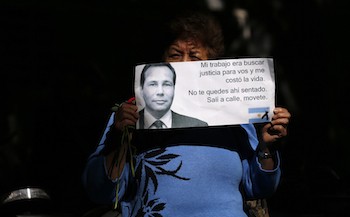 Nisman had said he had definitive proof that Kirchner tried to secure economic favors from Iran in exchange for immunity for the bombing, which killed 85 people. The prosecutor's death was initially declared a suicide by handgun; however, that theory was eventually dismissed after forensic investigators found no gunpowder on Nisman's fingers and noted that there was no exit wound. A locksmith later told reporters that he had found a hidden service entrance left open at Nisman's apartment, which seemed to contradict reports that no one had entered his apartment.
In an interview with The New York Times, political analyst Sergio Berensztein predicted that Nisman's testimony "would have provoked a crisis without precedents in Argentina." In the days before his death, Nisman told a journalist at Clarín, the same newspaper that broke the arrest-warrant story on Tuesday, that "I might get out of this dead."
In the days after Nisman's death in late January, public mourning for him quickly turned into demonstrations with thousands of people across Argentina protesting outside of government buildings and the presidential palace. Facing unprecedented scrutiny, Kirchner later said she would dissolve Argentina's intelligence agency. Meanwhile, Damian Pachter, the journalist who first reported Nisman's death, fled to Israel just hours after breaking the story.
So how does the discovery of a discarded arrest warrant figure into the ongoing saga? Mark Healey, a specialist in Argentine history at the University of Connecticut, explained that an arrest warrant would not have been "a valid legal approach."
"According to the constitution, you can remove someone from office only through a political trial and an accusation by the house of representatives," he said by phone. "So there is no authority for the prosecutor to call for the arrest of a president or a senator or a sitting minister. First they have to lose their parliamentary immunity."
Healey was surprised that Nisman even bothered to draft such a document, calling its existence "shocking." However, given that the warrant was believed to have been drafted in June of 2014, he found the timing of its discovery less relevant to the AMIA case and more of "a dramatic new step itself in the political crisis" in Argentina. "I think the Iran thing was a foolish, naive, and maybe dubious political maneuver, but it wasn't about impunity for AMIA," Healey said.