Aggravated Pimping and Dominique Strauss-Kahn
The former head of the International Monetary Fund is on trial for his alleged part in an international prostitution ring.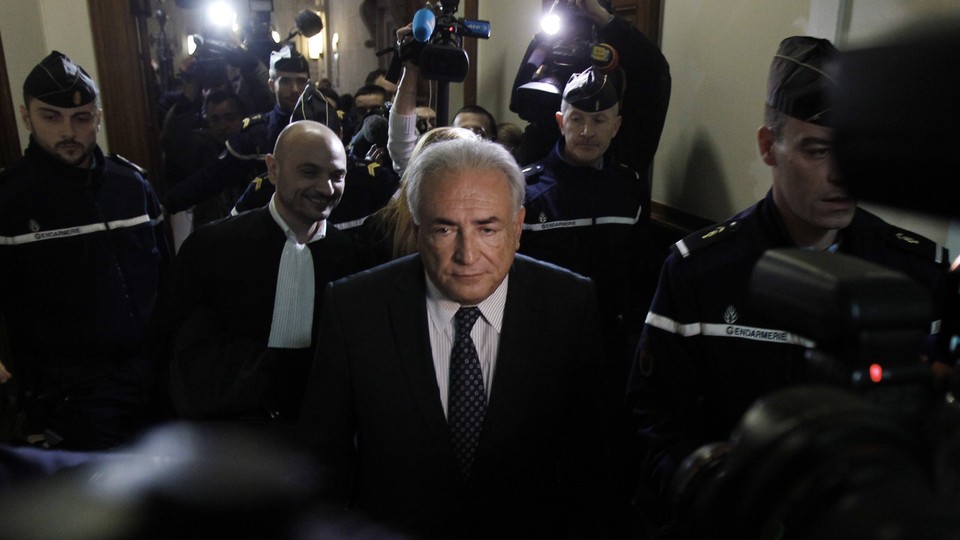 On Monday, nearly four years after he was plucked from an airplane leaving JFK airport to face sexual assault charges, former IMF chief Dominique Strauss-Kahn was in court in Lille, France, to battle accusations that he was part of an international prostitution ring.
The headline-grabbing charge that he and 13 others face is "aggravated pimping," a concept complicated by the fact that sleeping with prostitutes is not illegal in France. The accusations revolve around alleged sex parties and a prostitution ring called the Carlton Affair, which, as ABC explained, "refers to a hotel in the French city of Lille, where, allegedly, some of the orgies took place." Among the cast of characters involved: lawyers, artists, police officials, and a brothel owner nicknamed Dodo la Saumure, which translates roughly to "Dodo the pimp" in French slang.
Strauss-Kahn is accused of using his contacts and possibly the funds of others to procure prostitutes for sex parties in not only Lille, but also Paris and Washington, D.C. That's where the criminal aspect of the prostitution charge takes hold.
Writing in FindLaw Blotter, Stephanie Rabiner explained that in America "most states have a crime called 'aggravated promotion of prostitution'—a much stuffier term for the crime of aggravated pimping. It's considered worse than just being a pimp and receiving money through another's prostitution. It's pimping accompanied by aggravating circumstances."
This all seems like shorthand for an abuse of power. "In the U.S., we think of pimping as someone organizing prostitution and then taking a cut from a prostitute's earnings in exchange for protection," one French-speaking legal authority told Bloomberg. "My understanding is that you don't have to be profiting from the prostitution transaction under French law in order to be charged."
One of Strauss-Kahn's lawyers has offered a particularly colorful defense of his client. According to Henri Lecleric, Strauss-Kahn was "blissfully unaware" that any of the women at the parties were prostitutes. "At these kinds of parties you're not always dressed, and I challenge you to distinguish a naked prostitute from any other naked woman," he said in a radio interview in 2012.
Strauss-Kahn was once poised to be a leading contender for the presidency of France. The tragic nature of his fall from grace can be encapsulated by a Le Parisien poll from Sunday. Just one day before his trial began, the paper "found 79 percent of the respondents believed Strauss-Kahn would have been a better president than François Hollande," France's current president.
If convicted of aggravated pimping, Strauss-Kahn could face 10 years in jail and some heavy fines. If convicted of a lesser corruption charge, he could face three to five years.