The Unique Misery of Flying in China
On Friday, irate passengers forced open the emergency door of their airplane as it sat on a snowy runway. That was only the latest sign of trouble in Chinese air travel.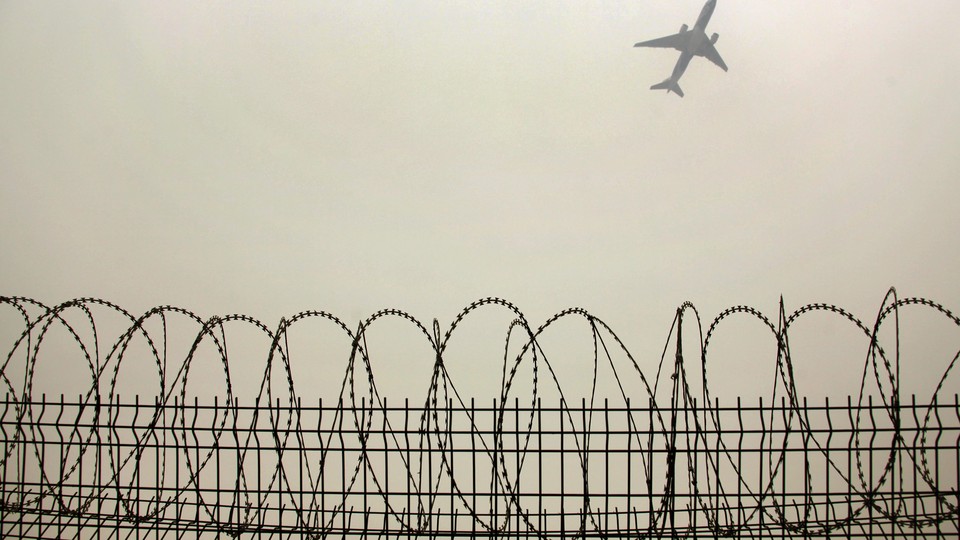 Here's a story that will resonate with anyone who has flown in China. On Friday night, after a three-hour weather delay, passengers boarded a Beijing-bound flight in Dhaka, Bangladesh that had a stopover in Kunming, a provincial capital in southwest China. Scheduled to leave Kunming at 8:45 p.m., the connecting flight was delayed until 11 p.m. by additional poor weather. This did not make the passengers happy. Several refused to board and demanded compensation, but by 1:45 a.m. the airline had persuaded everyone to board.
But that wasn't the end of the passengers' problems. After they boarded, the airport staff had to clear snow from the runway, which took over an hour. Finally, the plane began to taxi at 3:15 p.m.—15 minutes after the pilot inexplicably shut off the air conditioning. When passengers complained, the pilot reportedly asked: "Are you going to die soon? If not, just wait." Two passengers then burst open the emergency exits, which resulted in their arrests. And scene.
This was not the first time, even this month, that an airline passenger in China has opened an airplane's emergency exit in a non-emergency situation. More broadly, dramatic incidents of customer dissatisfaction with air travel are remarkably common in the country. After I moved to China in 2004, I witnessed the following over the course of six years, during which I took dozens of domestic flights:
A passenger leaping on top of a check-in counter and lunging for a staff member who, for whatever reason, would not issue him a boarding pass. He was restrained before he could reach her.
A group of 25 adults standing on top of a tables positioned near a gate, waving their jackets like fans waving towels at a football game, and chanting. Their flight was delayed without explanation.
Two men getting into an enormous fist fight (eye gouging attempts and everything) after one accused the other of cutting in line.
Flying is a miserable experience just about everywhere, and China is hardly the only country that experiences air rage. Just ask Koreans, who winced with embarrassment when an airline executive lost it over the inadequate presentation of macademia nuts in first class. But in my experience, flying in China is worse than it is elsewhere, in many tangible ways.
First, there are the delays. In July 2013, fewer than one in five flights departed on time from Beijing Capital Airport. The percentage of on-time flights from JFK—an airport of comparable size in the U.S.—is 65 percent. Beijing's legendary pollution plays a part in these delays, but only a small one. The real problem is that the Chinese military controls 80 percent of the country's airspace. Last July, the military ordered 12 airports across the country to reduce departures by 25 percent over a three-week period in order to accommodate large-scale army drills. Communication, too, is a problem. Airport staff often announce delays without providing an explanation, causing immense frustration among passengers who don't know what to do.
The journalist Matt Sheehan, who in 2013 described a Chinese airport melee in hugely entertaining fashion, told MSNBC that "Chinese people have just begun waking up to this idea that as a consumer you're entitled to certain protections, but they don't have any of the institutions like consumer rights groups that do this professionally."
Airlines—and the airline industry—are a useful lens for viewing China's development as a whole. In his excellent book China Airborne, Atlantic national correspondent and aviation buff James Fallows described how China is attempting to condense a century's worth of developments in aviation into a few decades. This breakneck pace has resulted in a dazzling array of new airports scattered across the country, but has included some serious growing pains.