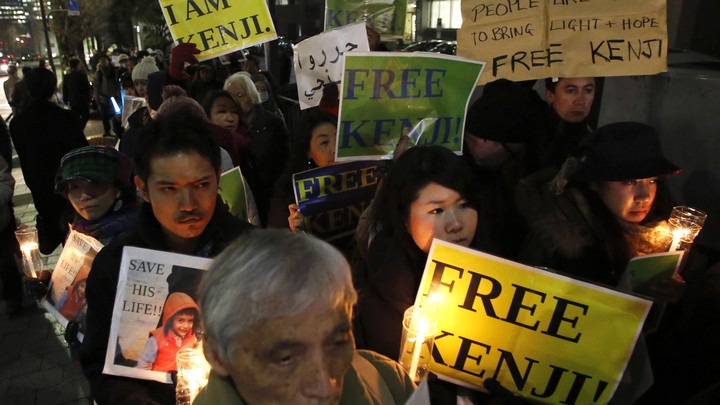 A video purportedly released by the Islamic State on Saturday appeared to show the beheading of Kenji Goto, a Japanese journalist whom militants had captured in Syria and held hostage. The death of Goto came one week after ISIS executed Haruna Yukawa, a fellow Japanese citizen who had traveled to Syria as a private security contractor. The two murders followed ISIS demands for $200 million in ransom from the Japanese government, as well as for the release of Sajida Mubarak al-Rishawi, a woman imprisoned in Jordan for her role in a 2005 failed suicide bombing.
Goto's kidnapping elicited much interest in Japan. Since Taku Nishimae, a New York-based Japanese filmmaker, launched a Facebook page entitled "I am Kenji Goto"—an homage to the "Je Suis Charlie" campaign that followed the Charlie Hebdo attacks—nearly 25,000 people have "liked" the page. Over 1,000 people have posted photographs of themselves showing solidarity with Kenji on the page.
The outpouring of sympathy for Goto was unusual in a country that traditionally shuns citizens caught up in dangerous conflicts. But Kenji Goto was not an ordinary citizen. As a journalist, Goto traveled across war-torn countries like Liberia, Iraq, and Kosovo, producing documentaries with his own money that showed daily life in the world's worst conflict zones. In a moving post written for the Committee to Project Journalists on Friday, The Economist's Heny Tricks described Goto's approach to covering war:
Instead of focusing on who is winning or losing, he tells the stories of ordinary people, especially children, who are forced to endure conflict and the horrors surrounding them. It is their resilience that inspires him, he says. When you ask how he reaches the dangerous places he reports from, he says he follows the footsteps of normal people getting on with their lives. They show him the way.
As with last week's death of Haruna Yukawa, Goto's beheading appears likely to catalyze a national conversation in Japan over the country's role in foreign conflict. But Goto's true legacy may instead be inspiring his countrymen to recognize and combat human suffering in countries far from their own. In a Japan seemingly destined to engage more with the outside world in the years ahead, this legacy is hardly insignificant.
We want to hear what you think about this article. Submit a letter to the editor or write to letters@theatlantic.com.
Matt Schiavenza
is the senior content manager at the Asia Society and a former contributing writer for 
The Atlantic
.