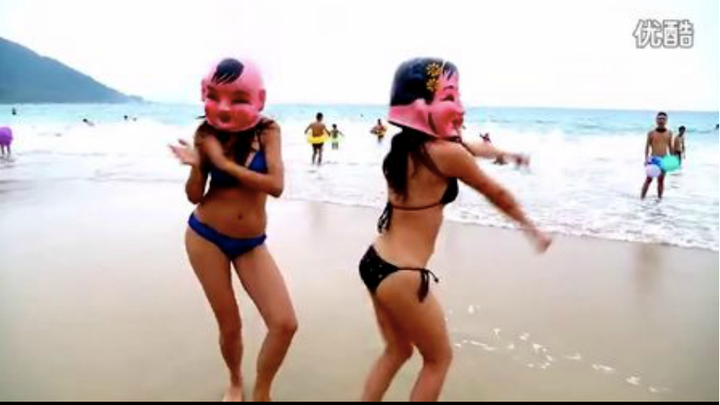 This item from The Nanfang, a site covering the big cities of southernmost China (nanfang, or 南方 = "southward"), does a nice job of conveying the discouraging and enlivening aspects of China that so often coexist.
Discouraging: the latest tightening of The Great Firewall, the Internet-censorship system that is unworthy of a population as large, increasingly sophisticated, and information-hungry as China's. This is just so retrograde and embarrassing.
Enlivening: the latest remake of Pharrell Williams's Happy song, this one set in Shenzhen, just north of Hong Kong.
Let's agree that remakes are not necessarily signs of cultural strength. But I like this one because it shows off some of the look, range, and pizazz of the city of Shenzhen, which I've written about over the past decade and which, for all the reputational and cultural dominance of Shanghai and Beijing, often seems the most exciting part of China.
If you watch the Chinese and international dancers in this video, after a built-in pre-roll ad from the Chinese YouTube-like site Youku, you'll get a perhaps-surprising idea of what the Shenzhen area looks like. It's where many of your electronic goods got their start. I've been to most of the places used in this video, and I'm glad to see them displayed to advantage.
The Youku servers are on the other side of the Great Firewall, so it may take a while for the full video to load. But if you get to see it, think for a minute: the Chinese people you see here are the ones the government thinks aren't ready for full use of the Internet.
* * *
Update-update: It turns out that this video has been around since last summer! Here is a link on YouTube, which should remove some of the server problems of Youku and the Great Firewall. Thanks to reader CW for the tip.
Update: If you get an error message from the Youku servers that looks like the one below, just wait it out until the countdown clock (shown by the red arrow, indicating 24 seconds at this point) works down to zero. Again, it's worth seeing.
We want to hear what you think about this article. Submit a letter to the editor or write to letters@theatlantic.com.
James Fallows
is a staff writer at
The Atlantic
and has written for the magazine since the late 1970s. He has reported extensively from outside the United States and once worked as President Jimmy Carter's chief speechwriter. He and his wife,
Deborah Fallows
, are the authors of the 2018 book
Our Towns: A 100,000-Mile Journey Into the Heart of America
, which was a national best seller and is the basis of a forthcoming HBO documentary.