Hunting for the Hebdo Killers
Despite the surrender of a possible accomplice, the two main suspects remain at large.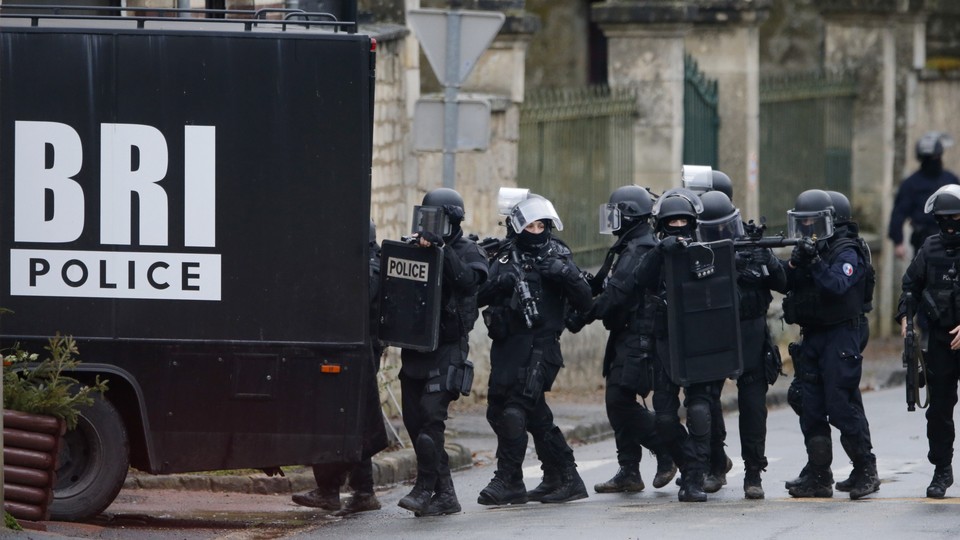 More than 24 hours after committing a deadly massacre in Paris, two armed gunmen remained on the loose as French police continued their furious manhunt for the suspects.
On Wednesday, police identified two brothers, Cherif and Said Kouachi, as the prime suspects in the murder of 12 people at the offices of the satirical magazine Charlie Hebdo. The two men allegedly stormed the magazine's offices carrying Kalashnikov rifles, targeting cartoonists who worked there and had previously published cartoons that were critical of the Prophet Mohammed and Islam. The men, both in their early 30s, also allegedly shot and killed two police officers, before escaping in their getaway car. They then carjacked another car in Paris before disappearing.
On Thursday, the suspects were believed to have robbed a gas station in northern France, near the town of Villers-Cotterets. They allegedly stole food and gas before driving off in a car matching the description of the one that was hijacked in Paris a day earlier, according to reports. Police are converging on the area as they continue the pursuit.
According to various media reports, the two brothers are French citizens of Algerian descent, and at least one of the brothers had been known to police for his ties to militants. Cherif Kouachi was arrested in 2005 as he tried to board a plane for Syria. He was accused of helping send fighters from France to Iraq to battle U.S. troops and was jailed for 18 months in 2008. Both brothers have been linked to a terrorist network in France known as the "Buttes-Chaumont network" and frequented a mosque run by a radical cleric named Farid Benyettou.
A third man, 18-year-old Hamyd Mourad, turned himself in to police late on Wednesday, after his name began circulating in the media. Police have not charged Mourad or stated whether they believe he was a direct accomplice in Wednesday's attack. Police said that several operations were carried out on Wednesday, and a number of people arrested and detained, but provided no further details about who was questioned or what their role in the attacks might have been.
In another incident south of Paris on Wednesday, in Montrouge, a police officer was shot and killed, but the incident was not believed to related to the original shooting.
Despite the threat of another attack, Parisians came out in force to show their support for the victims of the attack. There were some reports of attacks and vandalism at mosques in a few corners of France, but there were no reports of injuries or deaths.