#JeSuisCharlie Versus JeSuisCharlie (TM)
Trademarking tragedy in the age of Twitter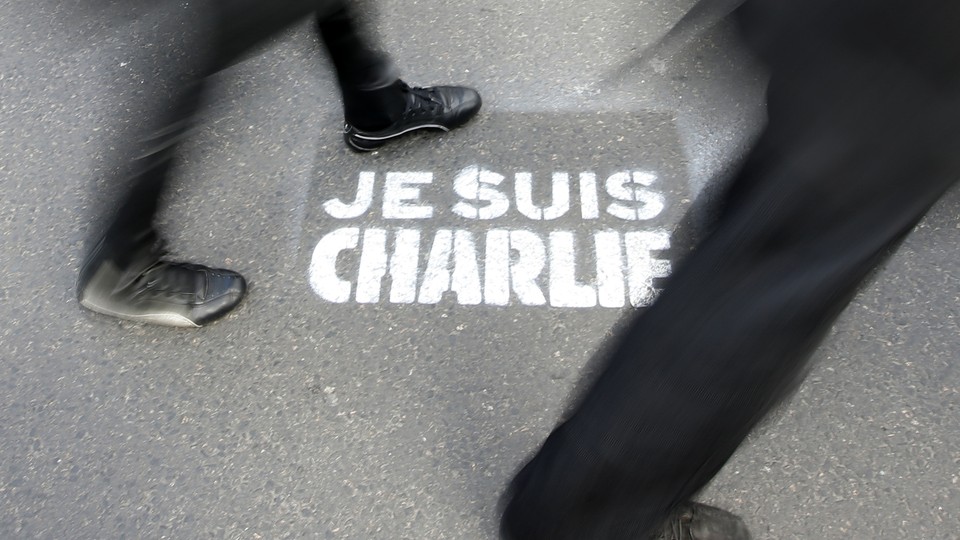 When the French artist and music journalist Joachim Roncin first posted an image with the words "Je Suis Charlie" to his Twitter feed, he was not, presumably, thinking about intellectual property law.
Roncin created the now-iconic white-and-gray text roughly an hour after last week's attack on the offices of the satirical magazine Charlie Hebdo, which occurred just five minutes from Roncin's home in Paris. In the wake of the shooting, Roncin instinctively combined Charlie Hebdo's logo and typographic design with a concept Roncin associated with the book series Où est Charlie? (Where's Charlie?, published in the U.S. as Where's Waldo?), which Roncin read frequently with his children. The image was intended not as a public symbol, but rather a personal expression of Roncin's fear and sense of being "personally targeted" by the attacks.
Yet Roncin's image didn't remain his for long. It quickly became an international rallying cry for free speech, and a symbol of resistance to terror and solidarity with its victims. It also prompted a cascade of legal claims from companies and individuals seeking to trademark the image.
Attempts to monetize the slogan have been rapacious from the start: Cybersquatters were reportedly battling to register the domain names jesuischarlie.fr, jesuischarlie.com, and jesuischarlie.org within hours of the attack on the publication. As of Thursday, France's Institut National de la Propriété Industrielle (INPI) had reportedly turned down over 120 trademark applications, at least two of which sought to use the phrase to sell weapons, according to AFP. Outside of France, trademark applications have also been filed by individuals ranging from an Australian fashion designer with an "esoteric perspective" to a Belgian businessman whose application would cover "laundry and cleaning products, printed matter, clothing, footwear, toys, decorations for Christmas trees, fruit juices and beer" in Belgium, Luxembourg, and the Netherlands.
These attempts to trademark the tragedy, and its most resonant refrain, have disturbed Roncin, who announced plans on Thursday to seek copyright protection for the slogan. The application is being filed in order "to try and control the use of the slogan and keep the initial message intact," according to Roncin's lawyer. "Frankly, I'm really hurt by everything that has happened with people wanting to make money out of it. Especially because it profoundly devalues the meaning of the slogan," Roncin told AFP.
Several trademark experts have similarly condemned the attempted commercialization of "Je Suis Charlie," though they've expressed little surprise. Responding to the "overreaching and insensitive trademark applicants" in France, David Taylor, a Paris-based attorney at Hogan Lovells, lamented that "in a capitalist society there appears to be no end to the attempts some people will go to make a quick buck. ... [A]ttempts to trademark such slogans that have been born out of tragedy are becoming all too common."
Trademarking and commercializing tragedy is not exactly a new phenomenon (see the contentious history of claims to "let's roll," the last recorded words spoken by Flight 93 passenger Todd Beamer on 9/11). But these practices have been occurring with greater frequency in recent years, according to trademark attorney Sharon Daboul, who noted the trend last year amid Malaysia Airlines' repeated battles with trademark trolls claiming the names "MH17" and "MH370" in the aftermath of the airline disasters. This, in turn, forces those involved in high-profile tragedies to "think about registering the marks themselves simply in order to get there first and prevent third parties exploiting such incidents for their own benefit," according to Daboul.
This defensive thinking hasn't only affected hashtag originators like Roncin; it's also had an impact on those at the very center of the misfortune. The mother of Trayvon Martin, for one, claims that she decided to trademark phrases related to her deceased son in order to prevent them from bring exploited commercially.
New York-based attorney Robert Ledesma argues that preying on public remembrances is an unintended side effect of social-media trends and hashtag activism, which can rapidly amplify and spread messages and memes, distancing the terms from their original purpose. At the same time, Ledesma points out, social media can act as a deterrent. Because trademark claims are not anonymous, named trademark-vultures can become targets for outrage online: "You may get trolled on social media. You will upset masses of people who feel the phrase is part of something much larger than any single person or entity's business ambitions. They will be repulsed by your actions." (In fact, the Belgian businessman who filed one of the most publicized "Je Suis Charlie" applications has since withdrawn his request amid a backlash on social media.)
Moreover, the ubiquity of phrases that are trending on social media weakens the legal case for individual trademark claims. In the case of "Je Suis Charlie," France's INPI has already rejected hundreds of trademark claims that fail to meet the "distinctiveness criteria" required for commercial trademarks. After all, how can you stake a claim to "Je Suis Charlie" when millions of others have declared that they, too, are Charlie?