A Dramatic End to the French Hostage Standoff
Three suspects related to the Charlie Hebdo massacre were killed and several hostages rescued after simultaneous police raids.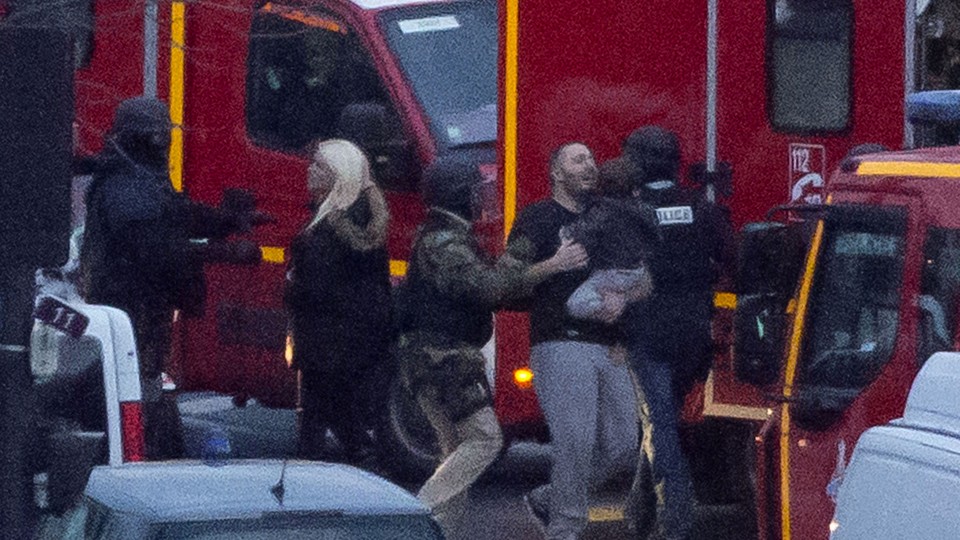 Updated (1:00 p.m. ET):
Three suspects, including the two brothers who allegedly carried out a brutal massacre in on a magazine office in Paris earlier this week, have been killed following two separate hostage standoffs that both ended in simultaneous police raids.
Cherif and Said Kouachi had taken one hostage inside a printing shop in an industrial park north of Paris on Friday morning. At the same time, Amedy Coulibaly, a man who was connected to the brothers through a well-known jihadist group, took hostages inside a kosher grocery store in the Porte de Vincennes section of Paris. All three men are now dead, as are at least four of the hostages who were being held by Coulibaly.
Around 11:00 a.m. Eastern time, explosions could be heard and smoke seen at the print shop complex where the Kouachis had taken a hostage. At the same time, AFP reported that police sources said an operation was underway. There was also some gunfire. The "explosion" may have been stun grenades used by police as they moved in, but details of the operation were not immediately available.
At 11:14 a.m., CNN reported that explosions and gunfire could also be heard at the kosher market in Porte de Vincennes. Moments later, several people—apparently hostages—could be seen leaving the market.
AFP was the first to report that the suspects were killed in a shootout with police at the print shop and their hostage was free. Le Monde also reported that the two suspects in Dammartin-en-Goele were killed. Le Monde further reported that Coulibaly was also killed at the supermarket. Reuters, AP, and CNN all confirmed reports that the three suspects were dead, via government and police sources.
AFP published raw video of the assault on the supermarket.
In addition, Reuters reported that at least four hostages were killed at the kosher supermarket, but it's unclear if they were killed in the raid, or during the initial hostage taking. Some people were taken away from the scene in ambulances, but the status of the rest of the hostages is unknown. The New York Times reports that at least five were freed, including a young child.
There is raw footage of the printing press attack, as well.
A female suspect, Hayat Boumeddiene, was named as an accomplice to Coulibaly in an earlier shooting on Thursday. She is reportedly on the run and is still wanted.
According to their report, Kouachi claimed he was paid by al-Qaeda in Yemen and was working on their behalf. However, Coulibaly claimed he was affiliated with ISIS, but had "aligned" his actions with the brothers. Later on Friday, a spokesperson for al-Qaeda in Yemen claimed that they did indeed direct the attack on the Charlie Hebdo.
Coulibaly also reportedly claimed to have killed four people when first entering the grocery store. If confirmed, that would suggest the hostages were killed before the police raid, not during.
France2 also broadcast new footage of the grocery store raid, clearly showing the suspect charging police as they fired on him with automatic weapons. (Warning: the footage may be considered graphic for some, as some dead bodies are visible.)
---
10:30 a.m. ET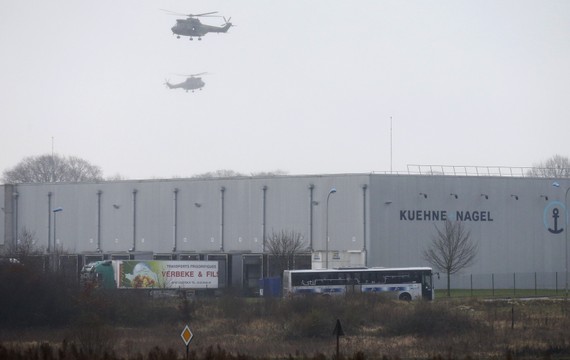 Police surrounded the two suspects in this week's mass murder of 12 people at a French magazine's office, but were simultaneously dealing with a second hostage situation in Paris, perpetrated by a third man connected to the killers.
French security forces sealed off the small town of Dammartin-en-Goele, where Cherif and Said Kouachi were reportedly holed up in a printing shop. The two brothers had been on the run since Wednesday's massacre at the Charlie Hebdo office in Paris. According to reports, there was at least one hostage.
Meanwhile, in Paris, another gunman reportedly took at least five people hostage in a kosher supermarket. The suspect in that standoff was believed to be the same man who shot and killed a female police officer on Thursday. While that shooting was not originally believed to be related to the Charlie Hebdo attack, police on Friday said the incidents were all connected.
Dammartin-en-Goele is located northeast of Paris, near Charles de Gaulle Airport, which is Paris's main flight center. The grocery store is in Porte de Vincennes, on the southeastern edge of Paris. The two locations are about 25 miles apart.
There were media reports that two people were killed in the supermarket, but Interior Ministry officials denied that.
Police made contact with the brothers, who had exchanged gunfire with police during a car pursuit early on Friday morning. Yves Albarello, an official with the French crisis team, told reporters that the two suspects had expressed a desire to die "as martyrs."
The suspect in the supermarket incident was Amedy Coulibaly. On Friday, Coulibaly and a woman, Hayat Boumeddiene, were named as suspects in the shooting of a police officer in the neighborhood of Montrouge a day earlier.
Reuters reported that police sources said Coulibaly was a member of the same jihadist group as the Kouachi brothers, and could have been the third suspect in the Charlie Hebdo killings. (An 18-year-old man who turned himself in to authorities on Thursday, after hearing his name reported in the media, was cleared as a suspect in the shootings.)
Coulibaly and Cherif Kouachi knew each other. Both were arrested in 2010 for their role in a failed attempt to break another terror suspect out of prison.
Police barricaded and sealed off the surrounding areas in both situations, and residents in Dammartin-en-Goele were told to stay indoors. Schools in the vicinity of both standoffs were also closed and evacuated. Other Jewish businesses across Paris were asked to close as well, for security reasons, but since the Sabbath begins at sundown, some would have been closing soon anyway.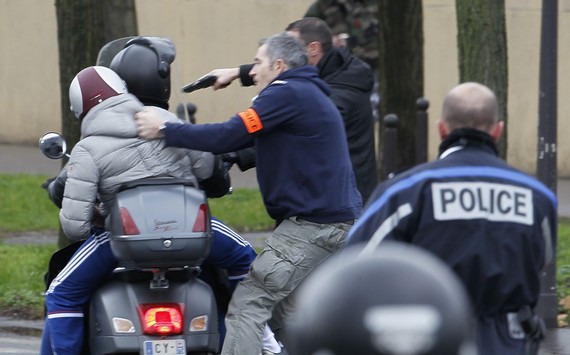 In Vincennes, police were caught on camera dramatically arresting two people on a scooter who came too close to the police line. They were not related to the supsects inside.
France24's live broadcast showed scores of heavily armed tactical units deployed in both locations.
The Associated Press reported that the market gunman, Coulibaly, threatened to kill his hostages should police storm the brothers in Dammartin-en-Goele.
One witness who worked at the printing shop told Radio France (in an interview rebroadcast on CNN) that the two gunmen came into the factory claiming to be police, and he shook hands with one of them. They were "heavily armed" and wearing bulletproof vests. The men were accompanied by the owner, who let the men into the building after and then told the witness to leave. The gunmen let him leave without incident, but took the owner hostage.