Fidel, the Cuban People's Pen Pal
The faded revolutionary reportedly wrote a lukewarm letter on Cuba's "defrost" with the U.S.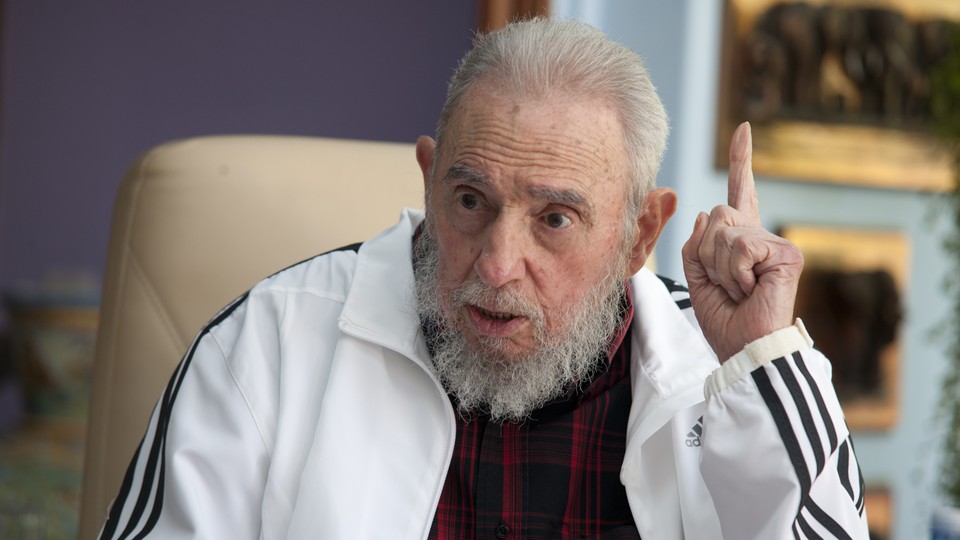 But what does Fidel think?
Ever since the surprising December announcement that the U.S. and Cuba would inch toward normal diplomatic relations, people on both sides of the Strait of Florida have debated what the father of the revolution thought about the deal—and whether he was still alive to have an opinion about it.
A letter published in Granma, the official state newspaper, on Tuesday offers some insight into both questions. Fidel Castro is, apparently, alive. He is still extremely skeptical of the United States, but he seems cautiously willing to back opening relations. And regardless of what he thinks, it seems that Raúl Castro, his younger brother and successor as president, really is calling the shots.
In the letter, sent to the student union at the University of Havana, which had invited him to celebrate the 70th anniversary of his matriculation, Fidel Castro wrote:
I do not trust the policy of the United States, nor have I exchanged one word with them, though this does not in any way signify a rejection of a peaceful solution to conflicts or threats of war. Defending peace is the duty of all. Any negotiated, peaceful solution to the problems between the United States and peoples, or any people of Latin America, which does not imply force or the use of force, must be addressed in accordance with international principles and norms.
Later, without mentioning Raúl, he seemed to grudgingly indicate that his brother is the one pulling the lever of power—that it is not, as some have suggested, Fidel running the country behind the scenes. "The President of Cuba has taken pertinent steps in accordance with his prerogatives and faculties conceded by the National Assembly and the Communist Party of Cuba," he wrote.
In some ways, his position is not all that far from those of President Obama or of Raúl Castro, who seem to be proceeding warily on the basis that while the other side is still highly suspect, the status quo ante wasn't working for anyone. During his year-end press conference in December, Obama said, "I share the concerns of dissidents there and human rights activists that this is still a regime that represses its people .... but what I know deep in my bones is that if you've done the same thing for 50 years and nothing has changed, you should try something different if you want a different outcome." It was an admission of the dangers of dealing with the devil.
Still, the elder Castro's language is enough to make one wonder about his view on the deal—and to wonder how cordial things are and what is discussed when the brothers get together for a cortado. During his phone conversation with Obama in December, Raúl made light of his brother's legendary long-windedness. After the American apologized for droning on, his counterpart cracked, "Don't worry about it, Mr President. You're still a young man, and you have still the chance to break Fidel's record. He once spoke for seven hours straight." But murals of Fidel still adorn Cuba, and a missive such as this one remains a big deal (though the letter gets more prominent billing on Granma's English-language site than the Spanish edition). And Fidel previously cheered on his brother for shaking Obama's hand at the memorial for Nelson Mandela.
Not everyone will believe that this proves Fidel is alive—why isn't he ever seen in public? Why can't he release a picture of himself holding this issue of Granma? Can't anyone effectively mimic the Fidel style at this point? It's true that much of the letter, with its litany of remembrances of past Socialist luminaries, could have been written at any time. He was last photographed in August, but he writes such letters occasionally to prove his existence. Earlier this month, he wrote to the Argentine soccer hero Diego Maradona, reportedly specifically to prove he was not dead.
Assuming he's alive (if not well), it's still a strange turn for Castro. A legendary man of action, the baseball-playing violent revolutionary and orator of (in)famous verbosity—reduced to communicating with the nation he wrought only through occasional letters, and those called into question by doubters. Meanwhile, his brother and former lieutenant has confidently assumed control of the nation, liberalized ownership laws, and now come close to peace with Fidel's great foil. Few will feel much sympathy for Fidel Castro, and for good reason, but it is a somewhat pitiful evanescence for a man who once exerted such sway over his nation and history.