Ebola's Hidden Costs
The number of people who die from the disease could be only a fraction of the number who go hungry from it.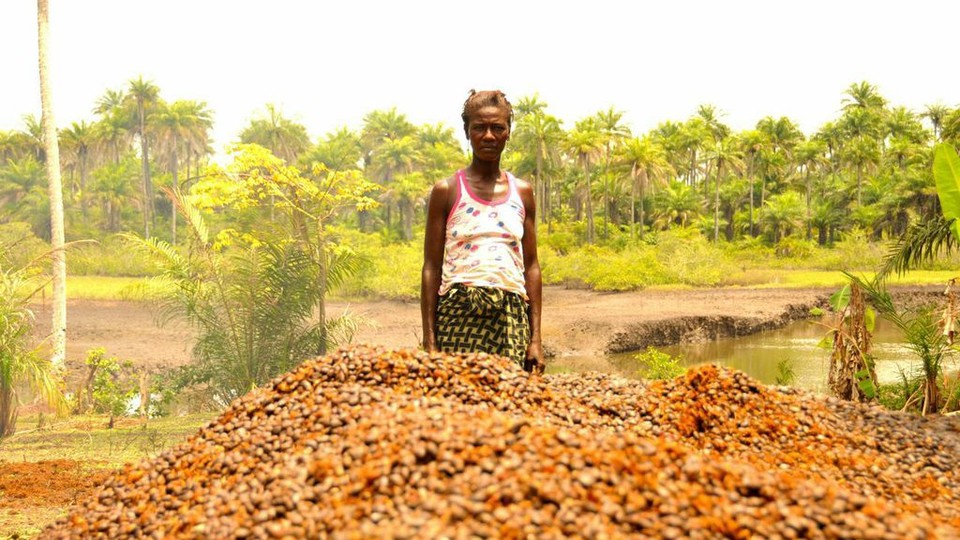 On September 3, 2014, Agnes Ngekia learned by phone that her son was dead and that there would be no burial. He had died of Ebola. Ngekia is a nurse in the Kono district of Sierra Leone, and when her son had fallen ill she had diligently followed disease-prevention protocol and brought him to the local hospital. Nonetheless, not long after she learned of his death, police officers wearing blue protective gowns over their camouflage uniforms arrived at her family compound in the village of Borbodu and nailed a flimsy wooden bar across the entrance. For 21 days, Ngekia and 17 family members were quarantined inside.
Behind the barrier, Ngekia agonized over the immediate trauma; as she watched some of her other children get sick, she feared for their lives and her own. But she also worried about what would sustain the family should they survive. Rice is the staple food in Sierra Leone, and her eight acres of swampland needed to be planted with the crop before it was too late in the season. Though she and her family had the seed, they couldn't leave the compound to put it in the ground. Normally other villagers would help, but people didn't want to risk catching Ebola by working the quarantined family's field. As is the case for most of Sierra Leone's rural population—roughly 60 percent of the West African nation's 6 million people—the food on Ngekia's table is largely what is grown on her farm. If the crop wasn't planted, what would her family eat?
Even as Ebola infection rates appear to be leveling off in the country, the disease's less visible but long-term impacts on communities and the economy are taking shape. On December 17, the UN Food & Agriculture Organization (FAO) and the World Food Program estimated that 120,000 Sierra Leoneans have become "food insecure" as a result of Ebola, meaning they neither have the food they need nor are able to buy it. By March, the report predicted, the number will rise to 280,000. In other words, the number of people in Sierra Leone who have died from Ebola—just over 3,000, to date—will be only a fraction of the number who will go hungry from it.
This is in large part because Ebola poses an almost impossible quandary in Sierra Leone, where the outbreak has taken the greatest human toll. Prevention of the disease requires people to distance themselves from one another. But agriculture, the country's lifeblood, relies on people coming together. If the quintessential image of American farming is a lone figure riding a tractor or a combine, the picture in Sierra Leone is instead dozens of men and women using machetes, shovels, and their bare hands. As they touch, talk, and sweat their way across a field, the work they do is inherently connective.
"Farming unites us," explained Bondu Lebbe, the president of the Kono Women's Cooperative, a marketing collective whose aim is to empower its 5,000 female members. (Ngekia is a chairwoman.) Before Ebola, the cooperative would normally assemble 100 or 200 people at a time to work in members' fields. "It's not like in Europe," she told me. "When we go to the farm, we come together. We talk about our families. We solve our problems. We give courage to each other."
Over the past year, farming in much of Sierra Leone has been hindered by the disconnection Ebola demands and the distrust that disconnection breeds. In telephone interviews, farmers and agricultural officials described the same scenarios repeatedly. Many farmers are afraid to hire the additional hands they need for planting, weeding, and harvesting, thinking outsiders might bear the disease. Many workers fear farmers, like Ngekia, whom they suspect of having some link to Ebola. And the seasonal migration of laborers has been obstructed by lockdowns that force people to stay in one place and blockades that impede movement when migration is allowed.
Even when manpower is available, critical mass is hard to achieve. In most cases, the government has prohibited gatherings of more than five people. Lebbe said that her planting crews are now small, and in the field people keep their distance from one another. But that is better than nothing at all. In the areas hardest hit by Ebola, an uncounted number of farms lie fallow—because farmers died, because farm families were shattered by death, or because people simply abandoned their land, having run away to escape the threat of disease or the pain of losing loved ones to it. Rice has gone unplanted in some places and unharvested in others. Where labor was in short supply to defend against weeds, rodents, and birds, yields have suffered. Some areas unscathed by Ebola have still struggled: Even as farmers have harvested good crops of rice and other foods, they have been challenged to sell them because markets are closed and roads are blocked.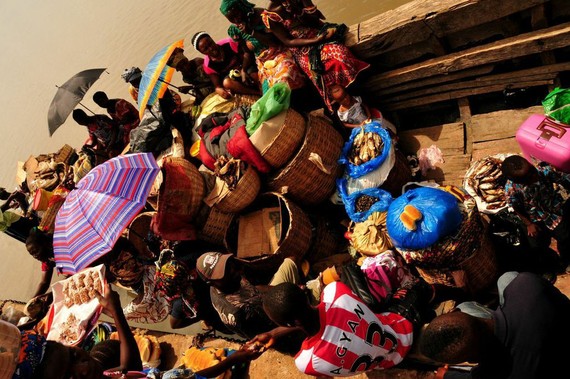 This shortfall in agricultural production and income is not the isolated concern of the farming sector, as it might be in the United States. That's because Sierra Leone's farming sector is, in effect, the country: It employs two-thirds of the population and produces 46 percent of GDP, more than any other sector. Most importantly, agriculture constitutes the nation's primary food source, much of it delivered directly from field to table. When a rice crop fails, the impact is often hunger.
Liberia and Guinea are in similar predicaments, and the FAO/WFP report predicted that by March 2015, the three countries may have 1 million people who are food insecure as a result of Ebola. But the suffering is not yet obvious, said Vincent Martin, head of the FAO's Subregional Hub for Resilience and Emergency in Dakar. "People in rural areas have coping strategies," he explained. "So people will last for some time, up to the point where they will take all the reserves they have. Seeds they were supposed to use for planting next season, they will eat them."
Martin and others at the FAO believe that a hunger epidemic can be avoided through a series of preventive measures. Supplementary food imports can be purchased and micro-loans granted to farmers whose harvests allowed them only enough to eat, not enough to sell for income. Extension workers, who provide agricultural education to the public, can help people plant fast-producing vegetables and supply chickens for eggs. Already, the FAO's office in Sierra Leone is planning to buy and distribute seed rice to farmers who have none.
The challenge is that all of this requires money, which the nation's devastated economy cannot provide. International donors have mobilized to fight Ebola, but raising money for preventive measures is much harder.
"You don't wait for a crisis to come!" Joseph Sesay, Sierra Leone's minister of agriculture, told me with a note of exasperation. "People only become sympathetic when a crisis itself is here, but we are trying to explain to donors that they shouldn't wait until Ebola is over to provide funds for agriculture. Otherwise, the next crisis will be a food crisis."
And yet Sierra Leone's fate is not entirely in the hands of these donors. As Sesay explained, international aid is meant to temporarily fill gaps in the harvest and bolster an agricultural system weakened by disease. The solution in the long term must come from within the country. "People will not think life is normal," Sesay said, "until agriculture is normal."
Some hope lies in the story of Ngekia. While she and her family were quarantined, Lebbe and other leaders of the Kono Women's Cooperative brought them food to supplement the spartan rations the government had supplied. They gave Ngekia mobile-phone credit and, from across the barrier, offered comfort and encouragement. "Bondu behaved to me like a mother, and all the other women treated me like a sister," Ngekia said. "They were always by my side."
But perhaps the most valuable support they gave was going to Ngekia's rice farm when no one else would. The women organized themselves into small groups that worked on successive days. By phone, Ngekia reminded them to stay clear of one another in the field and wash their hands with chlorine. One cooperative member recalled that instead of talking and singing, the women quietly prayed for Ngekia. Some villagers overcame their fear and joined the effort. When the group was finished, all eight acres had been planted with short-season red rice.
In the months that followed, Ebola surged through Kono district. In early December, the World Health Organization found the local hospital overwhelmed by infections and death. The entire district was quarantined for three weeks. By New Year's, the International Red Cross was calling Kono a new hotspot for the disease. So when the women gather in January to harvest this rice by hand, it will be more than hard work; it will be an act of courage and resolve. They are buoyed, in part, by the fact that Ngekia will be there in the field alongside them.
After quarantine, Ngekia's entire family tested negative for Ebola. They still carry some stigma, as if somehow the virus were following them, but Ngekia has returned to her life as best she can. As a nurse, she is leading education campaigns about Ebola prevention. As a farmer, she is preparing for harvest.
She said the swampland's crop looks healthy, but predicts the yields this month will be low; even though the women were able to plant, there was simply not enough help to cultivate the field properly and scare away birds. But at least when Ngekia goes out to the field, there will no longer be a need for others to pray for her. Instead, the familiar work of cutting, bundling, and threshing will become a prayer itself: for the survival of her family, the strength of her community, and the healing of her nation.