News Assistants: The Unsung Heroes of Journalism in China
The noose is tightening around men and women who are indispensable to facilitating independent coverage of the country.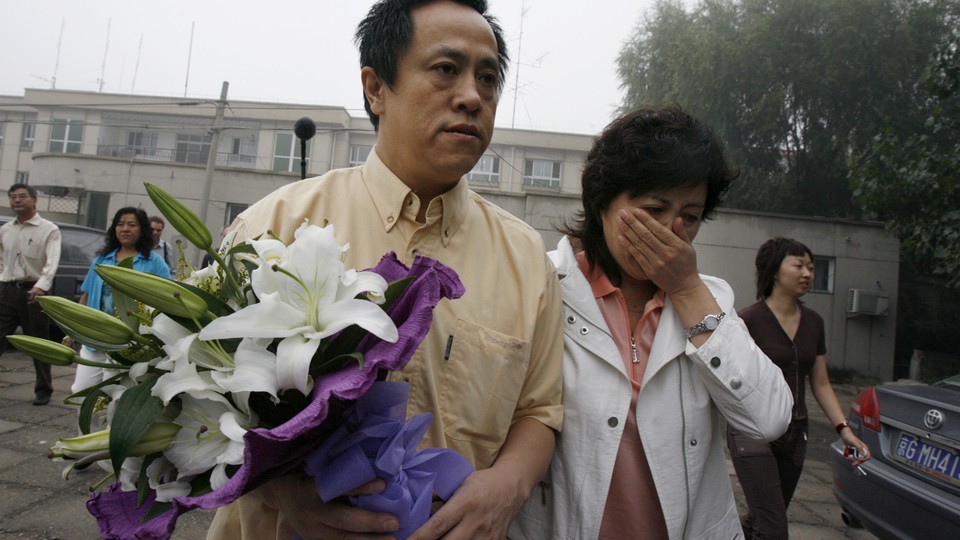 For her last two years in China, Angela Kockritz, a Beijing-based reporter for the German newspaper Die Zeit, worked closely with a 40-year-old Chinese news assistant named Zhang Miao. When pro-democracy protests erupted in Hong Kong last September, Kockritz and Zhang traveled to the territory to cover the story. As the two walked among the demonstrators and spoke to student leaders, Zhang got swept up in the excitement. She pinned a yellow ribbon—a symbol of the movement—to her clothes and uploaded photographs of herself to WeChat, a social network popular in China.
On October 1, Zhang returned to Beijing while Kockritz stayed behind in Hong Kong. The next day, the news assistant and friends discovered that they were being followed by the police. They attempted to lose their tail on foot, but the police caught them. An officer slammed Zhang against the car, arresting her on the charge of involving herself in a "village squabble." When Kockritz returned to Beijing, she tried to negotiate Zhang's release with state security forces, who showed the journalist evidence they had culled from Zhang's WeChat account. The police cajoled, threatened, and intimidated Kockritz; they did not allow her to see or contact Zhang. Eventually, fearing that she herself was under suspicion of spying, Kockritz gathered her belongings and fled the country.
She wrote an article about Zhang's arrest, however. Written from exile, it reads like a tense thriller, revealing the ruthlessness of China's internal security apparatus. But the article has also directed new attention to the unseen but vital work of China's news assistants, men and women tasked with helping the country's foreign correspondents do their job. Chinese citizens cannot legally report from China for foreign news sources, and those acknowledged as contributing to articles often use an assumed name. But they are indispensable to their foreign colleagues. They arrange interviews, conduct research, handle logistics, interpret, and translate. News assistants also act as a cultural liaison for foreign colleagues who may speak no Mandarin or know little about the country.
Chinese news assistants tend to be highly educated and multi-lingual, skills that would position them for lucrative careers in China's rapidly globalized economy. But in a country where journalists are expected to reinforce, rather than check against, state power, news assistants toil out of a love of the craft. One anonymous assistant, recently interviewed by the Asia Society's Eric Fish, explained this persistence.
"Overall, I think working for the foreign press makes me feel like a real journalist and I love every minute of it!" the news assistant said. "However, being Chinese, one just has to accept that dealing with the authorities is part of your lifestyle."
News assistants face risks that far exceed those of their foreign colleagues. State security officials, who monitor foreign news coverage closely, frequently invite news assistants "for tea," a common Chinese euphemism for unwelcome encounters with government authorities. In these meetings, news assistants are asked to divulge what foreign journalists are working on, the names of their sources, and other information vital to their work. Those who refuse to comply risk harassment, beatings, and indefinite detention.
Conditions for international media organizations in China have worsened under Xi Jinping, who became the country's supreme leader in 2012. After Bloomberg and The New York Times published investigations into the financial largesse of top leaders, China blocked each website and refused to issue new visas to reporters sent to the country. Reporters have reported facing greater difficulty in accessing critics of the Communist Party, many of whom are imprisoned. Chinese authorities have curtailed access to politically sensitive areas—such as Xinjiang and Tibet—where ethnic minority groups occasionally scuffle with state forces.
A few foreign journalists, like Kockritz, have been forced to leave China under pressure from the government. But the individuals who bear the brunt of China's censorship apparatus, like Die Zeit's Zhang Miao, are Chinese nationals. Another news assistant interviewed by Fish says that these pressures drove her from the profession.
"I am not a hero like Nelson Mandela or Dr. Martin Luther King," she said. "I can't sacrifice my life for what I believe. Therefore, I quit my job and went abroad."