Charlie Hebdo's Brazen Defiance
The French magazine demonstrated a long-standing refusal to give in to critics and threats.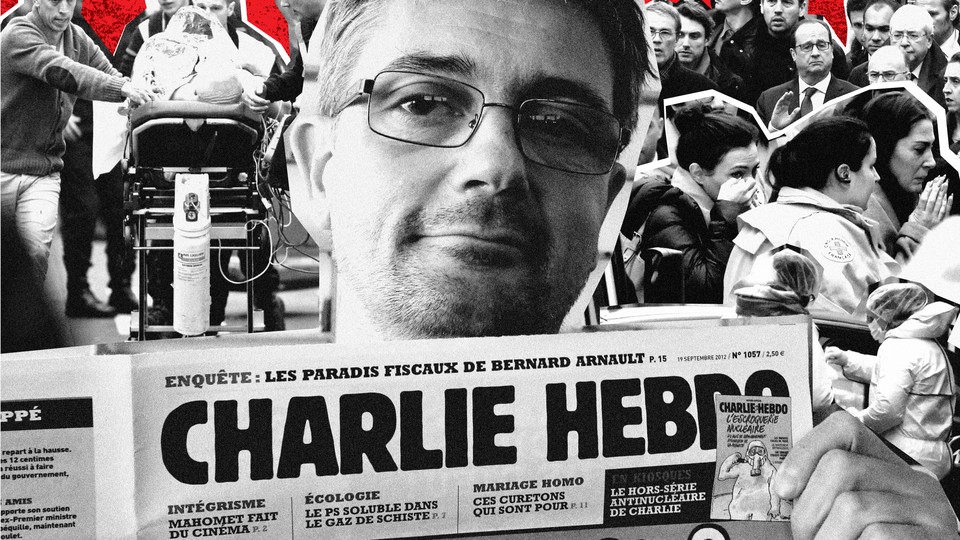 Journalists around the world are expressing solidarity with the victims of a terrorist attack on a French magazine in Paris, echoing Charlie Hebdo's relentless support of free speech in a controversy that's nearly a decade old.
In 2005, a Danish newspaper, Jyllands-Posten, published a page of 12 cartoons, drawn by various artists, depicting the Prophet Mohammed. Some were innocuous pictures of unnamed Islamic figures, while others were mocking or outright critical of Islam. Many Muslims angrily objected, accusing the paper of blasphemy, and subsequent protests in early 2006 turned violent. Some of the worst incidents took place in Nigeria, where the cartoons became the pretext for a wave of sectarian violence that killed more than 100 people, most of them Muslim.
Many other publications republished the cartoons out of solidarity with Jyllands-Posten. One of them was Charlie Hebdo, a long-running satirical magazine that had its roots in the French counterculture of the 1960s. From the very beginning, the publication had a habit of taking on French political figures and the media, often running afoul of public sensibilities and the government. It ceased publication in the 1980s, but was resurrected under new leadership in 1992.
Following the Danish cartoon controversy, the magazine continued to make Muslim extremism a frequent target. (Although Christian and Jewish leaders were often subject to mockery as well.) In November 2011, Charlie Hebdo ran an issue that was billed as being "guest-edited" by Mohammed. The cover featured an absurd caricature of the prophet, and the caption "100 lashes if you don't die laughing." The very week that it was released, the Paris offices of the magazine were firebombed, although no one was seriously injured.
Less than a year later, Charlie Hebdo ran a cover featuring Mohammed in a wheelchair, being pushed by an Orthodox Jew, with both of them saying "You must not mock us." Another cartoon on the back page depicted Mohammed naked.
Despite numerous threats and condemnations (from French political leaders as well as Muslim clerics), the magazine continued to stand by its belief that nothing should be off-limits, and that its "provocations" were actually nothing of the sort. Editor Stéphane Charbonnier, himself a cartoonist known as "Charb," defended the magazine's approach to the media in 2012:
The accusation that we are pouring oil on the flames in the current situation really gets on my nerves. After the publication of this absurd and grotesque film about Mohammed in the U.S., other newspapers have responded to the protests with cover stories. We are doing the same thing, but with drawings. And a drawing has never killed anyone. ...

We publish caricatures every week, but people only describe them as declarations of war when it's about the person of the prophet or radical Islam. When you start saying that you can't create such drawings, then the same thing will soon apply to other, more harmless representations.
Charb, who was reportedly among those killed in today's attack, was placed on a list of "al-Qaeda's Most Wanted" in 2013, along with the original editors at Jyllands-Posten. His final cartoon, published in the last issue before the attack, read "No attacks in France yet; wait! There's until the end of January to wish Happy New Year." Charb relentlessly defended his right to free speech and scoffed at threats to silence him, saying that since he had no family, he feared no reprisals. In 2012, he told ABC News, "I prefer to die than live like a rat."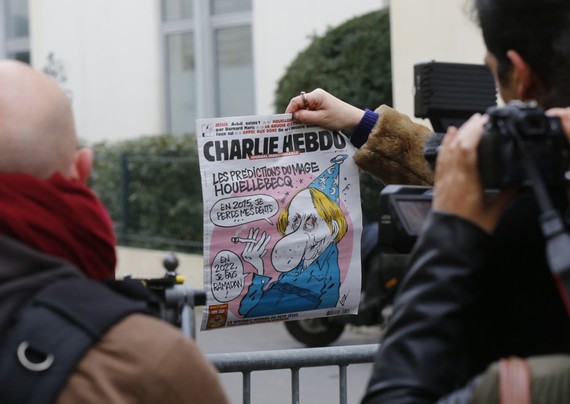 The same issue also mocked a new novel, released today by French author Michel Houellebecq, which imagines a near-future France where a Muslim is elected president. The book's critics claim it is Islamophobic.
In much the same way that Charlie Hebdo expressed solidarity with the Danish paper 10 years ago, other publications are standing by it today, with many spreading the hashtag #JeSuisCharlie (or "I am Charlie") on Twitter.
The website of the magazine also carries that message now, and the more traditional French newspaper Le Monde remade their website in support, as well.