Charlie Hebdo and the Right to Be Offended
A satirist reflects on the retreat of free speech.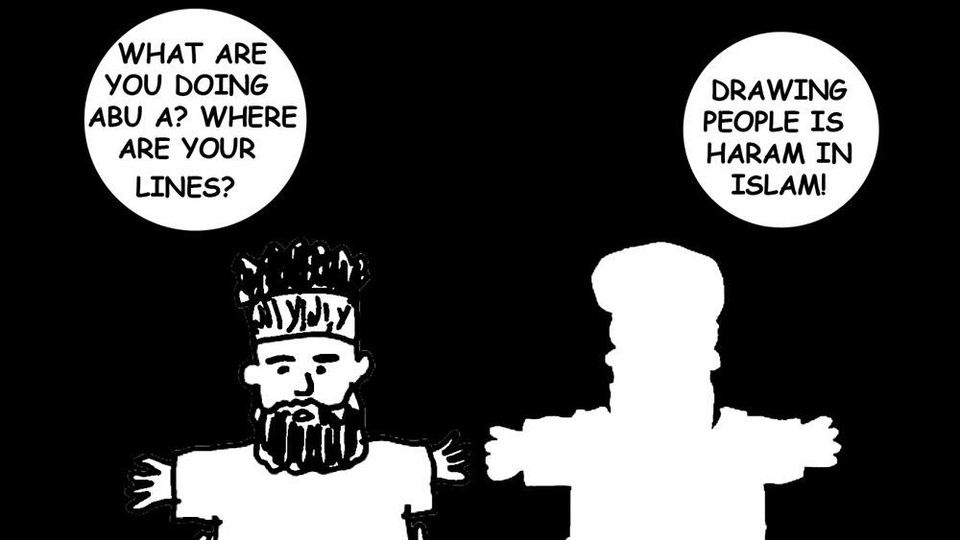 As a satirist who focuses on the Middle East, I've bumped up against my share of boundaries. Two years ago, for example, I struggled with how to satirize the tendency of some Western observers to distort conflicts in the Middle East by attributing those conflicts to "ancient rivalries" rather than, say, contemporary political struggles. Ultimately, I decided that the best approach would be to push that logic to its absurd conclusion by writing a "tribal" guide to the region, which relied on familiar stereotypes about Sunnis, Shiites, Jews, and others. I hoped readers would understand that these caricatures were meant not to be crude and bigoted, but rather to show how disconnected the ancient-rivalries thesis is from reality. And readers did understand—for the most part. This ability to test the boundaries of good taste, and even to be offensive, is essential to effective satire. But it's now under threat.
Following the attack on Charlie Hebdo's offices in Paris and the cold-blooded murder of 12 people, a familiar refrain rang out in some quarters. The assault on the satirical magazine, so the argument went, represented a collision of cultures: a Western one that champions freedom of speech and an Islamic one that does not tolerate offenses to its religious symbols. But one of the real storylines here isn't some clash of civilizations; it's the steady erosion of freedom of expression and the rise of the right to be offended—in the West as well as other parts of the world.
The culture-clash interpretation of the horror in Paris transcends political divides in the West. On the right, some claim that Muslims' beliefs are incompatible with modernity and Western values. On the left, some construe the attack as a retaliation for severe offenses, essentially suggesting that Muslims are incapable of responding rationally to such offenses and that it is therefore best not to provoke them. The latter explanation is dressed up in the language of social justice and marginalization, but is, at its core, a patronizing view of ordinary Muslims and their capacity to advocate for their rights without resorting to nihilistic violence. This outlook also promotes the idea that Muslims and other people of Middle Eastern origin are defined primarily by their religion, which in turn devalues and demeans the attempts of Arab and Middle Eastern secularists to define themselves through varying interpretations of religion or even by challenging religion and its role in public life. By seeking to present religion as a form of cultural identity that should be protected from offense and critique, Western liberals are consequently undermining the very struggles against the authority of inherited institutions through which much of the Western world's social and political progress was achieved.
Given that I often deal with the issue of jihadism in my satire, the Charlie Hebdo attack highlighted the dangers that my colleagues and I face when we mock extremists. Still, there is a risk in framing what we do as satirists and cartoonists as a heroic battle against extremism. For one thing, this implies that only 'worthy' works of satire should be defended on the grounds of free speech. For freedom of speech and expression to mean something, they must be defended on their own terms, not because of their political usefulness in the fight against extremism.
This is a critical distinction given the current climate in the West, where a culture of taking offense has found fertile ground and is increasingly restricting what artists and writers are able to do and say. The British writer Kenan Malik traces the origins of this trend to 1989, when the Iranian leader Ayatollah Khomenei issued his infamous fatwa against Salman Rushdie for allegedly blaspheming Islam in The Satanic Verses. In From Fatwa to Jihad, Malik argues convincingly that the response to the fatwa and similar threats has been counterproductive, coming to pose a grave threat to free speech. "Internalizing the fatwa has not just created a new culture of self-censorship, it has also helped generate the same problems to which self-censorship was supposedly a response," he writes. "The fear of giving offence has simply made it easier to take offence."
This dynamic, in turn, is breeding an insidious form of censorship, which is much more powerful and constraining than official censorship, and more difficult to confront. As the United Nations noted in 2014, threats to freedom of expression in North America and Western Europe are now coming more from private organizations than governments, with the principle especially contested online. We hear regularly of plays, books, and artwork—be it an anti-slavery exhibition in London accused of "complicit racism" or an irreverent Bible production in Northern Ireland branded as "blasphemous"—that are kept from the public because they could cause offense to one group or another. The slightest whiff of controversy is often enough to make publishers and curators bow to the intimidation. The demands to censor Charlie Hebdo cartoons aren't driven by a uniquely Muslim sense of outrage.
A Tunisian friend once told me a telling story about the time he was invited, along with fellow activists, to a seminar on freedom of speech run by an EU organization. The instructors focused on the benefits of restrictions on the freedom of speech, such as hate-speech legislation and avoiding offensive language, but the activists were far more interested in learning how to assert their freedom to speak, write, and break social and political taboos. These days, I sense exhaustion about preserving such freedoms in the West, whereas activists and citizens in Arab and Middle Eastern countries are eager to establish these freedoms and leverage them for social and political change.
In my own experience, I encounter more concern about my writing and drawings being offensive from Westerners than from fellow Arabs (I'm Lebanese and based in London). "Are you allowed to say this?" they ask, betraying anxiety about what constitutes acceptable speech today and a desire for an external authority to validate the exercise at the expense of autonomous decision-making.
The murders in Paris have certainly brought the struggle for free speech into stark relief. But it's premature to expect the episode to reverse the trend toward more restrictions on expression in the West. This week, for instance, the gush of support for freedom of expression was quickly countered by backlash against an op-ed written by Anjem Choudary, in which the radical British Islamist justified the Charlie Hebdo attack by claiming that Muslims don't believe in free speech and that France shouldn't have allowed the cartoons to be published. Many people argued that he shouldn't have been given a platform in the press, particularly at a moment like this (for a sense of the intensity of the response, just look at Twitter).
But restricting free speech further, even in the case of so-called hate speech, would be precisely the wrong response to the carnage in Paris. Instead, we should reassert the rights of satirical magazines and radical preachers alike to express their views, and the freedom of anyone and everyone to challenge them. That's the best lesson to learn from this tragedy.