France's First Free-Speech Challenge After Charlie Hebdo
Provocateur and "comedian" Dieudonné could face charges after posting a controversial statement on his Facebook account.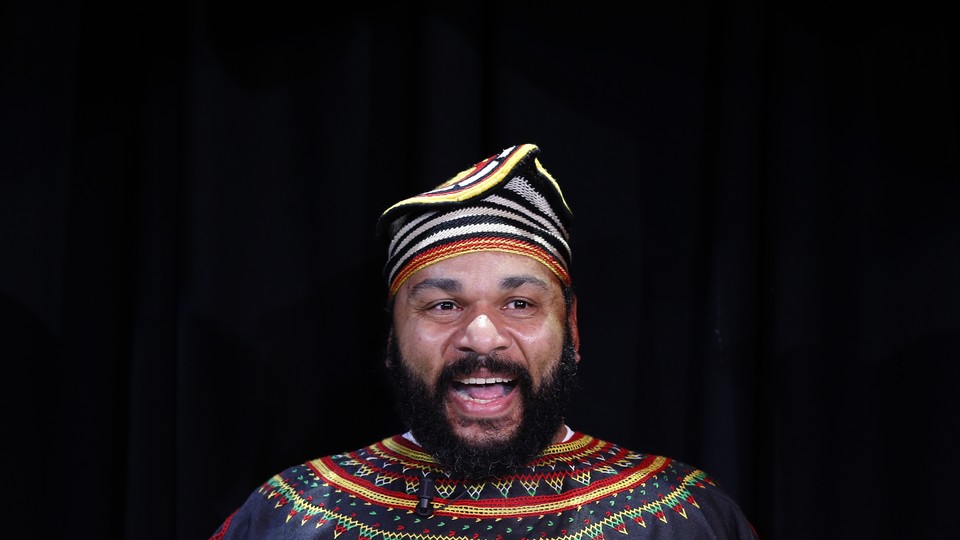 Even before last week's horrific events, the relative complexity of free speech in France could be encapsulated by Dieudonné M'bala M'bala⎯a political comedian or practitioner of hate speech, depending on your take.
Dieudonné, as he's known, infamously popularized the "quenelle," a reverse Nazi salute that gets around the existing French ban on the traditional Nazi salute. (One touches the left shoulder with the right hand while the left arm stretches downward, an inversion of the "Heil Hitler" greeting.) Here's how France's current prime minister Manuel Valls characterized the quenelle last year: "This gesture is a gesture of hatred, it's an anti-Semitic gesture and all those who perform it should know—they can't deny knowledge—that they are performing an anti-Semitic gesture, an inverted Nazi gesture."
Valls' criticism followed a controversy in which a number of photos of the salute surfaced, performed by French soldiers outside of a synagogue in Paris, people malingering outside of Holocaust memorials, and a French soccer star after scoring a goal. French courts, which enforce the country's restrictive hate speech laws, have previously found Dieudonné guilty of such crimes as defamation, libel, and incitement to hatred and racial discrimination, but a ban on the quenelle hasn't materialized yet.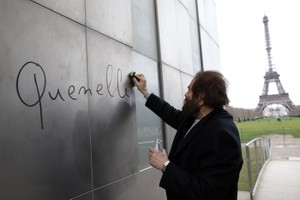 Days after the Charlie Hebdo massacre and the ensuing violent hostage situations, Dieudonné is back in the news. On Monday, the Paris prosecutor's office announced that it will investigate a (since-deleted) Facebook post in which Dieudonné wrote a short missive about the solidarity march in Paris, ending it with the words "I feel like Charlie Coulibaly."
"Charlie Coulibaly" appears to be a mash-up referring to Charlie Hedbo, the satirical magazine targeted last week, and Amedy Coulibaly, the shooter who killed a policewoman last Thursday and died during a stand-off in a kosher supermarket in which four Jewish hostages were killed.
In the wake of the recent violence, an extended conversation has been taking place over the deadly interplay between free speech and religious extremism along with the right to blaspheme. So how do Dieudonné's recent comments fit in?
Turns out, they bring up an entirely new set of issues. In identifying with both some of the victims and one of the shooters in last week's attacks, Dieudonné's statement, according to the prosecutor's office, was being investigated on the grounds that it was "defending terrorism" rather than committing hate speech.
Responding to the development, Dieudonné accused the government of persecuting him by banning his performances and treating him as "public enemy number one."
Whenever I express myself some people will not even try to understand me, they will not listen. They try to find some kind of pretext to suppress me. I am looked upon as if I were Amedy Coulibaly, when I am no different from Charlie.
In addition to promoting the quenelle, Dieudonné's comedy shows (when not banned) draw large crowds, and videos featuring the comedian on YouTube are widely viewed. Anthony Fiaola described one performance last summer for The Washington Post in an article titled "A 'new anti-Semitism' rising in France:"
In front of a packed house, he apes Alain Jakubowicz, a French Jewish leader who calls the humor of Dieudonné tantamount to hate speech. While the comedian skewers Jakubowicz, Stars of David glow on screen and, as the audience guffaws, a soundtrack plays evoking the trains to Nazi death camps. In various other skits, he belittles the Holocaust, then mocks it as a gross exaggeration.
Dieudonné was previously fined a hefty sum for his utterances including one interview where he said "The biggest crooks in the world, that's the Jews." The question now is whether that is something Charlie or Coulibaly would say.