Why Christmas Is Huge in China
A Western religious festival takes on Chinese characteristics.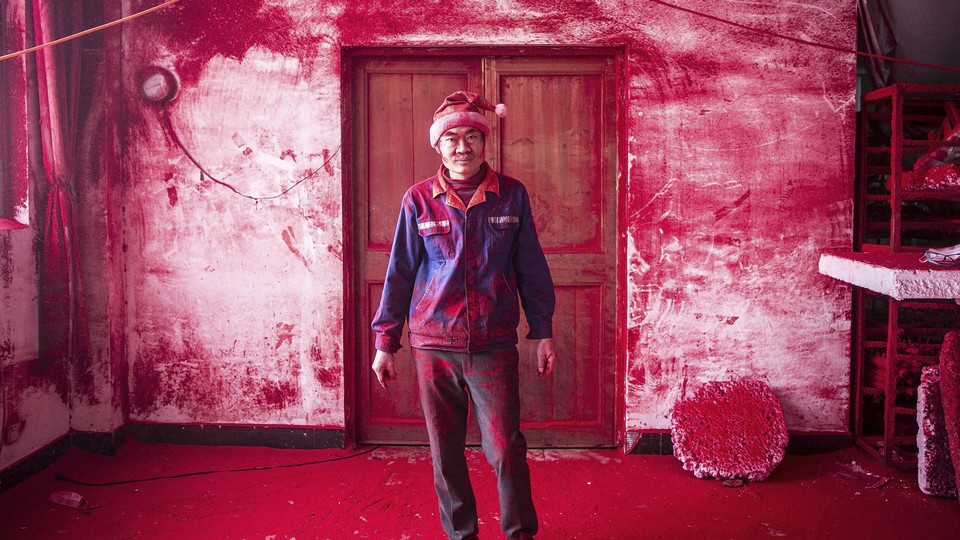 BEIJING—There's a joke going around: "Santa Claus was descending into China from the sky. Due to the heavy smog, he fell to the ground, but no one dared help him up. While he was still lying in the snow, his bag was ransacked for presents, and his reindeer and sleigh taken away by the chengguan. Therefore, no Christmas this year."
While some of the humor needs context—there are digs at China's notorious bystander effect and much-despised urban-management officials, chengguan—the larger meaning is clear. Ironic jokes about Santa's routine being disrupted with uniquely Chinese characteristics are a sure sign that, yes, they do know it's Christmas time in communist China.
Retailers lead the way here: An annual spending season that once focused on Chinese New Year in the winter is now bloated and elongated, stretching from the invented Singles' Day on November 11 through February, with Christmas as a kind of hump day. Even before December, shops, streets, and hotels begin filling with slightly off-kilter Yuletide scenes: performers in elf suits play traditional cymbals while a grinning plastic Santa Claus toots a saxophone outside his gingerbread cabin. Why the sax? Theorists point to everything from romantic associations with the avuncular Bill Clinton jamming on the instrument in the 1990s, to the smooth alto-sax muzak that is the preferred soundtrack of Santa's typical dwelling, the shopping mall.
There's no sign of Jesus, but in many big cities, you're still more likely to see Father Christmas's face than that of "Uncle" Xi Jinping, as state media has characterized the country's president, presenting a homely, familial image that's quite at odds with the repressive manner in which he's coldly eliminated opponents. But Xi is not above the fray himself, visiting Santa's official cabin in Rovaniemi, Finland in 2010.
The Western religious festival is so trendy, in fact, that it may be the second-most-celebrated festival in China after the Spring Festival among young Chinese, according to research conducted by the China Social Survey Institute (CSSI), which found that 15- to 45-year-olds are the most likely to observe it. The holiday's popularity is an outgrowth of study-abroad programs, said Sara Jane Ho, whose Institute Sarita specializes in educating wealthy Chinese on aspects of Western culture such as how to properly pronounce "Hermes"—the brand, rather than the Greek deity (the 'h' is silent, and the second 'e' accented).
Eighty-five percent of wealthy Chinese send their children to countries like the U.S., U.K., and Canada for higher education, according to Hurun Report, a kind of Chinese Forbes. Around 275,000 Chinese students enroll annually at American universities, accounting for more than 30 percent of all international students in the country. When the holidays send their American peers home to family and friends, Chinese students often turn to each other for companionship. Like returning missionaries, these "sea turtles" then bring their own version of Christmas back home.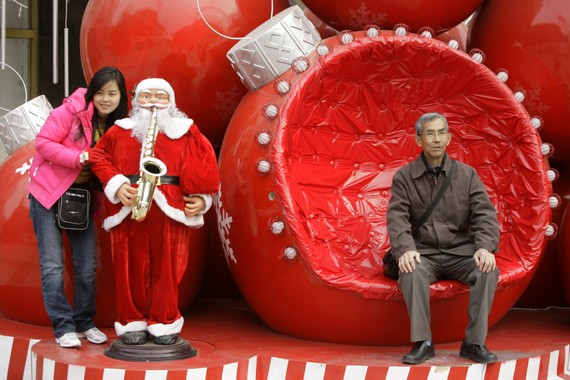 Christmas is "an excuse to party" whereas Chinese festivals are comparatively "solemn, serious, and spiritual," Ho told me over mulled wine and petit fours. Instead of gathering around the family table for a turkey dinner ("Chinese don't entertain at home," Ho pointed out), most go to "entertainment places"—movie theaters, bars, or karaoke clubs—or out to eat, the CSSI survey noted. "Christmas is just an excuse to go shopping, as there are many big sales at a lot of places," admitted Mo, a 33-year-old sales executive in Guangzhou. "The theme is to have fun."
And at the end of a long and stressful year at work, it's an opportunity to take stock and kick back. The CSSI survey lists "relaxation after a busy year" and "experience the new year's atmosphere" among the top reasons cited for celebrating Christmas, along with "be closer to friends and colleagues" and "use the romantic atmosphere of Christmas to spread love." Some take the latter rationale quite seriously. "Have you heard of such a phrase in China, 'Silent Night, First Night?'" asked Long Fei, an assistant pastor at an "underground" church in Beijing whose activities are not officially monitored or approved by China's religious authorities. "Many young people choose to give themselves to their beloved on this eve and eat forbidden fruit."
The Christmas spirit has even reached as far as China's sweltering south. Since 2009, a Santa Claus Post Office has operated in Guangzhou, offering specially stamped postcards, inked in Chinese calligraphy, and sending Santas, laden with donated gifts, to children in remote parts of the country. In sunny Sichuan, an official 13,000-square-meter replica of the Finnish Santa village that Xi visited is currently under construction, curiously titled "Floraland."
And Christmas is on a kind of infinite loop in places like Shenzhen, whose population swells by 5 million in the summer to feed the Christmas electronics boom, and Yiwu, the southeastern city that famously produces 60 percent of the world's Christmas decorations. In this real Santa's workshop, the romantic notion of Christmas confronts a harsher truth: 12-hour days at $500 a month, and 600 factories churning out thousands of baubles a day, as a migrant workforce largely indifferent to their meaning produces disposable tat bound, ultimately, for landfills or perhaps recycling back in one of Guangdong's notorious e-waste villages (to be fair, I've seen a fair few Christmas decorations in China left stubbornly hanging all year round, and listened to "Jingle Bells" in the summer).
There are currently around 100 million Chinese Christians (the government claims it is 23 million), more than the Communist Party's membership, and Fenggang Yang, an expert on religion at Purdue University, believes this number will eclipse America's estimated 159 million Protestants by 2025. Far from ushering in a new age of enlightenment from the "opiate of the masses," the country's strident and bewildering economic development has left behind Marxism and instead sent millions searching for priests and prayer books.
Still, it's surprising that Christmas, with its connotations of faith, foreignness, and blithe consumerism, is so tolerated. "I don't think the Communist Party has a clear position about Christmas, except for not encouraging it," said Yang. "Christmas is not considered a public holiday and people don't get a day off." (In the Chinese territory of Hong Kong, where some Christmas carolers this year have added pro-democracy lyrics to their songs, it's a statutory holiday.) In 2006, a group of post-doctoral Confucian students published an open letter, entitled "Walk Out of Cultural Collective Unconciousness and Strengthen Chinese Cultural Dominance," that expressed anxiety about Western cultural hegemony and the encroachment of Christianity under the cover of Christmas celebrations. Chinese who observe Christmas are "doing what Western missionaries dreamed to do," the letter claimed, urging a boycott of the holiday. It had little effect.
"Many Chinese have become so much in tune with globalization that they don't really care whether this is Western or Chinese," Yang observed, adding that retailers have "shamelessly promoted" Christmas: "Some years ago, on a snowing Christmas Eve, I stood in the street trying to get a taxi for a long time but simply could not find one, because every cab was filled with people going to restaurants. It looked as crazy as Mardi Gras."
Nevertheless, Yang thinks some families will find spiritual succor in the idea of "well-behaved children blessed by the generous, kind, and bearded old man named Santa" (or shengdan laoren, "Old Man Christmas," as he's better known here). The "rapidly increasing number of Christians who are eager to evangelize" often "celebrate Christmas as an occasion to bring more people into church gatherings," he noted.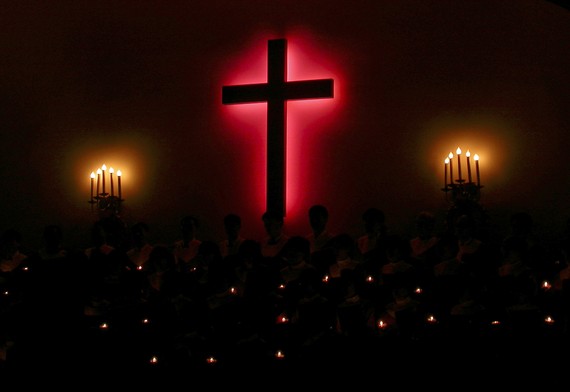 Wang Tuanjie, a Christian working in the "shadow banking" sector, also sees an opportunity: "Christians know December 25 is not Jesus Christ's birthday, but we use it to let more people know him." Most of the people I spoke with acknowledged that the 'true' meaning of Christmas has been muddled into what the pastor Long Fei called "a carnival." Yet even for non-believers, Christmas represents a chance to explore something more substantive and spiritual than the usually permitted fare.
"Although they don't know Jesus Christ or the origin of Christmas, many people would come to the church and join the carols and other worshiping events," said Zhang Jie, a Christian in Beijing. Come Christmas Eve, state-approved churches will be packed as thousands queue for midnight mass or watch the services on outside monitors. Many will be first-timers, drawn by the crowds. It's the rare time of year when China's churchgoers are most noticeable. Shopping malls hope their Christmas-themed cathedrals to Mammon offer a similar draw.
In China, the state's ruthless control over ideology, and repeated purges of those who criticize it, have reinforced the impulse to act in one's own interests rather than society's. The ubiquitous Santa, a reassuring icon without the cultural baggage of Chinese traditions, has cheerleaded this retreat into materialism. "I've always known him as an older man with lots of gifts," one young woman remarked. "What's not to like?"