Ukraine and Pro-Russia Rebels Exchange Hundreds of Prisoners
Despite the trade, more peace talks were called off, and Kiev said it was stopping all train and bus service to Crimea.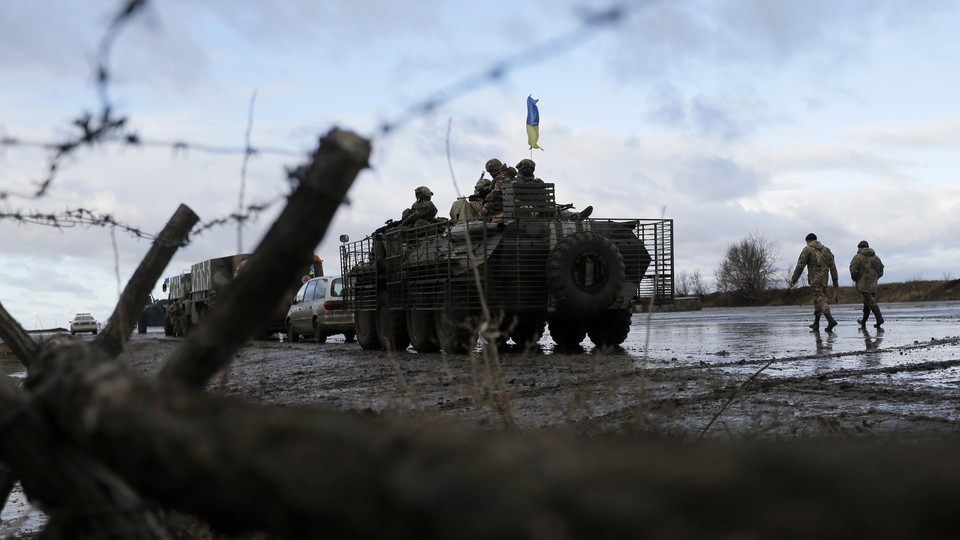 The Ukrainian government and pro-Russian separatists began an exchange of hundreds of prisoners on Friday as scheduled peace talks were canceled for the day and Kiev suspended train and bus service to Russia-annexed Crimea, leaving an already tenuous situation in greater uncertainty.
As part of a 12-point peace plan, Ukrainian officials handed over approximately 225 prisoners in exchange for approximately 145 soldiers and citizens held by the rebels, according to Russia's state RIA Novosti news agency. The agreement followed peace talks on Wednesday between representatives from Ukraine, Russia, the separatists and the Organization for Security and Cooperation in Europe.
However, the continuation of the group's peace talks that were expected in Minsk on Friday were
abruptly called off
with no explanation given. Belarusian foreign ministry spokesman Dmitry Mironchik told Agence France-Presse: "There will be no contact group meeting today." He added, "Belarus is always ready to offer [Minsk] as a negotiations venue."
Previous rounds of peace talks in September culminated in a cease-fire and an agreement to pull back heavy weapons that was immediately tested, but stabilized relations enough to continue talks despite mutual distrust between the two sides. Intense fighting has claimed nearly 5,000 lives since last spring.
Also on Friday, citing unspecified security concerns, Ukraine's state rail company Ukrzaliznytsia said that it would suspend train service to Crimea with cargo trains suspended immediately and passenger trains gradually suspended over the course of the weekend. "In order to ensure the safety of passengers ... (the railway) will cut the route of trains to Crimea off at Novooleksiyvka and Kherson," it said in a statement, referring to two Ukrainian towns near Crimea. Cars and trucks will still be allowed to move between the two areas.
The events come as Russia faces a financial crisis from a combination of governmental mismanagement, dropping oil prices, and economic sanctions that have caused considerable panic in Moscow in recent weeks, leading Russian President Vladimir Putin to cancel the extended New Year holiday for his ministers.