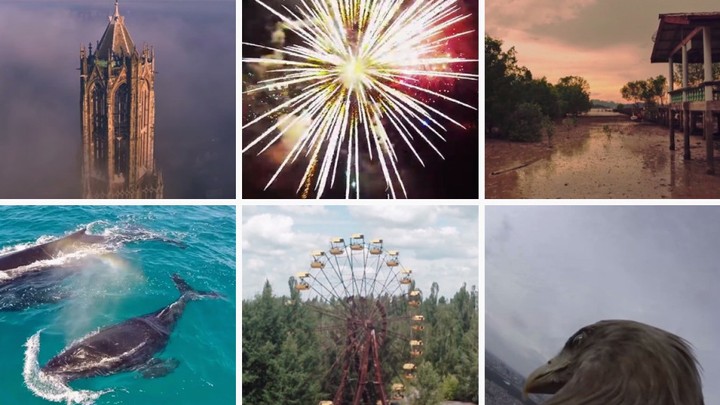 Drone photography came into its own this year.
Quadcopters with cameras got better and cheaper, turning more people into drone hobbyists and professional aerial videographers. Drones were used for cityscapes, nature walks, concerts, real-estate listings, disaster surveys, Olympic sports—even self-portraiture, as selfies taken from the air became known as "dronies."
With so many drone videos out there, picking the best of the year is a difficult task. To make our list, a video had to distinguish itself with a creative location, approach, or circumstance. Some drone videographers just got lucky (or unlucky, as the case may be). Others brought particular skill to an unusual place.
The popularity of drone videos can be partially explained, yes, by their novelty. (And their newfound ubiquity inevitably gave rise to complaints.) But at their best, drones provide a compelling vantage that captivates viewers and points in a new and creative direction for journalism and cinematography.
The following were the best drone videos released in 2014.
---
An Illicit View of Beijing
Drones aren't allowed to fly over many parts of Beijing, least of all the Forbidden City. The photographer who took this video, Trey Ratcliff, was detained by police after he flew close to government buildings. Fortunately, he was allowed to keep the footage he shot over five days and offer the world this rare perspective on Beijing.
A Rockfall in Northern Italy
A cliff collapsed at the beginning of the year in the small town of Tramin (also known as Termeno) in South Tyrol, Italy, sending boulders and small rocks tumbling through fields—and, in one case, straight through a 300-year-old barn. This drone footage surveyed the surreal damage in an attempt to raise money for relief efforts.
An Abandoned City Near Chernobyl
Pripyat, Ukraine, was evacuated in 1986 after the Chernobyl nuclear power plant meltdown. Danny Cooke shot this video while visiting for the CBS TV news program 60 Minutes, which produced a segment about the continuing effects of radiation in the area. What Cooke found was a city frozen in time and left to decay but still displaying its humanity.
Fireworks on the Beach in Florida
"The quad was not damaged," said Jos Stiglingh, who sent his quadcopter into the middle of an extravagant fireworks display in West Palm Beach, Florida. The resulting footage offers a perspective on a pyrotechnics show that's usually seen from a much safer distance.
Taking to the Streets of Hong Kong
Hong Kong's Umbrella movement seemed to catch everyone off guard, from its student leaders to the Chinese government. The scope of the protests wasn't clear at first, but this video, shot by Nero Chan, helped make it clear to the rest of the world. He posted it to Facebook with the status: "feeling hopeful."
Skimming the Waves on a Thai Island
Philip Bloom took his gear to Koh Yao Noi, Thailand, an island off the coast of Phuket, and shot an enchanting video that's most notable for how close to the ground the drone hovers.
Whale Watching in Hawaii
This video makes clear that we've been looking at the sea from the wrong vantage. Eric Sterman captured the footage off the north shore of Oahu, Hawaii. And here's some bonus footage of whales and dolphins in Hawaii and California, by Dave Anderson:
Into a Volcano in the South Pacific
Shaun O'Callaghan sent his drone straight into Mount Yasur—a volcano on the island of Tanna, part of the South Pacific nation of Vanuatu—which has been erupting almost continuously for eight centuries. Amazingly, the drone returned safely with spectacular footage.
Burning Man From the Air
Would it really even be Burning Man if it weren't meticulously documented by a drone? (Regulations were tightened after drones filled the sky above Nevada's Black Rock Desert in 2013.) This video of the festival was shot by Eric Cheng, who occasionally streamed the footage live to the burners below.
High, High Above Dubai
The macho-cool thing to do with your drone this year was take it to Dubai and fly to the top of the Burj Khalifa, the tallest building in the world. For a taste of how ridiculous this can get, see this video. But for a truly great drone video from Dubai, watch the one above, shot by Team BlackSheep.
A Music Video in Los Angeles
Drone videos are awesome—if you keep them on mute. Even the ones on this list are best viewed without listening to their maudlin or otherwise terrible background music. Which is why this music video, for a song by DJ Dodger Stadium, is so notable: It's a great drone video that evokes the noirish urban delights on Los Angeles, and the song is pretty good, too.
A Music Video in Japan
The indie rock band OK Go combined Honda unicycles, umbrella-twirling schoolgirls, and Busby Berkeley-style dance movies—and captured the entire spectacle on a drone camera that starts in close, inside a building, and ends the video by zooming thousands of feet into the air.
Above the Clouds in the Netherlands
The Dom Tower in Utrecht is the tallest church in the Netherlands—tall enough to peek out even when the rest of the city is blanketed in clouds. The unnamed shooter of this video waited 10 months for the right weather conditions.
Up Close in the Arctic—While it Still Exists
You try manipulating a quadcopter at the top of the world. "I had the drone adopt unusual attitudes and go partially out of control," reports Peter Cox, the arctic explorer who shot this video.
Apple's New Headquarters in Progress
The new corporate headquarters that Apple is building in Cupertino, California, has been likened to a spaceship. So it's appropriate that several people took to the air this year to document progress on the building's construction. The video above was shot by Jason McMinn in August. (And here's another one from October.)
Not-Quite-a-Drone Bonus: An Eagle Over Paris
Birds have long enjoyed the kind of perspective that makes drone videos so amazing to behold. So it's appropriate that the last video on our list was shot with a decidedly low-tech eagle soaring high above Paris.
We want to hear what you think about this article. Submit a letter to the editor or write to letters@theatlantic.com.
Zachary M. Seward
is a senior editor at
Quartz
. He previously worked at
The Wall Street Journal
and
Harvard's Nieman Journalism Lab. He teaches digital journalism at NYU.