The Search for AirAsia Indonesia Flight QZ8501
Officials suspended their hunt after dark on Sunday.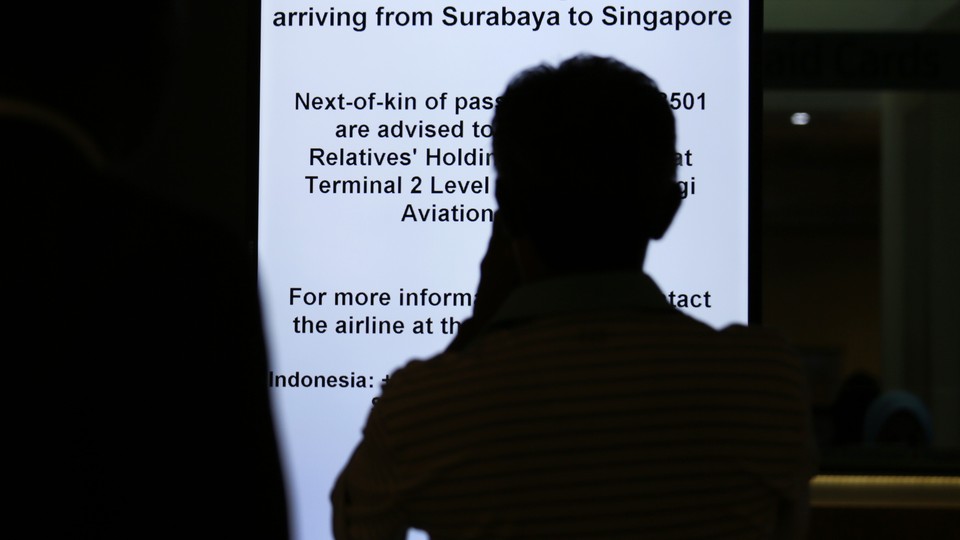 As night fell over the Java Sea on Sunday, Indonesian authorities suspended until Monday morning a search for an AirAsia Indonesia jet carrying 162 people. The Airbus A320-200 had departed the Indonesian city of Surabaya around 5:30 a.m. on what would have been a short trip to Singapore. But air traffic control lost contact with the pilot approximately 40 minutes later, according to Indonesian officials.
Sunday's missing plane marks the third aviation incident involving Malaysia this year. In March, Malaysia Airlines Flight 370 disappeared with 239 people over the Indian Ocean. In July, 298 people were killed aboard a Malaysia Airlines flight over Ukraine. Pro-Russia separatists were blamed by the international intelligence community for shooting down that plane, but Russian President Vladimir Putin disputed the accusation and said Ukraine had downed the aircraft.
According to a statement from AirAsia Indonesia, Sunday's flight sent a communication shortly after takeoff: "The aircraft was on the submitted flight plan route and was requesting deviation due to enroute weather before communication with the aircraft was lost while it was still under the control of the Indonesian Air Traffic Control (ATC)."
Djoko Murjatmodjo, the acting director general of Air Transport at Indonesia's Ministry of Transportation, reported at a press conference that crew members had told air traffic control they were planning on rising 6,000 feet to avoid a cloud. But they'd sent no emergency distress signals to indicate an accident. "Therefore," said Murjatmodjo, "we cannot assume anything yet.
"At the moment, we don't know where the exact location is, except that this morning at 6:17, we lost contact," he continued. "We hope we can find the location of the plane as soon as possible, and we hope that God will give us guidance to find it."
A weather forecaster at Indonesia's Meteorology and Geophysics Agency said dense storm clouds were in the area at the time. "There could have been turbulence, lightning and vertical as well as horizontal strong winds within such clouds."
Tony Fernandes, Malaysian founder and CEO of AsiaAir tweeted, "This is my worse nightmare."
I am touched by the massive show of support especially from my fellow airlines. This is my worse nightmare. But there is no stopping.

— Tony Fernandes (@tonyfernandes) December 28, 2014
The search was carried out by three warships and five aircraft from Indonesia, three boats and three aircraft from Malaysia, a plane from Singapore and Australia has offered to send ships and aircraft.