Terrorist Attacks on Schools Have Soared in the Past 10 Years
Pakistan is the epicenter of a horrifying new trend.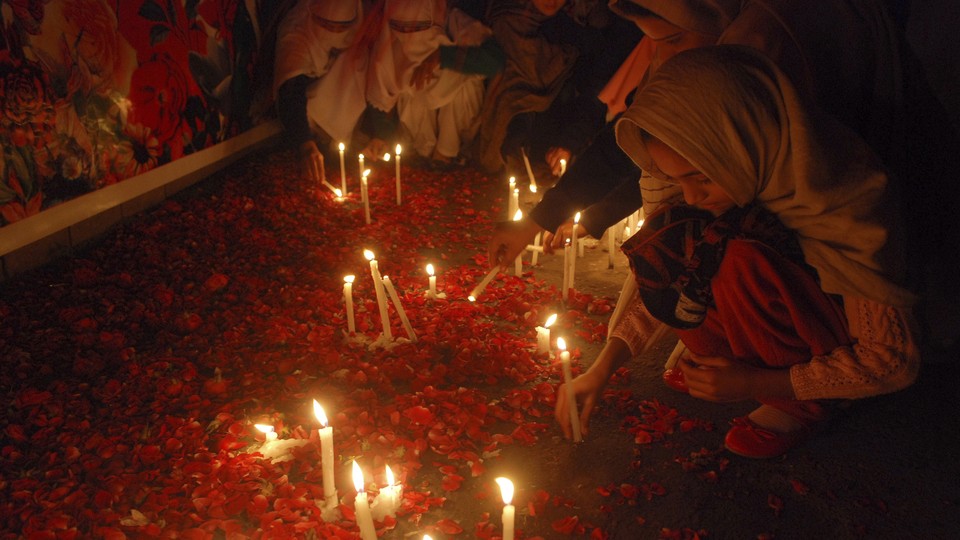 Tuesday's attack on an army-run school in Peshawar, which claimed the lives of 132 children and nine staff, was the bloodiest school siege worldwide in nearly a decade and the worst terrorist attack in Pakistan's recent history. Amid an outpouring of anguish and condemnation in Pakistan and around the world, the Pakistani Taliban was quick to claim credit. "We selected the army's school for the attack because the government is targeting our families and females," spokesman Muhammad Umar Khorasani told Reuters, referring to the Pakistani army's ongoing operations against the group. "We want them to feel our pain."
The attack was also yet another expression of a brutal trend: A growing number of educational institutions have been targeted in terrorist attacks over the past 10 years. The University of Maryland's Global Terrorism Database, which lists more than 125,000 terrorist attacks around the world since 1970, has recorded a sharp uptick in terror attacks on schools since 2004, when a massacre at a school in Beslan in southern Russia claimed the lives of 334 people, 186 children among them. Until Tuesday, no other terrorist attack on a school had come close to killing that many children, but innocence was never an assurance of safety.
---
Terrorist Attacks Targeting Educational Institutions Worldwide, 1970-2013
---
This increase in the number of attacks against schools has coincided with a more general increase in terrorist attacks around the world over the same period. Schools remain a small and relatively stable proportion of overall terrorist targets recorded in the Global Terrorism Database, but their share of the total has increased from about 2 percent in 2004 to around 3 percent in 2013, down from a peak above 5 percent in 2010.
---
Total Terrorist Attacks and Attacks on Educational Institutions Worldwide, 1970-2013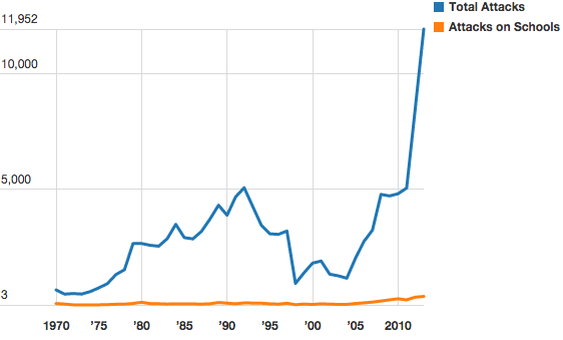 ---
Attacks on Educational Institutions as a Percentage of Total Terrorist Attacks Worldwide, 2004-2013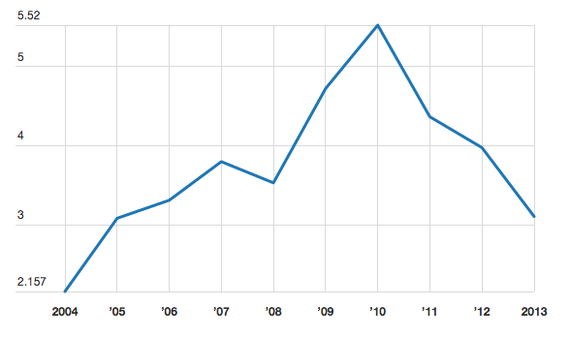 ---
There are caveats to these statistics. Erin Miller, program manager for the Global Terrorism Database, told me that as better resources have become available over time, the database has been able to verify and tally more terrorist attacks, so its numbers may overstate the increase in attacks overall, including attacks on educational institutions. But, she said, "We certainly believe that there's a large chunk of that increase [in attacks on schools] that's real."
And that increase, like the more general spike in terrorist attacks around the world, has fallen disproportionately on a few regions, namely South Asia and the Middle East. Though recent years have brought the rise of Nigeria's Boko Haram, which explicitly condemns Western education and conducted one of the biggest school attacks of the past decade when it kidnapped nearly 300 schoolgirls this spring, it is extremists in Pakistan and Afghanistan in South Asia, along with Iraq in the Middle East, who are largely driving the growth in terrorist targeting of schools. (In the country pie chart below, Nigeria is included in the "other" category. Thailand has also witnessed a high number of terrorist attacks on schools, as Muslim separatists in the country's south have targeted Buddhist teachers in government-run institutions.)
---
Terrorist Attacks on Educational Institutions by Region, 2004-2013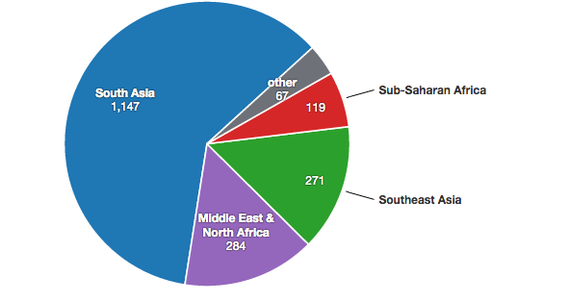 ---
Terrorist Attacks on Educational Institutions by Country, 2004-2013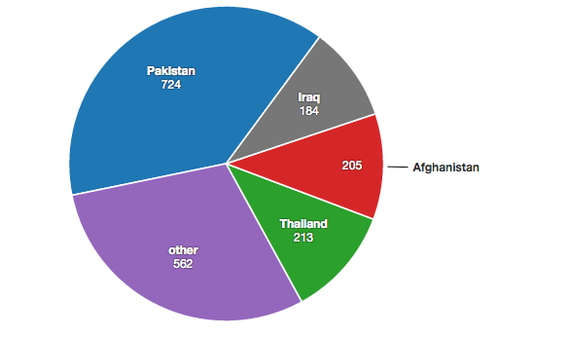 ---
Why do terrorists target schools in the first place? In a 2013 paper in the Journal of Police and Criminal Psychology, Emma Bradford and Margaret A. Wilson of the University of Liverpool's Department of Applied Psychology identified possible motivations—among them symbolic value, media coverage, and the simple ease of inflicting horrific damage on a lightly defended target affiliated with the government.
Over the past decade, Taliban affiliates and other terrorist groups in both Afghanistan and Pakistan seem to have wagered that these effects are worth the murder of children at their studies, along with the resulting condemnation and punishment. But Tuesday's attack appeared too brazen even for one of the world's other top attackers of schools. "The intentional killing of innocent people, women, and children goes against the fundamental principles of Islam," the Afghan Taliban said in a statement reported by Pakistan's Dawn newspaper.