Putin Cancels New Year's Holiday for Government Workers
Russian president cites economic crisis, but the finance minister says everything's fine.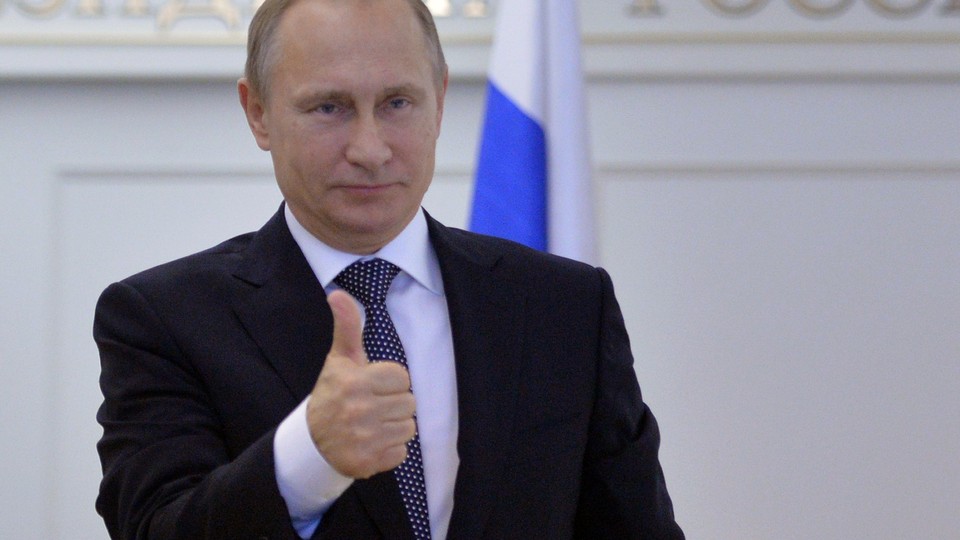 Russian President Vladimir Putin cancelled the extended New Year holiday for government ministers because of the ongoing financial crisis, informing the agencies they must work to help strengthen the economy and take protectionary measures in the face of a combination of governmental mismanagement, dropping oil prices, and economic sanctions that have caused considerable panic in Moscow in recent weeks.
In a televised government session, Putin told ministers that they could not take off the customary period from January 1st through the 12th, saying,  "For the government, for your agencies we cannot afford this long holiday, at least this year—you know what I mean."
Just a few weeks ago, the ruble had lost 50 percent of its value, as Russia has been hurt by international economic sanctions over its role in the Ukraine crisis, as well as by sharp drops in oil prices which have recently been below $70 a barrel—down from well above $100 a barrel at the beginning of the year.
In what is perhaps an attempt to save face as a new round of economic sanctions are applied to the country, Putin also blamed the government for mistakes it has made that have led to the current crisis.
"The hardships we are facing are not only external, they are caused not only by the sanctions restrictions or by restrictions linked with the objective international situation, they are also caused by our mistakes that have been made over the years," said Putin. However, he noted that the government has responded well to the crisis, saying they have "been doing a decent job by and large."
Last week, Russia's gold and foreign currency reserves dropped by as much as $15.7 billion to below $400 billion, down from over $510 billion at the start of the year. And, according to Putin economic aide Andrei Belousov, the annual inflation rate was at 10.4 percent and is expected to continue rising.
Meanwhile, Russia's finance minister, also on Thursday, seemed to contradict Putin, saying that the currency crisis is over after the ruble hit a three-week high. "We think that now this period has come to an end, the period of instability," said Russian finance minister Anton Siluanov, according to Russian news agencies. "We think that the ruble is still undervalued at the current price of oil."