Hong Kong's Protests Are Over—for Now
Few Hong Kongers see themselves as Chinese. And that's bad news for Beijing.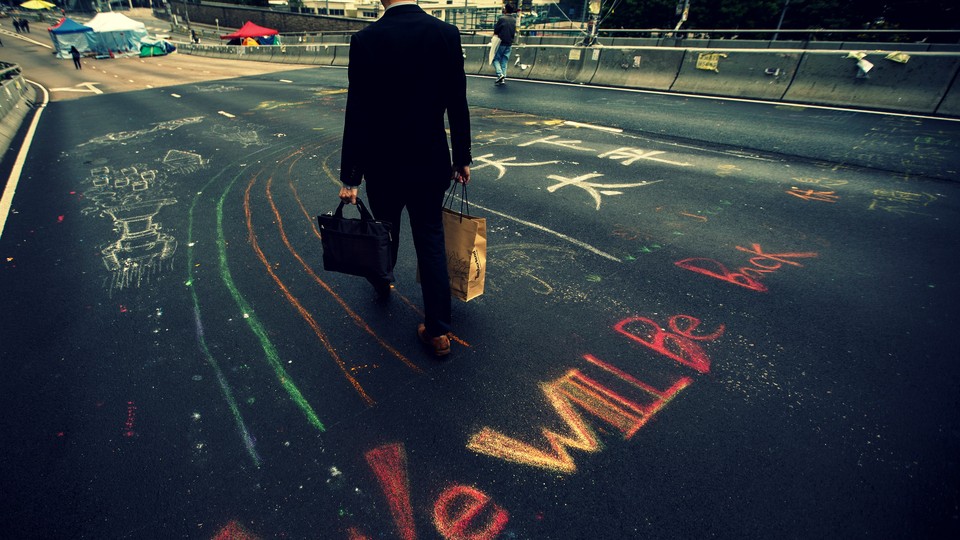 After weeks of demonstrations, encampments, and periodic clashes with police, Hong Kong's pro-democracy protests appear to be over. On Thursday, police officers and bailiffs cleared out the last remaining tents and shelters in the territory's Admiralty neighborhood and restored ordinary traffic flows to the area, which is located near Hong Kong's government buildings.
In tactical terms, the protests' conclusion is a clear victory for the Chinese government, which has stood behind Hong Kong authorities. Student leaders—including the precocious 17-year-old Joshua Wong, who appeared on the cover of Time—wanted universal suffrage and CY Leung, the territory's chief executive, to resign. They got nothing.
But the victory may be short-lived. When the British transferred sovereignty of Hong Kong to China in 1997, Beijing implemented a "one country, two systems" policy that promised to leave Hong Kong's institutions intact for the next 50 years. For China, "one country, two systems" was a compromise that assuaged Hong Kongers who were nervous about retaining a large degree of autonomy post-handover. But it also implied a deeper, more meaningful purpose: that Hong Kongers, long under the control of the British, would eventually come to see themselves as Chinese.
It's not working out. In a poll released last month, only 8.9 percent of Hong Kong residents identified as Chinese, the lowest figure ever recorded. And the trendlines aren't good for Beijing: The territory's younger generations, epitomized by the bespectacled Wong, supported the protesters the most. This could turn into a long-term problem for the Chinese government, said Trey Menefee, a lecturer at the Hong Kong Institute of Education who has observed the protests firsthand.
"These kids are never going to cooperate with the Chinese Communist Party," he said.
This challenge has implications beyond Hong Kong. Take Taiwan, the self-governed island that China regards as a "renegade province." Initially, "one country, two systems" was designed with Taiwan in mind. Beijing hoped that as Hong Kong remained a vibrant, autonomous entity under nominal Chinese control, Taiwan would seek greater cooperation with the mainland. This has succeeded to an extent. Over the past decade, relations across the Taiwan strait have been warmer than ever, as the two sides have deepened economic ties and trade links under the Kuomintang, the Taiwanese ruling party that favors closer ties with China.
But recent events in Hong Kong appear to have unnerved the Taiwanese. In September, President Ma Yingjeo—who has long advocated for improved relations with China—told Al Jazeera that "one country, two systems" was not a suitable framework for cross-strait relations. "If the system is good," Ma said, "it should be 'one country, one system.'" Village and municipal elections held on the island on November 28 brought stunning victories for the Democratic Progressive Party (DPP), Taiwan's more pro-independence faction. Statements that the Hong Kong protests influenced Taiwanese politics were immediately censored on Chinese social media.
"Taiwan has learned from watching Hong Kong that 'one country, two systems' is going to fail," said Samm Sacks, a China analyst at Eurasia Group, a political risk consultancy. "It just leads to disillusionment with the mainland."
Beijing's biggest concern—that the protests would spill over into the mainland—is unlikely to materialize. Anti-government protests are not unusual in China, but they usually involve local grievances over environmental or socioeconomic concerns. Mainland citizens have expressed little sympathy for Hong Kong residents whose political grievances are so different than their own.
"Mainlanders have long felt discriminated against in Hong Kong, and resent how Hong Kongers take for granted liberties they already have Sacks said.
For the many thousands of Hong Kong residents who joined protests in Admiralty and Mong Kok, these liberties aren't enough. Others in the city, though, began to chafe at the disruptions to daily life and commerce, and the protest leadership eventually could not overcome Beijing's intransigence and their own tactical errors and simple fatigue.
"It was time to reel it in," said Menefee. "There's more to fight further down the road."