Another 1,000 U.S. Troops to Stay in Afghanistan
That's in addition to a recent order from President Obama to expand the mission.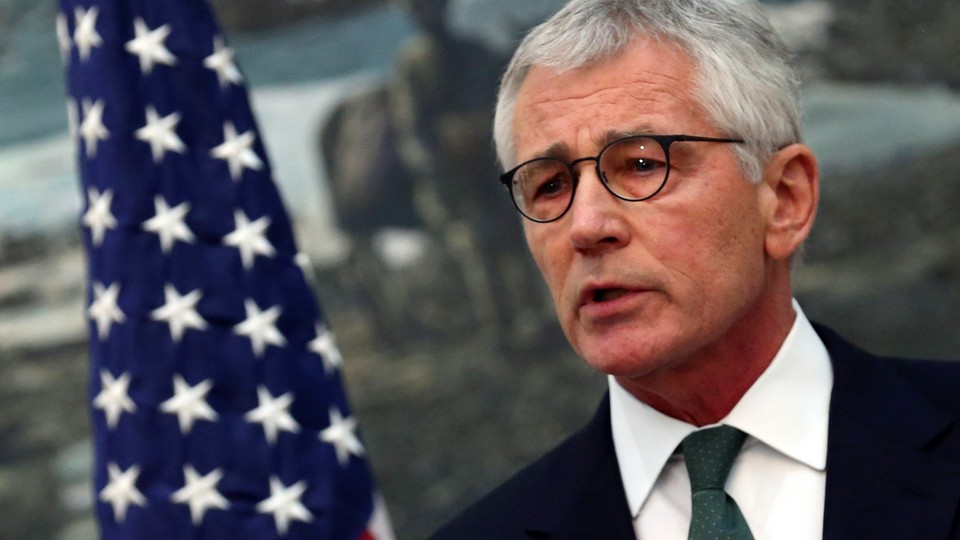 During a surprise trip to Afghanistan, U.S. Secretary of Defense Chuck Hagel said on Saturday that up to 1,000 additional American troops will remain in the country for the first part of 2015. This means abandoning a plan to cut U.S. troop levels to 9,800 by the end of the year because of a temporary shortfall in allied forces, not because of a recent surge in Taliban attacks.
Delays in European allies approving their troop deployments has meant that the U.S. would have to pause its drawdown. President Barack Obama "has provided U.S. military commanders the flexibility to manage any temporary force shortfall that we might experience for a few months as we allow for coalition troops to arrive in theater," Hagel said during a news conference at the Afghani presidential palace alongside President Ashraf Ghani. "But the president's authorization will not change our troops' missions, or the long-term timeline for our drawdown," he added.
Fewer than 12,000 troops remain in Afghanistan and 5,500 are to remain by the end of 2015. It was previously believed that they would be limited to training the Afghan military and counterterrorism measures against the Taliban, but last month it was reported that Obama had approved guidelines to allow the military to target Taliban fighters, more broadly.
Yet, on Saturday, Hagel publicly suggested that Afghanistan was ready to handle the Taliban themselves. "The Taliban are going to continue to have pockets of resurgence, and it's predictable that they would do everything they possibly could to disrupt" the new Afghan government, Hagel said. "I have confidence in the Afghan security forces that they will continue to meet these challenges," he said.
In a recent report to Congress, the Pentagon's Afghanistan watchdog, the Special Inspector General for Afghanistan Reconstruction (SIGAR), reported that more than $3 billion has been spent on Afghan army and Ministry of Defense operations and training. But even the most basic training—making recruits literate in reading and writing Dari and Pashto—is lagging behind goals. There has also been years of poor weapons training and insider attacks. And that doesn't even take into account the question of whether or not the Afghanistan has the same "ghost" soldiers Iraq has.
Still, Hagel seems sanguine about it all.
"As difficult, as challenging, as long as this has been, by any definition the country of Afghanistan, the people of Afghanistan, are far better off today than they were 13 years ago, if for no other reason than they have the opportunity to decide their own fate, their own way, on their terms," said Hagel. "They're not completely there yet, but they've come a long way and that's to the credit certainly of the United States."