China Catches Up
And in the worst possible way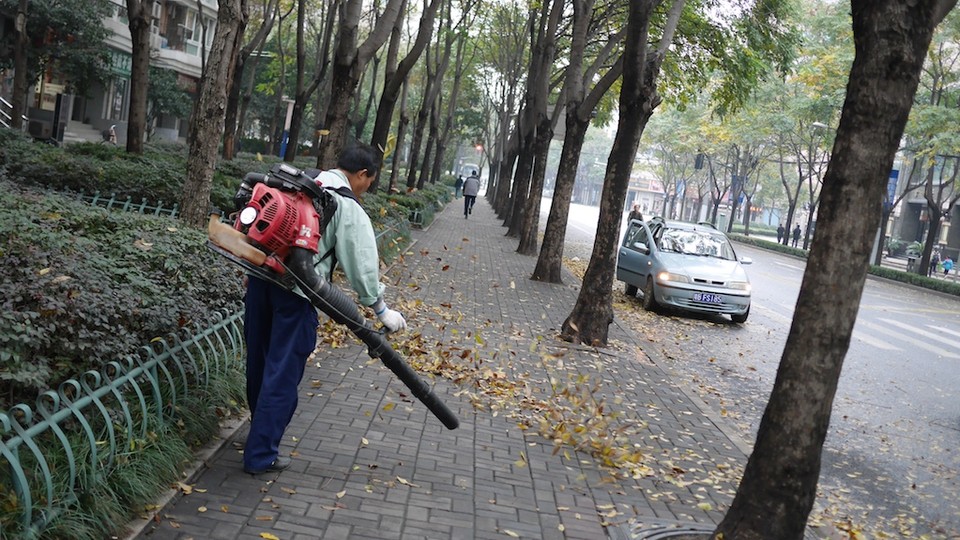 My friend Brian Glucroft, who over the years has done memorable photography and reportage about the vivid, diverse humanity of daily life in China, sends the picture above, taken a few days ago in Shanghai. He writes:
On Changping Road in Jing'an, Shanghai, I just heard saw / heard something I think you could appreciate. It reminds me that some of the criticism China hears from Westerners is motivated by a hope China can do better in areas where the West has failed.

Yet again, "oh well".
Then a little while later, he sent the two pictures below and this followup note:
Later in the day I saw two street cleaners less than a block away on the same road. A man swept the leaves off the sidewalk into piles on the road, and then a woman bagged them. No leaf blowers required. Their handmade brooms constructed from bamboo, branches, & leaves, still commonly used by street cleaners in Shanghai and elsewhere in China, worked just fine — plus quieter, cheaper, and environmentally friendlier. It's one way in which Shanghai and many other cities in China don't need to go green but already are.
The motorbike with the British design (seen many of those across China recently) and both people wearing face masks in the 2nd photo are bonuses.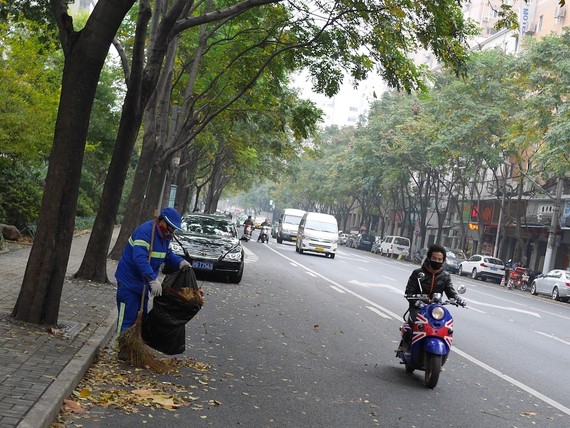 These bottom two pictures resemble what I saw during our years in Shanghai, Beijing, and other big Chinese cities. But of course the country has "progressed" since then.
For an American take on this development, I direct you toward a measured assessment from Bill Radke in Seattle. And for more views of the variety of life in China, do visit Brian Glucroft's site. Its opening-spread picture gives an idea of its spirit: