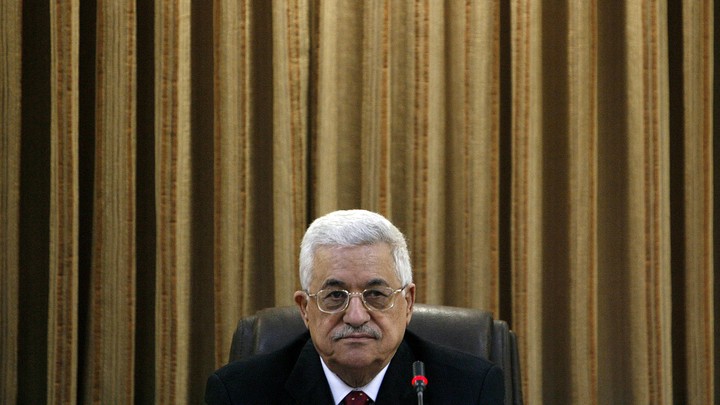 The Palestinian Authority's President Mahmoud Abbas signed the papers to join the International Criminal Court a day after it was denied statehood by the UN's Security Council. The provocative move could draw sanctions from Israel and the United States, as well as expose the Palestinian territories and Israel to an international investigation of war crimes.
On Tuesday, Jordan, acting on the Palestinian Authority's behalf, failed to secure enough votes to pass a motion in the UNSC that would have set a deadline to end Israeli occupation of Palestinian territories. On Wednesday, Abbas ratified the Rome Statute—which governs the International Criminal Court—thereby opening Palestinian Authority territory to ICC investigations. The Hague-based court has jurisdiction to prosecute individuals for war crimes, crimes against humanity, and genocide.
It was not immediately clear what the Palestinian Authority would do at the court, and a 60-day waiting period must elapse before it can file any cases. While the court has 122 members, major countries like the United States, China, and India are not participants. Neither is Israel, and there are limits to the body's power, as The Washington Post reports.
In a sign of the court's limitations, prosecutors were forced earlier this month to abandon a case against Kenyan President Uhuru Kenyatta, who had been charged with orchestrating a 2007 campaign of ethnic violence. Though Kenya is a member of the court, the government refused to cooperate with the prosecution and blocked investigators from gathering sufficient evidence to continue the case.
Moreover, ICC prosecutors have significant leeway on which investigations they decide to move forward, and an investigation of Israel would face strong political pressure from its allies. The Palestinian Authority's joining could lead to the prosecution of Israeli officials for war crimes and crimes related to Israel's settlement activity. In 2009, the humanitarian group Human Rights Watch accused Israel of committing war crimes in a 2008-2009 conflict known as "Operation Cast Lead." The charges included launching missile attacks that killed civilians, the killing of 11 civilians holding white flags, and the use of white phosphorus munitions in densely populated areas.
The Palestinian Authority sought redress at the ICC in 2009 for those tactics. The ICC prosecutor ruled that the Palestinian Authority did not have the right to make investigation requests because it was not a non-member observer state at the UN. The Palestinian  Authority later won that status. In September 2014, after the most recent conflict, Human Rights Watch accused Israel of committing war crimes by killing 45 Palestinians who were taking shelter in a "well-marked" UN school.
Israel is expected to take retaliatory action, possibly including cutting off tax transfers to the Palestinian Authority, revoking VIP traveling status for Palestinian officials, announcing new settlements, or taking legal action in other jurisdictions. Members of the U.S. Congress have previously promised to cut off U.S. aid if the Palestinian Authority moved to join international bodies like the ICC.
Tuesday's failed resolution for UN statehood would have set a one-year deadline for negotiations with Israel, established a Palestinian capital in East Jerusalem, and called for the full withdrawal of Israeli forces from the West Bank by the end of 2017. The resolution needed nine votes from the 15 member body; it garnered eight, with the United States voting against, Britain abstaining, and France, China, and Russia among those voting in support. Some questioned why the resolution was pushed forward now—in January, a rotation will bring to the Security Council new countries, like Malaysia, which might have proved more likely to vote in favor. Abbas, who has been under strong domestic political pressure, may have pressed for a vote now to avoid forcing a U.S. veto—and the confrontation a veto would bring.
U.S. Ambassador to the UN Samantha Power explained the U.S.'s vote in a firm statement: "In short, the Obama administration believes unilateral action or moves to join international bodies are not productive and will not create a durable peace, and prefers a negotiated peace process between Israel and Palestine. Comprehensive peace talks, brokered by Secretary of State John Kerry, reportedly collapsed earlier this year in part because of Palestinian negotiators' insistence on joining various UN treaties and conventions, although continued construction of Israeli settlements also played a role. Secretary Kerry had sought to delay the statehood push to avoid inflaming tensions in Israel ahead of the country's March elections."
Speaking from his headquarters in the West Bank after signing the ICC papers, Abbas referenced the UN failure. "There is aggression practiced against our land and our country, and the Security Council has let us down — where shall we go?"
We want to hear what you think about this article. Submit a letter to the editor or write to letters@theatlantic.com.