Why Egypt Crushes at Squash
The country just won the sport's biggest tournament for the seventh time in 12 years. Its secret lies in politics and geography.
On Friday, Egypt's Ramy Ashour won the squash World Open—basically the Wimbledon of squash. The tournament attracts the best players from around the world. But the final game lacked a certain element of suspense: Both players, Ashour and Mohamed El Shorbagy, were Egyptian. Even that was predictable. Egyptians dominated the international rankings this year—including El Shorbagy and Ashour, three of the Professional Squash Association's top five players based on tournament results are Egyptian. As of Friday, Egypt has won seven of the past 12 World Opens—in the history of the tournament, which began in 1976, only Australia and Pakistan have more World Open titles. Egypt's prowess in the sport is beginning to extend to international women's tournaments, junior tournaments, and even American college sports: Egyptian men have won the last three U.S. Intercollegiate Individual Championships, a tournament for the best players attending U.S. universities.
How did so many Egyptians get so good at squash?
The dominance of Egyptian players dates back to squash's earliest days as an internationally competitive sport. After being invented at a British prep school in the 19th century, the sport spread throughout the empire, including to Egypt. The British built clubs for their colonial officers in Cairo and Alexandria, but Egyptian ball boys and service staff had access to the squash courts in off-hours.
The sport's first great international champion was F. D. Amr Bey, an Egyptian diplomat who started playing while stationed in England. He went on to win six consecutive British Open championships—then the sport's biggest international competition—in the 1930s. His success inspired Egypt's ball boys, one of whom, Mahmoud El Karim, racked up four of his own British Open championships in the 1940s.
Egypt didn't produce many international champions between the 1950s and the 1990s. Repeated wars and domestic turmoil during the period made it difficult for the country's best players to travel for tournaments while based in Egypt. "All the top players left the country and lived in Europe, and that's when the drop [in Egyptian squash] happened," Amr Shabana, a four-time squash world champion from Egypt, told me. The best players who stayed in Egypt couldn't tour internationally. "[T]he country was on lockdown," Shabana said.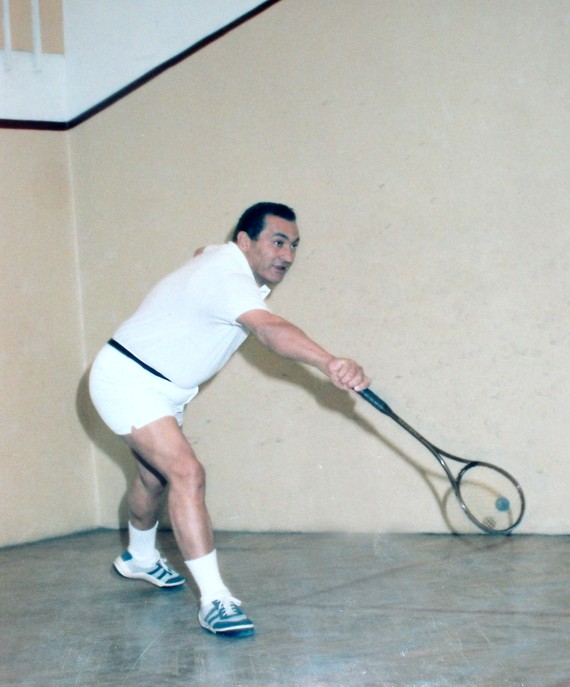 But in the late 1980s, Shabana, then 10 years old, and another player named Ahmad Barada, age 12, planted the seeds of Egypt's resurgence when they started playing together at Cairo's Maadi Club. Because Egypt's remaining squash talent couldn't tour, those players trained and competed in Cairo, meaning Barada and Shabana could practice and compete against some of the country's best from a very young age. As Shabana explained, "There's a quote that says 'you're only as good as the people around you.' Around us were the best players—maybe not the best in the world, but we thought they were." And they were also helped by the geography of Cairo, where, Shabana said, the squash clubs were all within a half hour's drive of one another. (This is in contrast to the U.S., where the major squash hubs are scattered between Philadelphia, New York, and Boston.) The result was a tight squash community centered on Cairo's clubs. "This is the main reason squash thrived," Shabana said. "Everybody pushed each other. This was I think quite unique."
Beyond exposure to top professionals, Shabana and Barada had other advantages. The most noteworthy is that the rules of Egyptian tournaments permitted them to play many more matches than they would have been able to in England or the U.S. A 10-year-old Shabana competed in the bracket for players under 12, the U12, as well as the Under-14, Under-16, Under-19, and men's tournaments, meaning he could potentially play five matches a day. More rigid conventions in the U.S. and England guide young players to compete in one bracket at a time, meaning they might only play one-fifth as many matches as their Egyptian counterparts have.
At the same time that Shabana and Barada were honing their art on the local level, President Hosni Mubarak—a squash player in his own right—was promoting squash's prestige at the national level. In 1996, Mubarak brought a major international tournament to Egypt, and had a glass court built in front of the pyramids. Barada, then 19, reached the finals, and Mubarak congratulated him personally. Barada later reached second place in the Professional Squash Association's World Rankings.
Shabana says Barada's ranking gave Cairo's young squash community a new target. Seven years later, at the age of 24, Shabana beat it, becoming the first Egyptian to win the World Open in 2003. After that, Shabana says, "the kids younger than me ... wanted to beat me."
Mubarak, who was deposed in 2011, increased squash's popularity, but not its accessibility. The sport remains an upper-class game in Egypt, populated by those who can get access to and pay fees for the same athletic clubs that the British built near the turn of the 20th century. Yasser El Halaby, a four-time Intercollegiate Champion from Princeton, explained to me that squash, for all the glory its players have attained, is not widely played in Egypt. He noted that there are a few thousand people who play squash in the country of some 82 million people. But the game's profile—El Halaby says it's Egypt's second-most-popular sport, after soccer—means it draws some of the country's best athletes. In most other parts of the world, this is not the case. "LeBron James is not playing squash," El Halaby pointed out.
The reasons Egypt became so dominant in squash—the sport's national prestige, combined with the access talented young people have to the country's top players—persist to this day. Amr Khaled Khalifa, who in 2010 won squash's Junior World Championship, the sport's biggest tournament for players under 19, grew up training at the same club as and hitting with Shabana and Barada. He was just 11 when Shabana became a world champion. "I started playing squash at the Maadi Club, where world champions used to play," he told me via email. "I had the chance to watch them training, which inspired me to take squash seriously and set my goals." And, like his predecessors, he played as much as he could starting at a very young age, practicing twice a day and playing 15 tournaments a year.
Despite the fact that this year's squash world champion and the runner-up are Egyptian, Shabana said he believes the end of Egypt's squash dominance is in sight. "I think it's changing a bit," he said. The top Egyptian players are once again living outside of Egypt due to lack of government support for the sport. "I'm living in Toronto, Ramy [Ashour] is mostly based in New York now, [El Shorbagy] is in England, and quite a high percentage of players now go to college in England and America. So there's a gap," he said. Though the logic works—it will be hard for the current Egyptian juniors to train with the best players in the world if none of them live in the country—Shabana's view is contrarian. Results in junior tournaments suggest that an Egyptian successor will rise after the country's current champion retires.