Vladimir Putin's Tiger Causes Mayhem in China
The mighty Ustin, released into the wild by Russia's president earlier this year, is responsible for the brutal murder of four Chinese goats.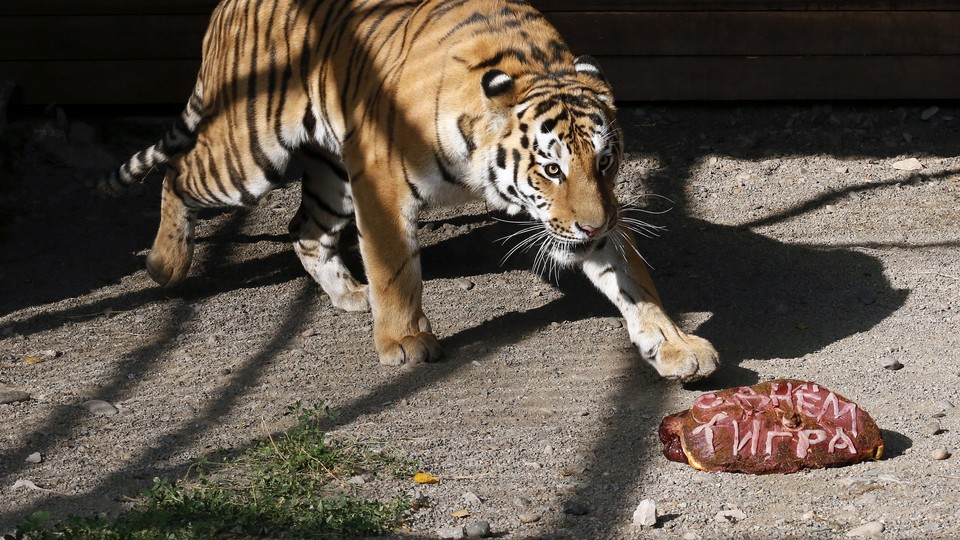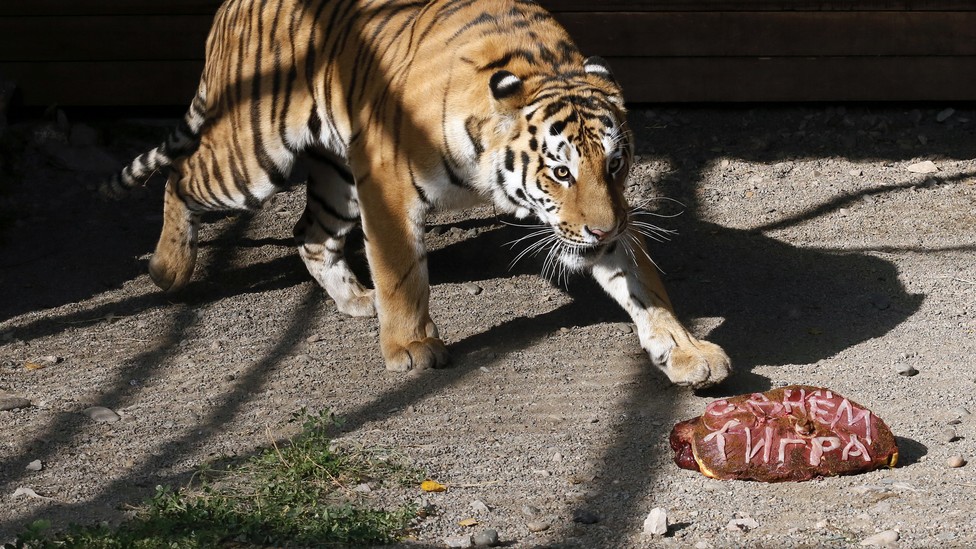 Russia and China have had a rocky relationship over the years, enduring their fair share of border disputes, wars, and diplomatic splits. The relationship has improved greatly in recent years, but can it survive a murderous, border-violating tiger?
According to a report in Xinhua, China's official news service, an Amur tiger named Ustin crossed into Chinese territory and killed at least two goats in gruesome fashion:
Xinhua reported that the skulls of the two dead goats were crushed and had puncture wounds the "size of a human finger"—a testament to the power of the tiger's bite. Three further goats remain missing.
Ustin isn't just any tiger. Along with two others, he was found at near starvation two years ago in the Ussuri Taiga forest alongside Russia's border with China. Officials captured the tigers, nursed them to health, taught them to hunt, and re-released them into the wild in a ceremony presided over by President Vladimir Putin.
Sometime this year, two of the tigers—the other is named Kuzya—crossed into Chinese territory, evidently untroubled by Beijing's strict visa requirements. Ever since, the two have behaved rather badly toward their new hosts. A month before Ustin's vicious goat attack, Kuzya went on a rampage in a henhouse, killing five chickens.
It isn't surprising that the tigers have had these encounters on the Chinese side of the border. Unlike Russia's sparse Amur region, which has fewer than a million people, China's Heilongjiang Province has a population in excess of 38 million, raising the disturbing possibility that Ustin and Kuzya may have an unfortunate run-in with humans. In order to avoid this, a wildlife expert quoted by Xinhua warned people not to throw things at the tiger. Common sense, sure—but bear in mind that throwing things at powerful animals is a documented problem in China.
Nevertheless, Ustin's brutal goat murder is unlikely to cause a diplomatic incident between China and Russia, who are now getting along better than ever. Earlier this year the two agreed on a 30-year, $400 billion natural gas deal, and they frequently find common cause on the United Nations Security Council. And following the tigers' incursion into Chinese territory, Beijing has reassured Moscow by taking measures to protect them from the possibility of poaching. It seems likely, however, that the Chinese government wouldn't mind if Ustin and Kuzya graciously retreated back to the Russian side of the border.