Europe's Waning Idealism
25 years after the division of Germany's capital ended in triumph with the fall of the Berlin Wall, pessimism prevails.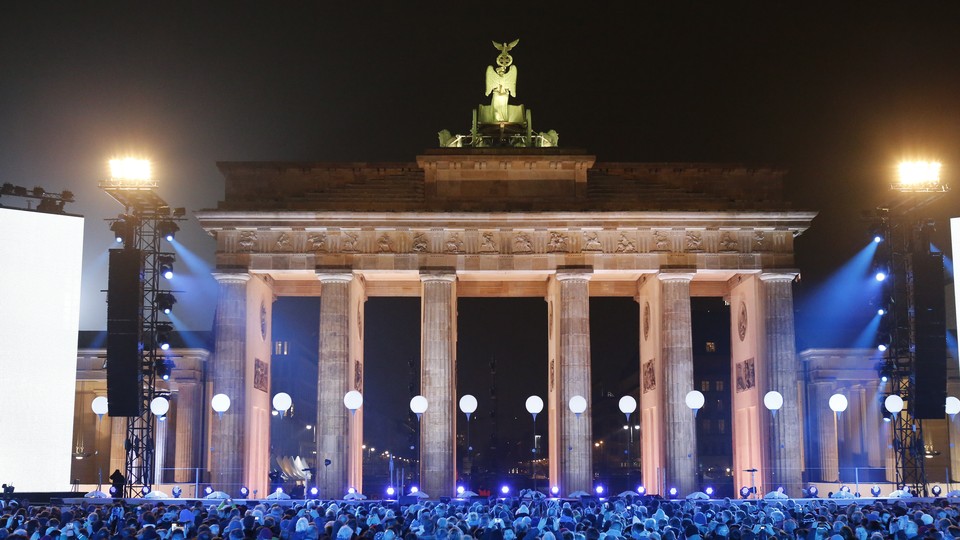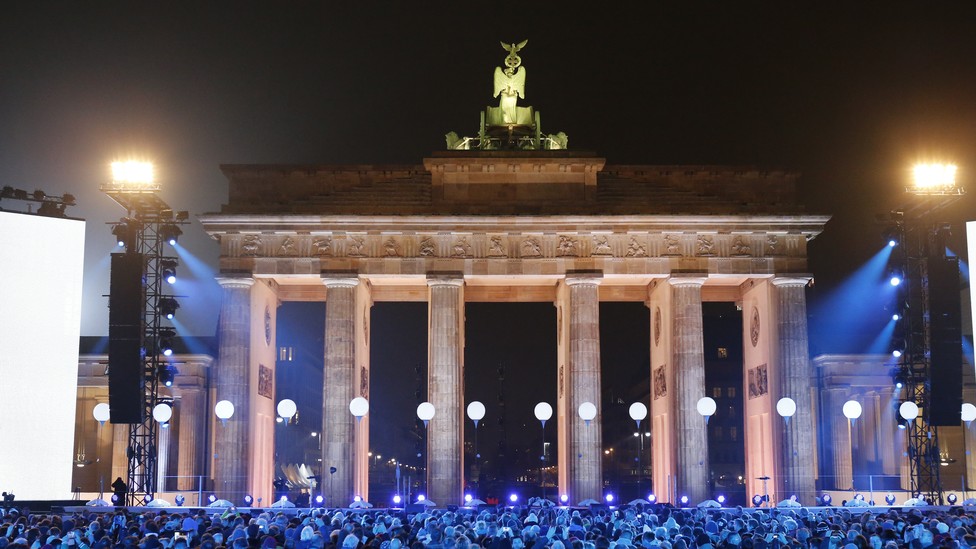 In order to commemorate the 25th anniversary of the fall of the Berlin Wall, more than 1 million people are expected to attend large celebrations in Berlin on Sunday. The festivities will include a fair amount of nostalgia. Musician Peter Gabriel, a staple of classic rock radio, will perform David Bowie's 1977 hit "Heroes." Cold War-era heroes, like former Polish president Lech Walesa and former Soviet Union leader Mikhail Gorbachev, will speak. The event will culminate with the release of thousands of helium balloons into Berlin's night sky.
There's certainly a lot to celebrate. In the quarter century since East Berliners, many armed with little more than their fingernails, tore down the 96 mile-long wall, millions of Europeans have emerged from poverty and gained freedoms unimaginable under Communist rule. Germany in particular has thrived. The country, which reunified in 1990, is now the world's fourth-largest economy and a diplomatic power of increasing importance. Unemployment is just 5.1 percent—less than half of the European Union average.
German chancellor Angela Merkel credits the fall of the Berlin Wall as a hugely positive force. "We have the power to create, we can turn things to the good: That is the message of the fall of the wall," she said Sunday.
But the idealism triggered by the end of the Cold War has faded. Amid concerns about immigration and economic stagnation, ultra-nationalist parties in France and Britain have become increasingly popular, and talk of the U.K.'s potential exit from the European Union has picked up. In Hungary, nationalist Prime Minister Victor Orban, once an anti-Soviet student leader, admires Moscow and regards illiberal regimes Singapore and China as possible models for his country.
In Russia, President Vladimir Putin's assertive pursuit of territory along the country's southern and western border has provoked international tension. This, too, has its roots in 1989. That year, as a young KGB official stationed in East Germany, Putin witnessed the collapse of the wall first-hand. In an account from Masha Gessen's biography The Man Without a Face, Putin said he viewed Gorbachev's relaxation of Soviet control as a preventable tragedy.
I phoned our military representatives and told them what was going on. And they said, 'We cannot do anything until we have orders from Moscow. And Moscow is silent.' A few hours later, our military did come and the crowd dispersed. But I remembered that: 'Moscow is silent.' I realized that the Soviet Union was ill. It was a fatal illness called paralysis. A paralysis of power."
Deeply unpopular in his own country, the 83-year-old Gorbachev remains a heroic figure in Germany. But even he is deeply pessimistic about Europe's future.
"Euphoria and triumphalism went to the heads of Western leaders," he said Saturday. "Taking advantage of Russia's weakening and the lack of a counterweight, they claimed monopoly leadership and domination in the world."