Why Russia Really Tore Down Its Steve Jobs Memorial
It's too simplistic to blame Russia's dismantling of an iPhone statue honoring the Mac inventor on the coming out of Apple CEO Tim Cook.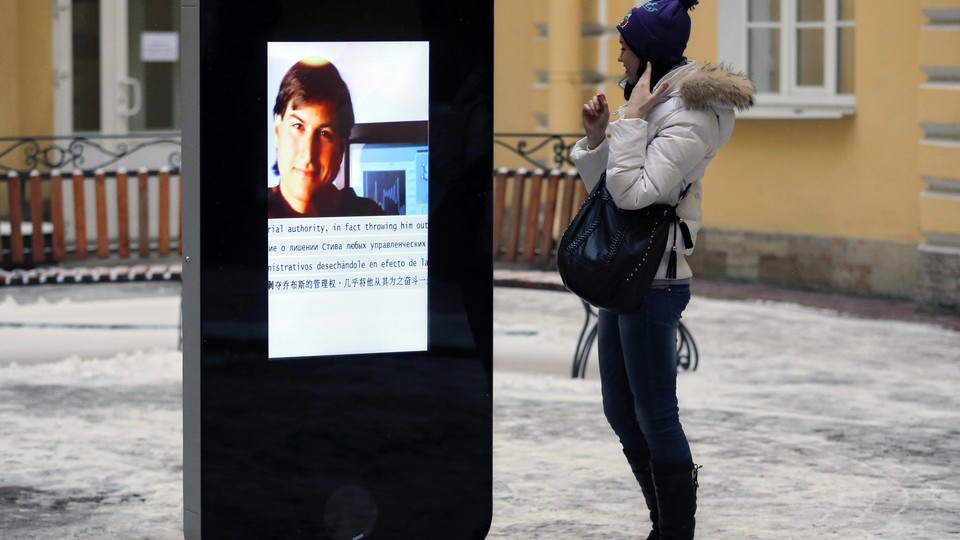 On Monday, many outlets reported the news that a memorial dedicated to former Apple CEO Steve Jobs had been dismantled in St. Petersburg, Russia. In a statement, ZEFS, a consortium of Russian companies, explained that it had removed the statue on Friday, one day after Tim Cook announced he was gay, for this disquieting reason:
After Apple CEO Tim Cook publicly called for sodomy, the monument was taken down to abide to the Russian federal law protecting children from information promoting denial of traditional family values.
Despite the statement, there were reports in the Russian media that the memorial was out for repairs, but ... come on.
This wasn't the only intensely homophobic reaction to Cook's announcement in Russia. One legislator, Vitaly Milonov, suggested that Cook be banned from the country in order to forestall the arrival of "Ebola Virus, AIDS, gonorrhea."
The statue's removal may have come under the auspices of Russia's widely condemned anti-gay law, which was passed in 2013, but it would be reductive to chalk up this particular and peculiar episode to anti-gay sentiment in Russia right now.
First, consider that this crusade dovetails with a broader removal of American icons from the Russian landscape such as McDonald's, the Russian outposts of which are being investigated and closed throughout the country. Behind McDonald's, there are few more recognizable American brands than Apple. While Russian officials may have cited security concerns in a decision to swap iPads for Samsung tablets back in March, the fact the announcement came just days after Russia annexed Crimea over American protests seems less than curious.
It's also important to note that homophobia in Russia carries with it a much more political bent than it does in most other countries. As Olga Khazan noted last year, "Russians buck a major trend in modern homophobia: more religious countries are far more likely to be less accepting of homosexuality. ... Russia ranks as one of the least devout countries on earth, with only 33 percent of Russians saying religion was very important in their daily life in 2009." Despite this, she added, only 16 percent of Russians said they believed that society should be accepting of gays.
It's not much of a surprise that a group of Russian companies would take such action in the wake of Tim Cook's announcement, considering the recent climate of homophobia in Russia. But, given the fact that this maneuver also involved the snub of a prominent American company, it would be more of a surprise if it hadn't happened.