A Slumping Abe's Bid for New Elections in Japan
The prime minister announced he was dissolving the lower house of parliament a day after data showed the nation's economy contracted for a second straight quarter.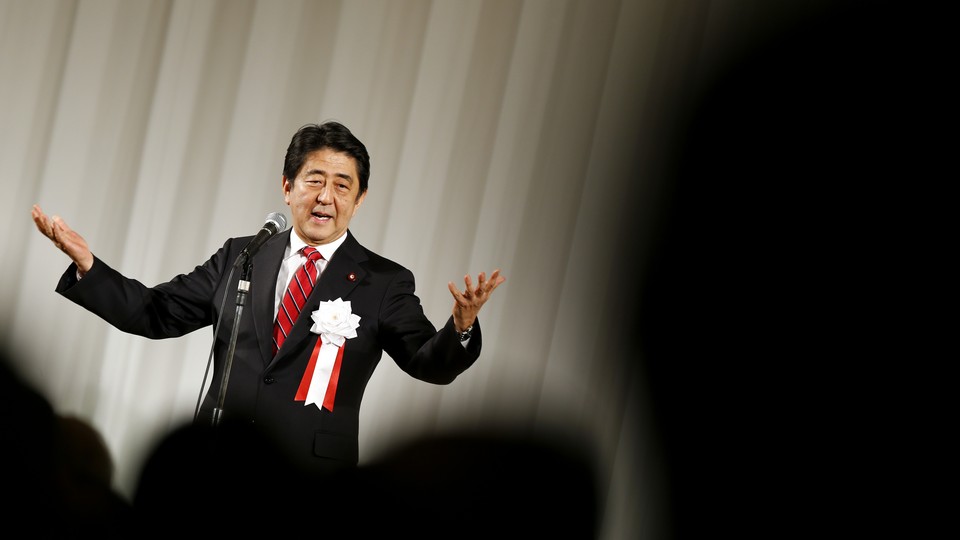 Prime Minister Shinzo Abe is dissolving the lower house of Japan's parliament and calling for new elections in December, a move that came just a day after data showed the nation's economy had shrunk for the second consecutive quarter.
The economic contraction—which met at least one definition of a recession—was blamed in large part on the impact of a consumption tax, and Abe also announced that he would delay an increase in the sales levy scheduled to take effect in March for another 18 months. He said he wanted voters to give him a new mandate for that decision and for the broader economic program that even he now calls "Abenomics."
"I will seek the people's judgment over our economic policy," he said, according to news reports. The elections will be held two years ahead of schedule, and Abe's decision was seen as a concession that his agenda of increased spending by the government and Japan's central bank was falling short. The hike in the sales tax in April to 8 percent from 5 percent was an effort to reduce the large public debt in the world's third largest economy, but it led to a drop in the gross domestic product by 7.3 percent in the second quarter and another 1.8 percent in the third.
"The economic policy of the past two years may have been effective in pushing up share prices, but it was not in turning around the real economy, said Yukio Edano, secretary general of the Democratic Party. "We can say with confidence that Abenomics has reached its limit."
Abe was elected two years ago after first serving as prime minister for a year in 2006, but his popularity has fallen recently amid the economic slowdown and government scandals.