The Best F#@king News Team Goes Abroad
What happens when The Daily Show moves away from the green screen and into the real world? Jon Stewart's Rosewater.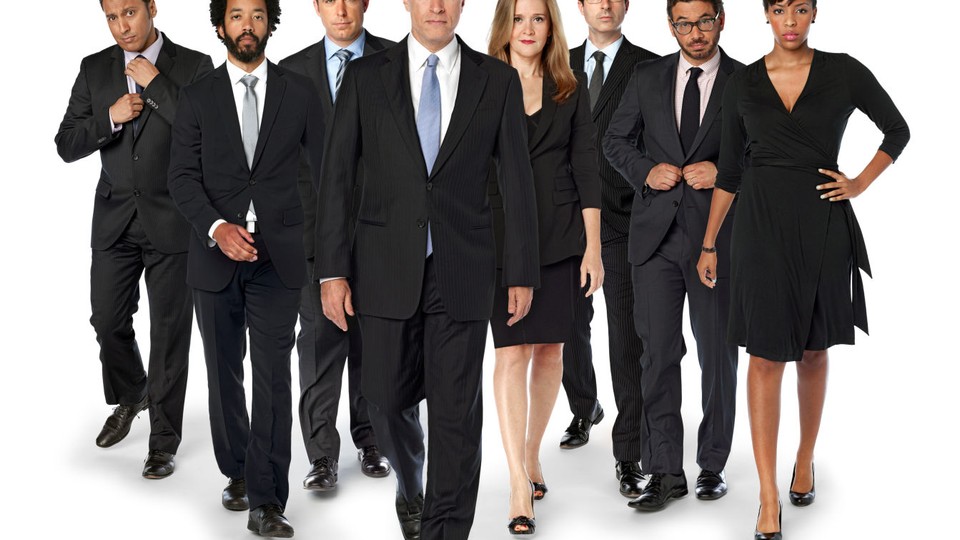 "I'm just going to build a body of work of individuals whose lives I've partially ruined, and then I will try to rehabilitate that through film. It's a new blending of reality and filmmaking."
Jon Stewart is kidding. Kind of.
The Daily Show host makes his directorial debut on Friday with the release of Rosewater, a film adaptation of Maziar Bahari's memoir about the 118 days he spent in an Iranian prison. The Iranian-Canadian journalist was jailed after covering protests surrounding the country's disputed 2009 presidential election—and participating in a Daily Show segment with correspondent Jason Jones in the run-up to the vote.
To be clear: Maziar Bahari wasn't detained because of his appearance on The Daily Show; Iranian authorities were seizing on any pretext at the time to crack down on the opposition and those who chronicled it, and to smear the anti-government Green Movement as a foreign conspiracy. But his interrogators did play Jones's interview for Bahari as proof that Bahari was a spy. Jon Stewart, for his part, didn't undertake his first feature film to exorcise his guilt about the incident. But his involvement in the episode did produce a friendship with Bahari, which in turn inspired Stewart to make the movie. And Rosewater would never have come to be if The Daily Show hadn't started experimenting with sending its correspondents—"The Best F#@king News Team Ever"—overseas, and exporting its brand of satire in the process.
* * *
"Fake news" has always been a terrible description for what The Daily Show does. Stewart and his team deploy comedy to call out, comment on, and cut through real news, and to skewer the pretensions and hyper-partisanship of real-news makers and purveyors. But the program has increasingly blurred the boundary between satire and journalism since Stewart became anchor in 1999, in part by dispatching correspondents across the country and, occasionally, the world to report out pieces.
In 2003, for instance, the show covered protests in Iran by slapping a flak jacket on Stephen Colbert, sticking him in front of a green screen in the studio, and superimposing him on a photo of Tehran. ("Careful? Of what?" Colbert scoffs, flashing an American-flag tie. "I'm an American in Iran, Jon. Daddy's hitting the town tonight!") Six years later, as the Iranian elections approached, the program actually sent Jones, a Canadian (now a newly minted American citizen), to Tehran to file a series of segments. That's a move most cash-strapped news organizations aren't making these days.
The Daily Show still makes liberal use of green screens to cover world affairs. But since 2007 it has sent Jones to India, Iran, and Russia; Rob Riggle to China and Iraq; and John Oliver to Gabon and South Africa. Aiming its satire at other countries has produced delightful results, such as when Jones paid $2,500 during the Indian elections for sponsored content in a newspaper that depicted him, the "Bronto-from-toronto," as a jacked, baldly Photoshopped gym rat, and heralded the results of a "new most scientific poll" showing "that 97% of Indian voters trust award wanting fake journalist Jason Jones to deliver best Lok Sabha coverage in 2014."
But the approach has also created dangerous situations—ones The Daily Show appears not to have fully anticipated. Satire is not a universal language, and the Green Movement is not a green screen. In the context of Maziar Bahari's story, Colbert's "Careful? Of what?" starts sounding more cavalier than funny.
Stewart admitted as much in an interview with the radio host Jian Ghomeshi at the Toronto International Film Festival this fall. The Daily Show, he explained, had been struggling to send a correspondent to Iran ever since George W. Bush included the country in his "axis of evil" in 2002, and only received permission in 2009 as the Iranian government briefly liberalized its visa policies ahead of the election. Without appreciating the import of the political ferment accompanying the campaign, Stewart said, Jones and his crew interviewed Bahari and two other Iranians, all of whom were arrested in the election's aftermath.
Stewart cautioned that Americans have a tendency to think the world revolves around them, and that in the case of these three arrests correlation was not causation; Ayatollah Khamenei did not issue a directive to crack down on Daily Show collaborators. It was far bigger than that.
"We did not know of the scope of the dragnet, the thousands who had been caught up in it, the terrible atrocities that were being committed," Stewart said.
Had The Daily Show investigated whether it would be putting Bahari at risk by interviewing him, and decided to proceed anyway? Ghomeshi asked.
"Boy, that's nice of you to say we checked that out," Stewart responded. "We did not think it was a risk because we did not think it was a risk, because our worldview was so myopic, to a large extent. In general, we take pictures of places and we stick people in front of them on a green screen, and nobody gets hurt. This was our first foray into ... sending somebody in there. And the idea of it was to show the ridiculous absurdity of labeling a country and a people 'evil,' and to show the nuance of that." Jones's segments, at least in the hands of Bahari's captors, were received very differently.
The Daily Show, out of context, in other countries, can be a bewildering and unruly thing. It's a phenomenon that Stewart captures well in a sequence of scenes in Rosewater. Shortly before the election, Bahari's Iranian driver, Davood, takes the journalist to meet young activists who support the opposition presidential candidate and proudly show Bahari the illegal satellite dishes they've stashed on a roof. Bahari operates with discretion—"We don't have to use the camera if you don't want," "You don't have to tell me your names, OK?"—though the earnest youth, who will later take to the streets before being rounded up and jailed, brush his caution aside.
Bahari and Davood then speed away to their next appointment with Jones at a cafe in Tehran. The contrast is striking. The cameras are rolling, and Bahari is now the one before them rather than behind them. The setting is contrived and comedic, a break from the organic pocket of protest Bahari has just departed. The young activists had teased each other about their sex lives, but they had turned deadly serious when discussing the fate of their country.
At the cafe, Jones, wearing a keffiyeh and sunglasses, asks Bahari, "So as a spy I'm just trying to figure out why your country is so terrifying?" The Daily Show correspondent lands a joke about al-Qaeda's 72 virgins as Bahari bursts into laughter, and then turns to the next routine—"the terrorist thing," not the "Jew bit," as he tells his producer.
"That was great," Jones tells Bahari. "Just try to keep it straight. I'm the asshole."
Filming commences. "So one more quick question: Are you a terrorist?"
"No," Bahari answers.
"That sounds like something a terrorist would say," Jones shoots back.
A confused Davood looks on. "What the hell was that?" he asks Bahari afterward.
"It's a TV show, it's supposed to be funny," Bahari says, chuckling.
"I thought it was crazy," Davood responds.
* * *
One of the main themes Stewart develops in Rosewater, and reiterated during the Toronto International Film Festival, is that "all regimes at some level are absurd," especially those that "try and stifle dissent, or conversation, or information." The traction that The Daily Show has been getting internationally, from China to the Netherlands, could bolster and shape efforts to expose this absurdity. But the program's impact in the world is often more complicated—and unpredictable—than that.
Take the case of Bahari. Iranian interrogators, however cynically, weaponized a satirical sketch to silence the journalist, at least temporarily. And yet Bahari writes in his memoir that "the ridiculousness of using The Daily Show as evidence against me gave me enough courage to argue with my interrogators." Or consider the case of the Egyptian comedian Bassem Youssef, who drew inspiration from Jon Stewart to create his own political-satire show during the heady days of the Arab Spring. He has since canceled his program in the face of a government crackdown, out of concern for his safety and that of his family.
One of the most moving scenes in Rosewater comes at the very end, as a freed Bahari reflects on his ordeal. He dwells on "the acolytes, those without imagination, those who even in my confinement were more alone and afraid than I. Because in their hearts, they know they cannot win." We hear these words as we witness Iranian officials furiously dismantling the satellite dishes that the young activists who met with Bahari had acquired, while a young boy watches from a window, capturing the whole thing on his cell phone.
The message is about more than the democratic power of technology—it's that information will ultimately triumph over absurdity, that dissent will defeat dogmatism. But Bahari doesn't mention that the Iranian government controls the cell-phone networks. Information doesn't always win.
Nor does satire.