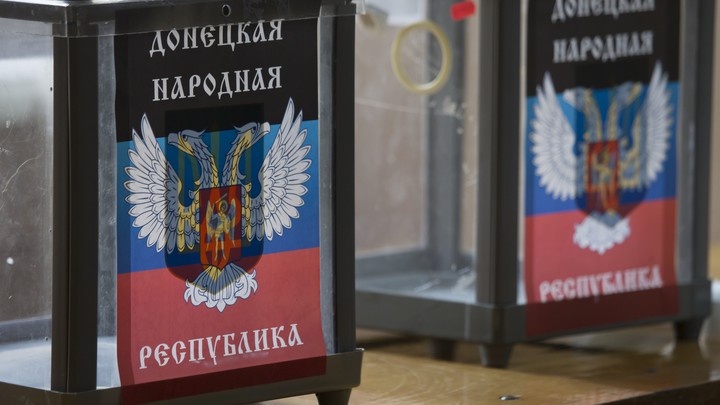 Pro-Russian separatists in eastern Ukraine are set to elect executives and legislators in a Sunday vote. The move will defy the Ukrainian government and the international community, but it will be backed by Moscow. The United States and the United Nations say the election will violate the terms of a cease-fire agreement signed by Russia, Ukraine and rebel leaders in September—under which the region would have elections in December, under the jurisdiction of the Ukrainian government.
It appears that rebel leaders no longer see it that way, if they ever did. "We have put too much at stake on the altar of the victory and through this election we are legitimizing our government and thereby separating from Ukraine even further," the rebel election chief Roman Lyagin told the Associated Press.
Russian leaders, for their part, have said that the election will give the rebel leadership—despite a weak electoral apparatus and predictable winners—the legitimacy that will prove crucial when it comes to determining a long-term solution to the ongoing tensions between the rebels and the Ukrainian government. "These are people invested with the public's confidence, but they want to hold elections to get a democratic mandate so as to represent their population in a negotiating process with Kiev," Vladi­mir Chizhov, the Russian ambassador to the European Union, was quoted as saying on state-run Russia 24 television Friday.
However, some residents question just how democratic the election can be after such a significant portion of the population displaced. And others suggest that the leaders of the rebel territories should try acting like a state by providing basic services, such as gas and electricity, before asking people to vote for a breakaway republics in Donetsk and Luhansk.
"They want election. What elections, when there are no people left here?" said one retiree, referring to the approximately one million people who have fled or been otherwise displaced in seven months of fighting. "I will not go to vote until they pay me my pension."
It's not immediately clear what the United States is prepared to do, if anything, in reaction to the election. Which is perhaps why Samantha Power, the U.S. Ambassador to the United Nations, took to Twitter to leave open the hope that the elections would be canceled.  
Tomorrow's elections in E Ukraine—if held—would go against Ukraine's constitution & Minsk Protocol. Only legitimate local election is Dec 7.

— Samantha Power (@AmbassadorPower) November 1, 2014  
US will not recognize any election in separatist areas that doesn't follow Ukrainian law & is not held with consent of Ukrainian government.

— Samantha Power (@AmbassadorPower) November 1, 2014
The National Security Council echoed Power's sentiment—and went a step further, by warning Russia against using the "illegitimate" election as an excuse to enter the country or send military equipment.
US will not recognize results announced from this so-called election & we call on all members of intl community to do the same #Ukraine

— @NSCPress (@NSCPress) October 31, 2014
We also caution #Russia against using any such illegitimate vote as a pretext to insert addtl troops & military equipment into #Ukraine

— @NSCPress (@NSCPress) October 31, 2014
Earlier this week, President Obama congratulated Ukraine on its parliamentary elections. He also sent a warning to Russia and the separatists: "The United States will not recognize any election held in separatist-held areas that does not comport with Ukrainian law and is not held with the express consent and under the authority of the Ukrainian government."
We want to hear what you think about this article. Submit a letter to the editor or write to letters@theatlantic.com.
Allen McDuffee
is the author of a forthcoming book about the influence of think tanks in Washington, D.C. He writes regularly at
Governmentality
.