To Catch an Alleged Abduction Mastermind
The mayor accused of "disappearing" students in Mexico is arrested.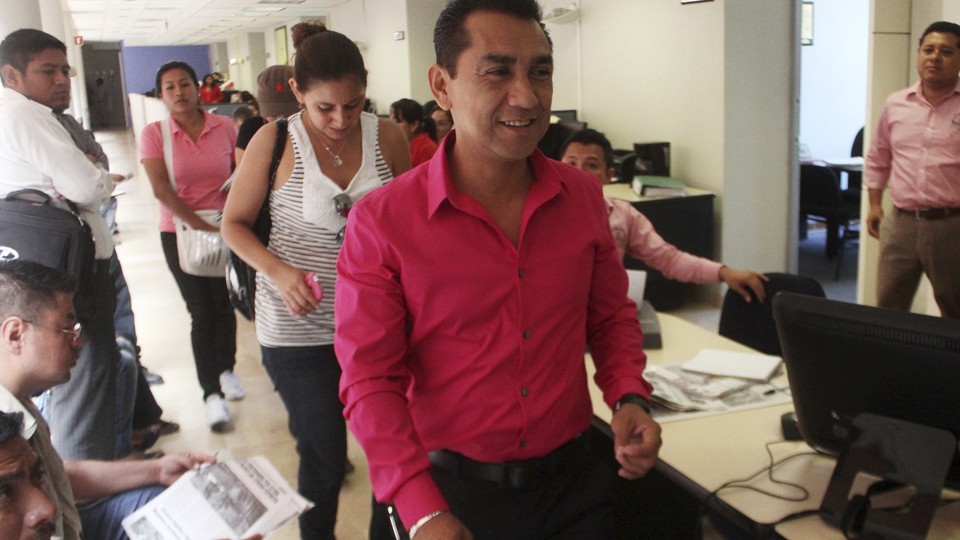 In a case that has sparked protests in Mexico and throughout the world, 43 students from a teacher's college remain missing more than five weeks after disappearing from Iguala, a city located in southwest Mexico's Guerrero state. While the students remain missing, despite the discovery of several mass graves belonging to different victims, there may finally be a positive break in the case.
Federal police have announced that Iguala mayor Jose Luis Abarca and his wife, Maria de los Angeles Pineda, whom Mexico's attorney general has accused of "masterminding" the abduction, have been arrested in Mexico City.
The missing students are freshmen at the Rual Isidro Burgos Normal Rural School in Ayotzinapa, a teacher's college designed to improve literacy in the impoverished farming communities of Mexico's Guerrero state. On September 26, over 100 of them traveled to Iguala in order to raise funds for an upcoming trip to Mexico City, where the students had planned to participate in an annual protest.
But in Iguala, the students were intercepted by the police, who fired upon them, killing six. Attorney General Jesus Murillo Karam claims that the police then handed the students over to an organized criminal syndicate called the Guerreros Unidos, a group that had infiltrated Iguala's police department and employed Pineda, the mayor's wife, as a leader.
In the ensuing weeks, the failure to locate the students has erupted into a full-blown crisis for president Enrique Pena Nieto, whose governing slogan, "Mexico on the move!" displays a progressive vision for the country. The case of the missing students, though, brings up old demons that Mexico would rather leave behind: rural poverty, government incompetence, corruption, and the persistent scourge of organized crime.
Rogelio Ortega, who became Guerrero's interim governor following the resignation of Angel Aguierre, told CNN that the challenge goes beyond simply locating the students.
"The problem today is how to successfully face these unleashed demons," he said. "How can we rebuild the social fabric?"