Living to See the End of Days in Latin America
In a new survey, half or more of respondents in 15 Latin American countries said they believe Christ will return to earth within their lifetimes. How does this compare with rates in America?
"For the Son of Man is going to come in his Father's glory with his angels, and then he will reward each person according to what he has done."
This passage, from the Book of Matthew, represents the hope of Christianity: that Jesus will come again. Different groups and leaders throughout history have predicted specific dates for this return, but many Christians believe—or hope—it will happen during their lifetimes. To be clear, this would mark the end of history and time, or at least human history as we know it—and a large portion of Christians believe they will live to see it.
This is particularly true in Latin America: In a new Pew survey, nearly half or more than half of respondents in 15 countries said they believe they'll live to see the end times. By comparison, an estimated 41 percent of Americans believe that Christ will "definitely" or "probably" have returned by 2050. That number was slightly higher among U.S. Hispanics: 51 percent said they believe Christ will come again during their lifetimes.
In both South and North America, Protestants are generally more likely than Catholics to believe that Jesus will walk among us within the next few decades—although many Catholics also believe this is true. In Venezuela, for example, 82 percent of Protestants felt the second coming of Chris would occur during their lifetime; only 53 percent of Catholics said the same. In the United States, this ratio is nearly the same, although the numbers are much lower: 58 percent of white evangelical Protestants say Jesus will return to earth by 2050, while only 32 percent of Catholics (and 27 percent of white mainline Protestants) agree.
Pew's country-by-country breakdown of beliefs in Latin America shows some interesting variation, though; in Paraguay, for example, which is 89 percent Catholic, very few people of any faith think Christ will come again soon. According to other measures of religiosity, like weekly church attendance and the importance people place on religion in their lives, Paraguay falls toward the middle of surveyed countries; the report's results offer few clues about why most Paraguayans don't believe they will live to see Christ's return.
---
The Second Coming of Christ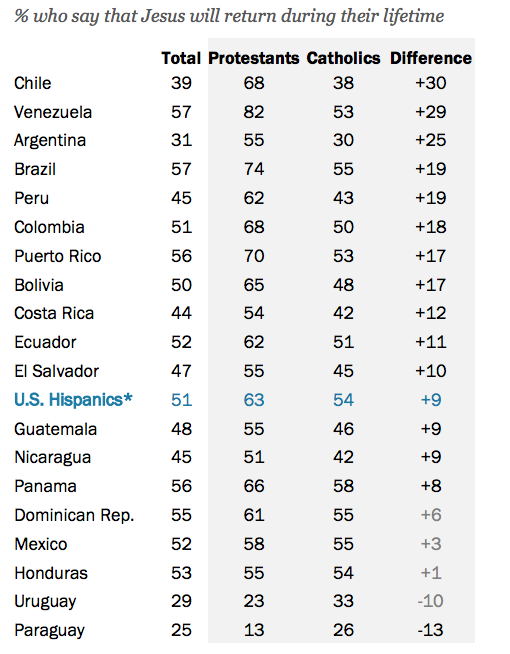 ---
Most countries in Latin America are still predominantly Catholic. But since the 1970s, Protestantism has been steadily growing in the region, and now accounts for nearly one-fifth of the population. Much of that growth comes in the form of Pentecostalism, an evangelical, charismatic denomination that's often associated with speaking in tongues, divine healing, and people testifying to receiving revelations from God. There are many explanations for Protestantism's success in the region, the researchers write:
One theory posits that Pentecostalism's compatibility with indigenous religions enhanced its appeal among Latin Americans. By emphasizing personal contact with the divine through faith healing, speaking in tongues and prophesying, Pentecostalism attracts those who share an affinity with indigenous religions that traditionally incorporate beliefs and practices associated with direct communication with the "spirit world."
One hundred years ago, only 1 percent of Latin Americans were Protestant.
---
Share of Catholics and Protestants in Latin America, 1910 to 2014