Life as a Fake Beauty Queen in Small-Town China
I came to Beijing to model. Then I found myself playing Miss America in Inner Mongolia.
It was November 2011, and I was in a fluorescent-lit hotel room in the Chinese city of Ordos, on the outskirts of Inner Mongolia. Next to me, my 17-year-old Brazilian roommate, Anna, was tucking into bed. I set our alarm for 6 a.m., when singing, dancing, and talent contests awaited us. All would be broadcast on China Central Television.
"Open your eyes and smile," called Anna from her bed, using the phrase our choreographer had been shouting for the past two days. "Ugh. Goodnight."
Back home in Brazil, Anna was a high-fashion model, represented by agencies in Milan and New York. I was a 24-year-old recent college grad who, having difficulty finding a full-time job, took a year off to travel by unconventional means (modeling, though of the questionable variety that lands a person in a hotel room on the outskirts of Inner Mongolia).
This wasn't a reality show, nor was it one of the elite bookings Anna enjoyed back in New York or Milan. We were there for a fake beauty pageant, one our Beijing modeling agency had booked us for, telling us it was a "fashion show" and providing no further details. It was only after we boarded our early-morning flight to Ordos that the true nature of the event was revealed.
"We're on our way to another 'Miss' thing," a Ukrainian girl said from her seat with a groan.
I was hired as Miss America; Anna, despite being Brazilian, as Miss Chile. It would have been the strangest 36 hours of my life—if, over the previous two months, I hadn't done it twice before.
My first stint as Miss America for hire had been that September, in the desert oasis of Dunhuang, for the city's International Grape Festival. It was a surreal experience in which 40 models, including me, were paid to walk down a catwalk for about 2,000 locals. Later, we rode camels across the dunes of the Gobi Desert, crisscrossing the sand in single file. The photos of all 40 of us on camelback—some only in bras, to dodge tanlines—are wonderfully absurd.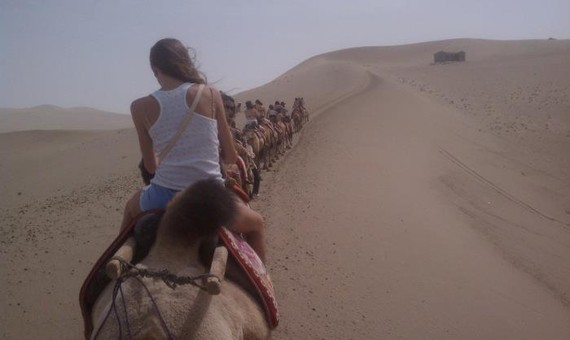 For the second pageant, in October, I was hired to cruise around Dalian in a fake gold Mercedes golf cart with five other girls for three days, in an effort to lure potential buyers into investing in a miniature replica of Versailles. A printed guide to the event offered fictitious backstories in Chinese about each contestant, and her purpose there. We wore dresses whose colors the organizers must have thought somehow corresponded to our countries of origin. As Miss America, I strangely, and perhaps unpatriotically, wore a teal-tinged baby blue.
Pageants like these typically serve as glittery infomercials for the cities where they take place—"Visit Ordos, or Dunhuang, or Dalian, or Chengdu: wealthy enough to import foreign pageant queens!" The events are usually funded by investment-hungry real-estate developers, city tourism departments, or, in the case of my pageant in Ordos, China Central Television. Photos and film captured during the event can live on via promotional materials for months, even years. In Dunhuang, billboards advertised the pageant using images of models from the previous year's event.
Models booked for these pageants aren't actual beauty queens—they're aspiring runway models sent to Asia by their "mother agencies," which are usually based in their home countries and serve as their main managers. In return for placing them abroad, mother agents take a cut of models' pay (typically 10 percent). Once in China—popular cities for work include Beijing and Shanghai—models often build their portfolios with magazine spreads, runway shows, and catalogs. Most contracts stipulate that a model can't reject jobs, however dubious, or her contract will be broken and she'll be sent home.
Less reputable agencies in China provide models with few details about the jobs they'll be doing, calling gigs "fashion shows" and sending them on their way. Of the nine "fashion shows" I booked while in Beijing, only two were on a runway. The rest were fake pageants, car shows, and trade shows—but I was not informed of their nature until I was en route to the events. Models flagged as having low earning potential will do fake pageants frequently, as they're easy to book. I once met a Russian teenager who was stuck traveling on a bus for 10 days across rural China as "Miss Argentina."
When models are chosen as mock pageant queens, they head to their destinations (usually one of the smaller cities in China), where they're handed sashes, crowns, and heels, and instructed to be on their best behavior. At the pageant I attended in Dunhuang, the models were forbidden to smoke, swear, or wear clothing that fell above the knee—though, in my experience, no punishments were inflicted for slipping up.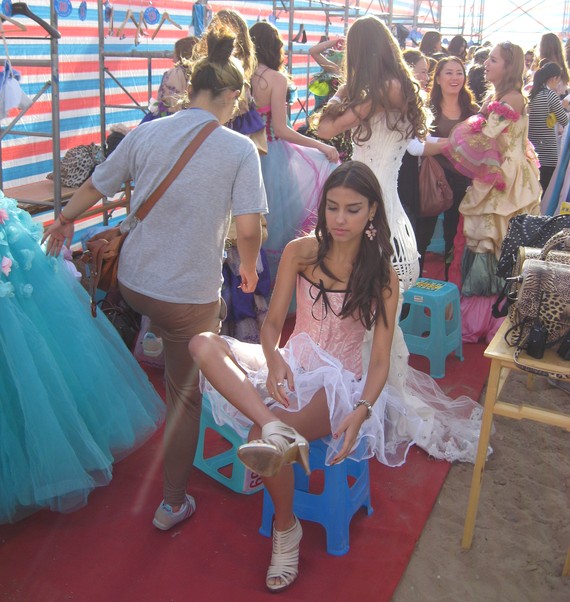 Most models in these pageants are from Eastern Europe or Latin America, and often everything in their biographies is fictionalized—from home countries, names, and national costumes to elaborate personal stories. In the case of the Ordos pageant, Anna from Brazil was "Annabella" from Chile, while I was "Mary Ann" from America. In another pageant, I had played "Mary, from New York." I wish I knew my narrative (was I fresh from an upstate farm, or a hardened city girl?), but it was written in Chinese.
"I've been Miss Brazil, Miss Poland, and Miss America, and I'm still pissed I was never Miss Canada," Lora, a model from Toronto whom I met in Beijing, told me recently. "Some Polish girl got it instead."
Lora once fell through the stage during dress rehearsal for a pageant in Guangzhou. The runway had been so flimsy that it couldn't hold her weight in 5-inch heels. "They gave me three days paid vacation after that," Lora told me. "But I still had to do the pageant." (The pageant's organizers rebuilt the runway.)
* * *
These pageants echo China's larger affair with Western knockoffs. In the city of Wuxi, an entire street is lined with stores like H&N, Sffcccks Coffee, and Zare, while fake Apple stores have been shut down in the city of Kunming. Attractive Caucasian men are paid generously (sometimes up to $1,000 a week) to lend validity to new businesses by posing for store openings and ribbon-cutting ceremonies. Nor is architecture immune: A replica of Paris lies empty in Tianducheng, while in Beijing, there's an Amsterdam-like area where roommates of mine traipsed merrily down a cobblestone alley to shoot a Chinese beer commercial.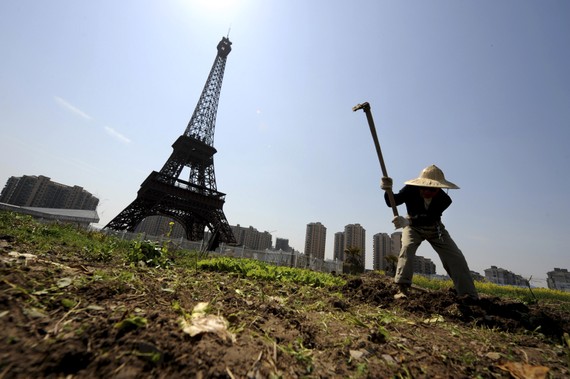 For models, nationality-switching gigs aren't limited to pageants. A photographer friend of mine relayed a tale of young foreign models hired to stroll up and down the street of a fake Italian villa, greeting potential investors with a cordial buon giorno. According to a model I met in Shanghai, fake Victoria's Secret fashion shows are also common: The lingerie may be Chinese, but the choreography, wings, and footage are ripped straight from American television. "Sometimes they're outside in zero degrees," my friend said. "All it takes is fake wings and underwear."
Although models are often contractually bound to do these strange jobs, their employment papers are usually as fake as their pageant sashes, leaving them with little legal protection. A work visa is expensive and hard to obtain in China, so agencies often recommend models visit on a tourist visa and work illegally (though China has begun to crack down on the practice—around 60 models with nonwork visas were arrested in Beijing earlier this year). Eager to build a career, models consent to this, winding up in China and similar markets—such as Thailand, Singapore, and Japan—because cities like Milan, New York, and Paris are more competitive.
Many models I met during my time in China were as young as 14, and working to send money home to countries like Russia and Ukraine. As captured in the documentary Girl Model, scouts scour these countries for the next big face, sometimes sending young girls abroad with big dreams and no legal protection.
From a financial perspective, the allure is understandable: The fake pageant queens notwithstanding, models can make hundreds an hour posing for expensive catalogs and Taobao (the Chinese equivalent of Amazon). But even with jobs like that, modeling isn't lucrative; agencies in China take around 40 percent of your pay, your mother agent back home takes 10 percent, and expenses, including a plane ticket and rent, can reach upwards of $10,000. With their cash flow intact thanks to their few high-earners, most agencies cover some of these expenses, but they also make it hard for models to turn a profit. Leaving with money in your pocket is rare. For more savory jobs, you need to have the right look, at the right time—otherwise you're stuck paying rent as Miss America.
The going rate for a fake pageant queen? Around 2,000 RMB ($325) a day, almost twice the average monthly salary of an entire Chinese family, which is currently around $175. This means that after a little over a week's worth of work, a model will have earned what the average Chinese family makes in one year, though she herself will likely take home less than half of that income. The disparity is striking: Young girls being paid to woo wealthy locals and expats to invest in novelty real estate, the likes of which the average Chinese citizen will never, ever obtain. How much are these knockoffs—pageants, Sffcccks, et al—really worth?
My pageant in Ordos, with Anna, was my most elaborate by far, and its backdrop only made things more surreal. Chinese urban planners developed the city to accommodate China's ever-growing population, and it's designed to house 1 million people. But barely anyone has moved in. Instead, it's a ghost town perched on the edge of the Inner Mongolian plains, its architecture a futuristic fever dream. Giant horse sculptures stand in the shadow of buildings that look like falling dominoes, while the Ordos Museum, an undulating copper orb designed by the architecture firm MAD, glints bizarrely over empty streets.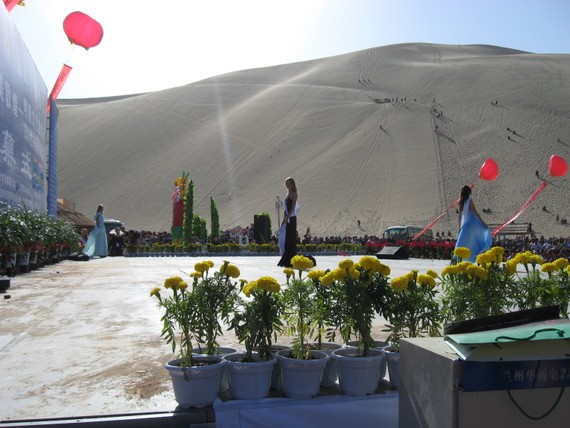 Our pageant was hosted in the Ordos Grand Theater, which borders the Mongolian plains. We rehearsed for three days straight, struggling to perfect our dance moves in sequined miniskirts and Plexiglas stilettos. With three costume changes, a song and dance routine, and a talent competition, practice was essential.
"Open your eyes and smile, girls!" our choreographer yelled dutifully from the front of the stage. Next to me, a young Ukrainian girl translated this command to her peers. At least half of the 40 or so models in attendance did not speak English.
On the night of our pageant, the theater was nearly empty. A few Ordos residents who had been invited (it was free) clapped idly in the audience. Our pageant mirrored the trademarked international beauty contest, Miss Universe, precisely—complete with national costumes, a talent contest, and the announcement of the top 10 finalists.
In reality, the top 10 had been chosen days before, when we'd piled off a dusty tour bus into the amphitheater where the pageant was held. We'd lined up in rows as a polished woman coordinating the event strolled by, inspecting us closely. Ten were asked to step forward, then five, Anna among them. The winner was kept a secret until the night of the pageant.
And there we were: in the final moments. The chosen five huddled onstage in anticipation, Anna grasping hands with the other finalists in mock excitement. For no discernible reason, footage from a real, American Victoria's Secret fashion show streamed above us as our host, a tow-headed, middle-aged Westerner-for-hire, pulled an index card from his pocket. Miss Universe, he announced proudly, was Kristina, Miss Montenegro.
I waved at Anna from backstage. Had she wanted to win? Was she disappointed? She laughed, shrugged, and gave me a tiny, pageant-style wave. Wrist left. Wrist right. Then she turned towards the audience, opened her eyes, and smiled wide.