Jihad, by Cruise Ship
Interpol says foreign fighters are traveling to Syria and Iraq "more and more" by sea. But that doesn't make land routes any less important.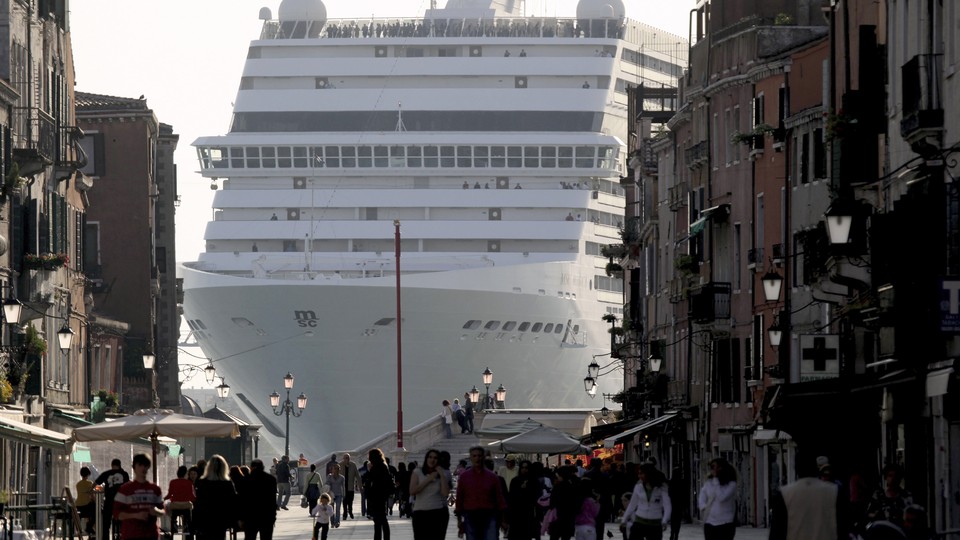 "More and more" these days, jihadists are taking cruise ships to get close to battlefields in Syria and Iraq, Interpol Secretary-General Ronald Noble told the Associated Press on Thursday. Pierre St. Hilaire, Interpol's counterterrorism director, told the AP that his organization has observed aspiring militants varying their choice of transportation in the past few months, likely in response to stepped-up enforcement at airports and bus stations in Turkey, which has served as an important transit route for foreign fighters traveling to the Middle East's war zones.
The AP highlighted the potential benefits of sea travel for those en route to Syria or Iraq—namely that cruise ships' multiple stops could allow "would-be jihadists to hop off undetected at any number of ports—making efforts to track them more difficult."
But how big a problem is seaborne jihad, really? Interpol wouldn't tell the AP, and perhaps doesn't know—St. Hilaire told the news service that the number of jihadists trying to cruise close to Syria and Iraq wasn't clear yet. In response to my email inquiry, Interpol's press office would say only that "Individuals [traveling] to or from Syria and Iraq as foreign fighters use a wide range of transport methods and it would be misleading to focus on any one of those."
---
National Origin of Foreign Fighters in Syria and Iraq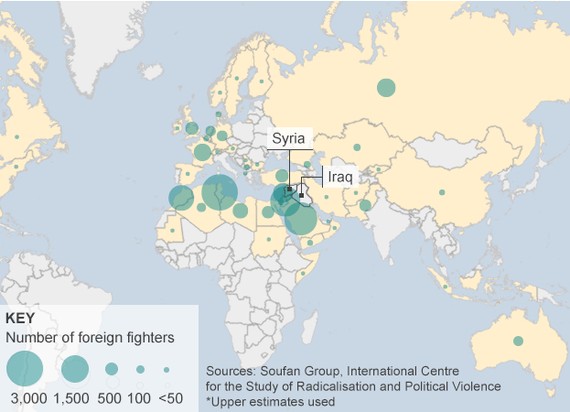 ---
The only country Noble would cite by name as a cruise destination for jihadists was Turkey; and the only city AP reported St. Hilaire mentioning as a likely stop was Izmit, a seaside town in Turkey's northwest, most of the length of the country away from the Syrian and Iraqi borders. (Searching online, I couldn't find any available cruises that head directly to the main Syrian port of Latakia; and it's harder still to find cruises to Basra, the main port city in otherwise mostly landlocked Iraq.) Jennifer Cafarella, a fellow at the Institute for the Study of War who researches Syria, wrote to me in an email regarding jihadists' use of cruise ships: "While this mode of transportation may have been relatively under the radar in comparison to international flights, it doesn't remove the necessity to cross into Syrian territory from Turkey, as it is highly unlikely that foreign fighters would attempt to enter Syria through its seaports on the coast, which remains a regime stronghold." By the most direct route suggested by Google Maps, it's still at least a 12-hour drive from Izmit in northern Turkey to, say, the Syria-Turkey border crossing at Reyhanli, which The Wall Street Journal identified in September as a "key hub" for Syrian rebels and a location where Turkish police search for jihadists.
Possible Driving Routes From Izmit, Turkey to Reyhanli, Syria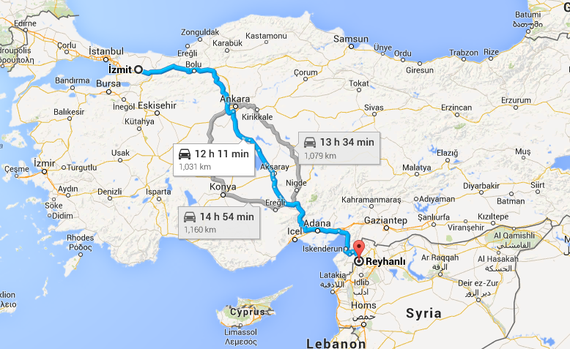 The Soufan Group, a private intelligence firm, estimated this summer that some 12,000 foreign fighters had streamed into Syria alone in the past three years, 2,500 to 3,000 of them from Western countries. The Wall Street Journal reported in September that Turkey is the "primary route" these fighters take, "because of the country's easy visa policies for travel, its porous 565-mile border with Syria and its modern transportation infrastructure." St. Hilaire told AP that some aspiring fighters from Europe simply drive all the way from their homes to the Syrian border. In addition, Islamic State fighters control some of the border crossings between Turkey and Syria, as well as several roads from Syria into Iraq.
Turkey has come under criticism for being slow to recognize its own role in facilitating the influx of foreign fighters into Syria and Iraq via road networks some have dubbed the "jihadi highway." Turkish officials claim to have deported hundreds of people in recent months in an effort to stanch the flow. These measures may have caused some foreign fighters to rethink the first leg of their journeys (hence the new warning about cruises). But the road to the battlefield, it seems, still goes through Turkey.