Giving Faces to Turkey's 1.6 Million 'Temporary' Syrian Refugees
One photographer leverages her work for humanitarian good.
On Saturday in Istanbul, Vice President Joe Biden spent four hours talking with Turkish President Recep Tayyip Erdoğan, smoothing over earlier comments in which he suggested Turkey was not doing enough to keep would-be ISIS fighters from entering Syria through its borders.
As part of that apology, Biden also pledged $135 million in additional aid to help Turkey deal with the flood of refugees from Syria, which, by the Turkish government's estimates, now numbers 1.6 million—nearly half of the entire populations of Syrians who have fled the country since the start of the civil war that began more than three years ago.
"It's the government and the people of Turkey that have often cared for those displaced by this war. Accommodating so many is a costly proposition," Biden said, acknowledging that figure will not meet the needs the crisis has presented. "And the United States has provided humanitarian assistance inside Turkey to refugee countries holding them, but it should not in any way underestimate the amount of the requirements that have imposed upon the president and the people of Turkey."
The statistics can be numbing. That's why Emily Troutman, a photographer who focuses on humanitarian issues, decided to put her Turkish and Arabic skills to work and give those numbers a human face by taking photographs in Syrian refugee camps in Turkey.
"Photography conveys a lot for people who may be resistant to reading the news," said Troutman, in an email from Turkey. "There are a lot of people, I think, who are exhausted by the news cycle and it all becomes abstract. Photography isn't abstract."
What she 's witnessed in recent weeks is that refugees are renting or squatting in towns like Gaziantep and operating in ways "that make them disappear a little bit" in their new environments.  "They are renting pretty awful 'rooms,' if you can even call them that. Half-built structures, old buildings, abandoned buildings—anywhere they can find a little space," said Troutman.
And since the refugees aren't allowed to work legally, they're getting desperate, particularly with winter upon them, and no money for coal to keep them warm. Many are burning toxic garbage to keep from freezing at night.
Troutman said that several of the refugees she encountered showed her cellphone footage and pictures of their destroyed homes. With no end to the war in sight, Syrian refugees will likely be stuck in Turkey and elsewhere for a long time to come. "The reality is that even though the Turkish government has designated them as 'temporary guests,' places like Aleppo won't rebuild for a long time," said Troutman.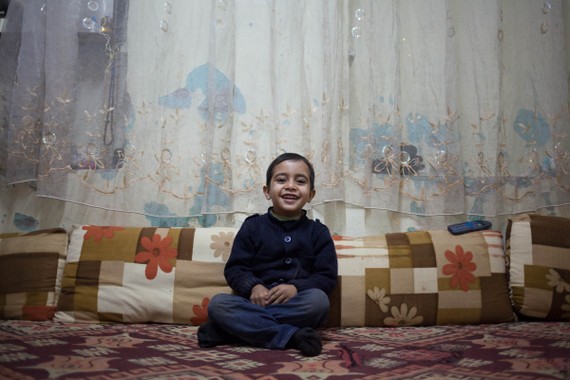 Troutman, who documented the humanitarian crisis following the Haiti earthquake for Getty Images and Agence France-Presse, and who has served as a U.N. Citizen Ambassador, hopes capturing the Syrian refugee crisis through images on her site Aid.Works will help acquaint people with something that is hard to see.
"Photography allows us a minute to really get a good look at people who are outsiders and people we don't feel comfortable looking at closely in public, especially people who beg on the streets," said Troutman. "It's almost like our heart can't bear it. Photography forces but also allows us to open up to our own compassion."