North Korea's Disappointment in the U.S. Offer in Exchange for Prisoners
They would have liked more than a letter. But it's a start.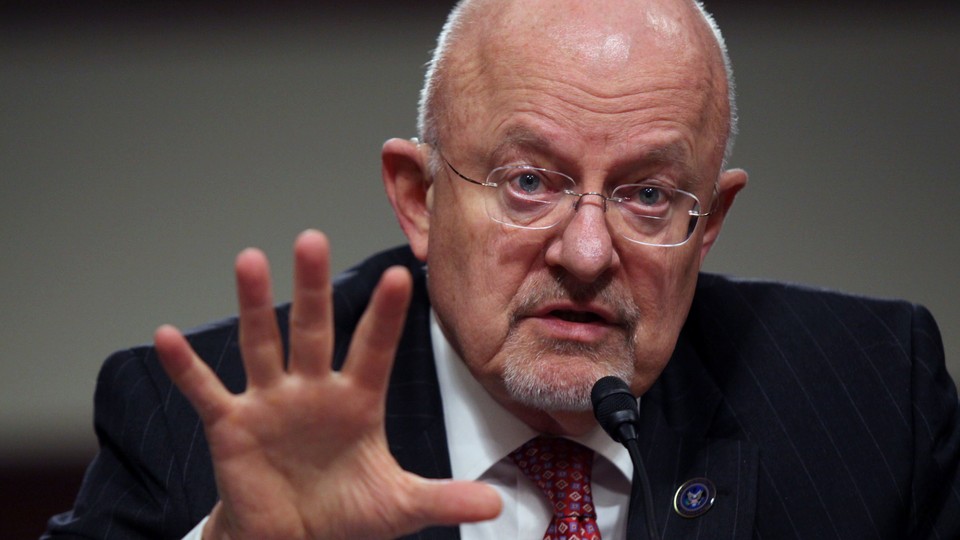 In an interview that aired on Sunday on CBS's Face The Nation, U.S. Director of National Intelligence James Clapper described his secret mission to North Korea last week to seek the release of two American prisoners as a reason for optimism—even if North Korean officials were "disappointed" that all he had to offer was a letter from President Obama.
"I think the major message from them was their disappointment that there wasn't some offer or some big—again, the term they used was 'breakthrough,'" Clapper said about his trip to Pyongyang.
"We weren't sure how this was going to play out," said Clapper, adding, "I, personally, was not completely confident that they would actually release our two citizens."
The two Americans—Kenneth Bae, a 46-year-old missionary from Washington state sentenced to 15 years hard labor in 2013 for unspecified crimes, and Matthew Todd Miller, 24, sentenced to six years for "hostile acts" against the state—were released after secret negotiations that involved Clapper, the Swedish government, and North Korean officials.
At the time, it appeared unusual that the U.S. would send the director of national intelligence instead of a former president or diplomat. However, Clapper said in the interview that North Korea had requested a current government official within the national-security apparatus—a request that may indicate why the North Koreans were disappointed with only receiving a formulaic letter from President Obama that mildly expressed gratitude for the prisoners' release.
Clapper said he arrived in Pyongyang in the dark, was taken to the state guesthouse, and was met by a small party headed by the state security minister and a translator. He then sat through what he described as a "terse" dinner that was hosted by the chief of the Reconnaissance Guidance Bureau, a combination intelligence unit and special-operations force.
"It wasn't exactly a pleasant dinner," said Clapper. He said the North Koreans displayed "a certain institutional paranoia" and that he found himself defending the U.S. against claims of "our interventionist policies."
Still uncertain as to whether or not Bae and Miller would be released, Clapper and his group spent much of the next day waiting until an official informed them that they had 20 minutes to pack, at which point they were taken to a hotel where Clapper said an "amnesty ceremony" took place. It was only then that Clapper knew Bae and Miller were free.
"We shook hands. I said thank you. We walked out," said Clapper.
Clapper said he felt there was reason for a "ray of optimism" about North Korea because of its younger generation, who appear to be more interested in dialogue than their older colleagues. One official in his 40s who accompanied Clapper's team to the airport "professed interest in more dialogue [and] asked me if I'd be willing to come back to Pyongyang—which I certainly would."
"I do think there is the potential here for change and dialogue in the future."