China Is Trying to Curb Its Smog Problem Before the World Visits
In advance of a major international summit, Beijing is doing what it can to ensure clear skies.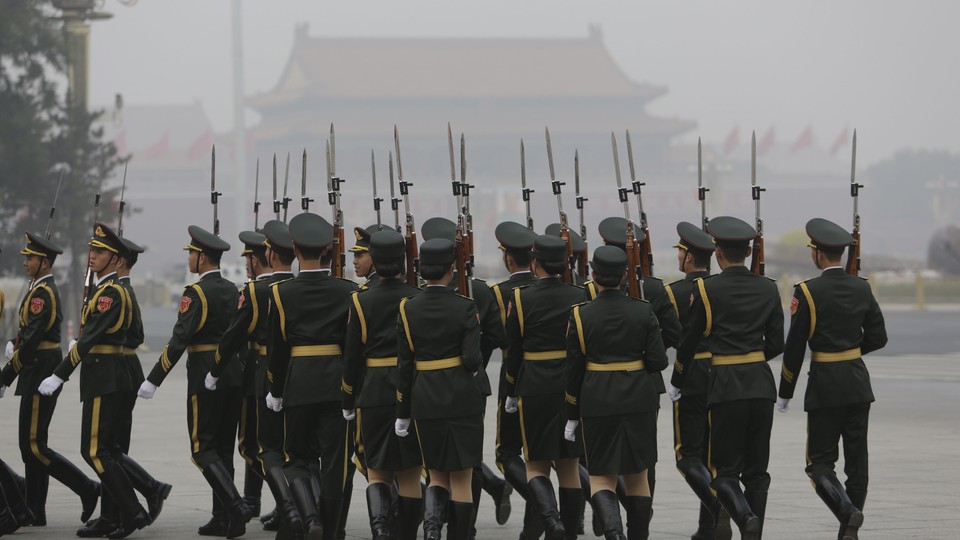 Later this week several major heads of state—including President Obama and Vladimir Putin—will arrive in Beijing to participate in the Asia Pacific Economic Cooperation forum (APEC), to be held in the Chinese capital from November 7-12. In advance of the summit, Beijing constructed a hotel, villas, a new international convention center, and a highway linking the convention center to the city.
There's only one more thing that the Chinese government needs to do: provide clean air.
In a city famous for terrible air pollution, smog-free days are never a given. But that hasn't stopped China from trying. The government has ordered a halt to heavy industry within a 124-mile radius of the capital, a region encompassing the heart of China's vast steel production industry. (Hebei, the province surrounding Beijing, produces more steel each year than the entire European Union.) The Beijing municipal government has granted most city residents a holiday during the summit and strongly encouraged them to leave town. Those who stay face restrictions in using their cars.
Although China suffers from a number of environmental problems, air pollution is a particular source of embarrassment for the ruling Communist Party. Heavy smog during the city's annual marathon last month caused runners to don face masks, which then featured prominently in a China Fashion Week collection. Air pollution is also blamed for a decline in China's tourism industry. Visitors to China fell 2.5 percent in 2013.
Aesthetics aside, air pollution has severe consequences for China's population. The World Health Organization has linked more than 1.2 million premature deaths in China to pollution from PM2.5, a thin particulate matter measured in Beijing's air. According to ThinkProgress, 40 percent of global air pollution deaths are in China, which has roughly 20 percent of the world's population.
Government attempts to halt smog are not new in China, and in the past they've worked: The 2008 Summer Olympics in Beijing took place under mainly clear skies following measures to suspend industry and reduce car travel. But China is still far from finding a balance between clean air and breakneck economic growth.